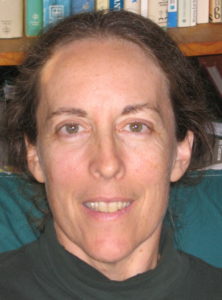 Dolores Nice-Siegenthaler, M. Div. D.A.S.D., serves as Spiritual Director and Writer in Oakland, CA, and she is a member of First Mennonite Church of San Francisco.
Once again, I'm listening for a word. A single word. Well, it could be a phrase. I'm on a retreat in the midst of my daily life at year's end, watching and waiting. Once again, while I'm questioning if this word will come to me or if I'll be manipulating things to make a word arrive, I'm enjoying this way of the "Word becoming flesh and living among us." (John 1:14)
At the beginning of 2014, the word that chose me was "will." A nice four letter word, I thought, a noun as well as a verb helper, and "will" became my word for the whole year. Especially during January and February, "will" was on my heart and mind. During a Sunday in January, during the commissioning of new church committee members, I was delighted to find my word in the recommended affirmation, "With God's help, I will." Everyone was saying my word with me, it seemed.
A prayer-like verse I memorized and once said with colleagues came to mind: "We have the will to work, by letting flow into our work, that which, from out of the spiritual worlds strives to become human in us, in a soul-spiritual and life-bodily way." (verse by Rudolf Steiner)
I made a collage about my word, as a way to let my subconscious life speak to me, and I shared the collage and talked about my word with my Spiritual Director.
During the whole year I often prayed the prayer of Jesus and Paul: "Not my will but thy will." (Luke 22:42, Philippians 2:5)
Around Halloween I had a dream that seemed to illustrate the working of "my will and thy will." In my dream, I am afraid of mounting a tall, red bicycle with two passengers. Finally, I tell the man whose bike it is, "I don't feel I can get up there. I've never been in charge of a bike this tall. I feel I might lose my balance once I'm up there." The man thanks me for sharing honestly what I feel. Suddenly I am up there on the bike, as the third passenger, and the owner is driving. I happily discover the passenger in the middle is my daughter. We are moving on this tall, gangly red bicycle built for three, with views of green pastures, and we are surrounded and protected by a transparent shell. I am surprised and excited to be on this journey.
To open myself to hearing the word, it's important to take time. Today I'm taking a contemplative walk, strolling by Peralta Creek, now enlarged in the rain. Gray Juncos flick white tail feathers. Face upturned, I sing gratitude to the rain, welcoming in the moistening of my soul. A porous line between me and the earth seems to fade. Turning homeward I make a mental note to write down a word that has come to me today as my possible word for 2015.
Your word is my heritage forever; it is the joy of my heart. Psalm 119:111