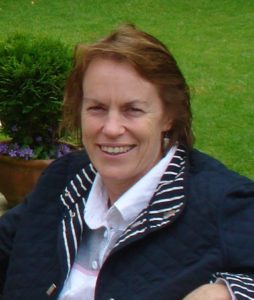 Sally Longley lives near Sidney, Australia and relates to the Anabaptist network there.
"I am yearning for something! What is it?" These were the words of a woman who came to see me for spiritual direction, not being sure what spiritual direction was, not sure what she was after, and not even sure that she should be there. She began by saying that she had been in business in Rome and Paris, had been married and divorced with a few children, and now in her 60s, felt there must be something more to life. She ended her personal introduction with referring to her yearning, and asking "What is it?"
What a wonderful privilege to sit with someone in such a sacred moment of recognition. True to the ministry of spiritual direction, my part was not to tell her what I thought, but to hold such a holy space safe and spacious for her to explore this invitational yearning. She raised the concept of God and asked if this might be what she was looking for. Again, I gave her the space for her own question to burrow its way within her, and to allow her own answer to emerge. Yes, she decided, this indeed was what she was looking for. "But how can you find and get to know God if you can't see God?" Such rich questions! After looking at a couple of possibilities, I asked her what her thinking was around Jesus. Now here was someone she admired as a great person, even a prophet. So I offered her the possibility of looking at the person of Jesus together. This was an unusual direction session, as most folk who come for spiritual direction (or spiritual accompaniment) have a faith base and an intentional relationship of some sort with God already. So I opened the scriptures, and using my Ignatian-formed sense of discernment, turned to the passage on the woman at the well.
This particular experience of accompanying her in her journey over what now has become five years, has been like watching God turn water into wine! The beginnings of our times together were like noticing and identifying her questions, her yearnings and deep, newly articulated longings – so like grapes ripe and ready for the next stage. Then, as with a gravity flow wine making process, we dropped down to the next level – a level where fermenting happened, where some of God's yeast seemed to be added and quite a lot of disturbance and change was in process. With her deepening commitment to this God of her journey in transformation, came a dropping down to an even deeper level. Here the wine is poured into barrels to simply wait, and to simply be; where it begins to take on rich nuanced flavors and aromas. In her case, it was the flavors and aromas of Christ that began to become so evident – to me, to her, and to those who know her. I understand that in this stage of the wine-making process, sometimes they say you can see some of the very faint shimmer of the evaporation coming through the wooden barrels. And this they call "Angel's breath."
I am not sure, but I think there have been moments where I have sighted "angel's breath" as I have sat quietly in a direction session with her!
And what transformation! Spiritual Direction can be like witnessing transformation in someone as powerful as that of water changing into wine. Spiritual Direction is like sharing the Cup of Christ together, and as we look through the wine in the glass, we can see how it does indeed turn our world upside down.