By Annette Brill Bergstresser
ELKHART, Indiana (Anabaptist Mennonite Biblical Seminary/Mennonite Church USA) — Thirty workshops geared toward people at all stages of life and three plenary sessions will be offered as part of Deep Faith: Anabaptist Faith Formation for All Ages, a conference for people who care about faith formation to connect with and learn from each other.
Described as a practical conference designed to empower Anabaptist pastors, teachers and lay leaders in the church to develop a robust understanding of life with Jesus and expand their imagination of faith formation for the 21st century, the event will be held Oct. 6–8 at Anabaptist Mennonite Biblical Seminary (AMBS) in Elkhart, Indiana.
"One of our desires in developing this conference was to create a space for sharing wisdom and inspiration among practitioners in both the U.S. and Canada," says Carrie Martens, pastor of faith formation at Stirling Avenue Mennonite Church in Kitchener, Ontario, and a member of the planning team. "Having a significant number of workshops alongside keynote speakers seemed like the best way to make space for active dialogue."
Martens adds that the planning team also wanted to create a broader understanding of the realities of faith formation in the congregation. This led them to create workshop tracks geared toward life stage formation, lifespan and intergenerational formation, and culture and faith formation.
"We didn't want this to be just another conference about Sunday school, but one that really explored the breadth and depth of Anabaptist discipleship in our congregations," she notes.
Sample workshop titles include:
Life stage formation: Engaging children in spiritual practices (Joan Daggett and Chrissie Walls); Being in Christ and being with others: Adolescent attachment to the church (Sarah Bixler); Entrepreneurial youth ministry (Scott Roth); Moving out: Engaging young adults contextually (Jessica Reesor Rempel and Chris Brnjas); Boomer faith: Drop in or drop out (Marlene Bogard); Spiritual grandparenting (Elsie Rempel); Late-life spiritual formation (Marianne Mellinger)
Lifespan and intergenerational formation: Tiny but mighty: Faith formation in small congregations (Rachel Gerber); The disciplines of the sent (Craig Morton); Helping people lament (Bob Yoder); Inclusive worship: Learning to exegete your congregation (Carrie Martens); Circle of grace: Why it matters for children, youth and adults (Nancy Kauffmann); Joys and challenges of intergenerational faith formation (Brian Quan)
Culture and faith formation: Intercultural competence and faith formation (Safwat Marzouk); It matters what children's Bibles we use (Kathy Meyer Reimer); The camp effect (Andrew Michaels); Gender and faith formation (Katherine Goerzen); Making room for formation (Shannon Dycus); Bodies, formation and technology (Andy Brubacher Kaethler); Women empowering women: Faith and friendship in the digital age (Marlene Bogard); We proclaim and embody the gospel: Formation in the missional church (Shana Peachey Boshart)
Three plenary sessions will follow times of worship:
Thursday, Oct. 6: Responding to Trends that affect North American churches today, with John Roberto, president of LifelongFaith Associates. Roberto works as a consultant to churches and national organizations, teaches courses and conducts workshops in lifelong faith formation. His latest publications include Families at the Center of Faith Formation (co-author, 2016), Seasons of Adult Faith Formation (editor and co-author, 2015), Reimagining Faith Formation for the 21st Century (2015), Generations Together (co-author, 2014) and Faith Formation 2020 (2010).
Friday, Oct. 7: Anabaptist distinctives on our faith journey, with Rachel Miller Jacobs, assistant professor of congregational formation at AMBS and a spiritual director. Her previous work experience includes pastoral ministry, teaching English to high school students, and full-time parenting.
Saturday, Oct. 8: Intergenerational faith formation in the life of a church, with Brian Quan, a native of Toronto, Ontario, and a son of Chinese immigrants. Quan serves as lead pastor of three congregations at the Toronto Chinese Mennonite Church and as assistant moderator of Mennonite Church Eastern Canada.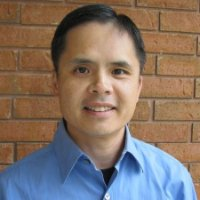 "Our process of planning the event has been bathed in our reliance on the Spirit's guidance," reflects Elsie Rempel, freelance formation consultant and chair of the planning team. "We are thrilled with the lifespan scope of workshops and plenary sessions that has resulted from our unique form of binational collaboration."
In addition to Martens and Rempel, planning team members include Shana Peachey Boshart, conference minister for faith formation of Central Plains Mennonite Conference; Shannon Dycus, pastor at First Mennonite Church of Indianapolis; Rachel Gerber of Bloomington, Indiana, denominational minister of youth and young adults for Mennonite Church USA; Katherine Goerzen, associate pastor at Tabor Mennonite Church in Newton, Kansas; and Andy Brubacher Kaethler, assistant professor of Christian formation and culture at AMBS.
Event sponsors include AMBS, the Anabaptist Faith Formation Network, Mennonite Camping Association, Mennonite Church Eastern Canada, Mennonite Church Manitoba and Mennonite Church USA/The Gathering Place.
Registration fees are $125 USD for adults and $50 USD for students until Sept. 21, and $175 USD for adults and $50 for students after Sept. 21. Learn more and register at mennoniteusa.org/deepfaith.
###
Image available:
Deep Faith logomark