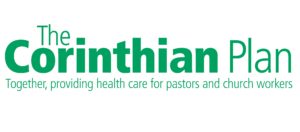 ELKHART, Indiana (Mennonite Church USA) — Mennonite Church USA's The Corinthian Plan is open for enrollment on Nov.1 through Dec. 31, 2023, for a Jan. 1, 2024 start date. The Corinthian Plan is a self-funded, health care plan for pastors and church workers, sponsored and owned by Mennonite Church USA.
Beginning this year, The Corinthian Plan is offering a new, more cost-effective option for the health care plan, a $4,000 Single / $8,000 aggregate deductible, along with the three other deducible levels offered. This is to provide a higher deductible that may be more comparable to options that the federal Health Insurance Marketplace offers. It is estimated that the cost will be about 6% lower than the $3,000 Single / $6,000 Family deductible option.
The Corinthian Plan also offers an additional Wellness Incentives program, a unique program that promotes Wellbeing in Ministry. The Corinthian Plan strives to offer creative ways to support enrollees in maintaining healthy habits and creating new ones. The Wellness Incentive is available for each participant and spouse to earn two incentives, worth $150 each, $300 annually. Learn more about the program here: https://www.mennoniteusa.org/ministry/the-corinthian-plan/wellness-incentives/
The Corinthian Plan's mutual aid practices reflect those of the early church as described in 2 Corinthians 8-9 and help to ensure that health care is accessible to all participants. The Corinthian Plan does not exclude pastors or church workers because of specific health reasons. Subsidies are available to help congregations who otherwise could not afford coverage.
Duncan Smith, director of The Corinthian Plan, said, "It is an authentic mutual aid plan because of the original purpose of helping congregations gain access to health care coverage."
"To any and all who are considering The Corinthian Plan, I highly recommend it," said Ron Hershey, pastor at Filer Mennonite Church (Idaho). "The help receiving the subsidy was huge for us and made the plan work for Filer Mennonite Church. We now have much better coverage, a great price with a subsidy and a service team I enjoy."
Since 2010, $4.5 million has been contributed by participating congregations and shared with participating congregations to provide monthly support to pay their full premiums.
Open Enrollment for 2024 is Nov. 1-Dec. 31, 2023. If you are interested in more information or applying for health coverage or other benefits through The Corinthian Plan, learn more here: https://www.mennoniteusa.org/ministry/the-corinthian-plan/
Everence works with enrollment, policy and financial administration. Highmark (Blue Cross Blue Shield) provides the service network, works with claims and provides other health resources. The Corinthian Plan is overseen by the Church Benefits Board, which is appointed by MC USA.
Lea la versión en inglés aquí.
Mennonite Church USA is an Anabaptist Christian denomination, founded in 2002, and a recognized peace church. Members seek to follow Jesus by rejecting violence and resisting injustice. MC USA's Renewed Commitments state the following shared commitments among its diverse body of believers: to follow Jesus, witness to God's peace and experience the transformation of the Holy Spirit. MC USA is comprised of 15 area conferences and more than 470 congregations across the United States. MC USA is part of Mennonite World Conference, a global faith family that includes churches in 60 countries. Mennoniteusa.org 
# # #