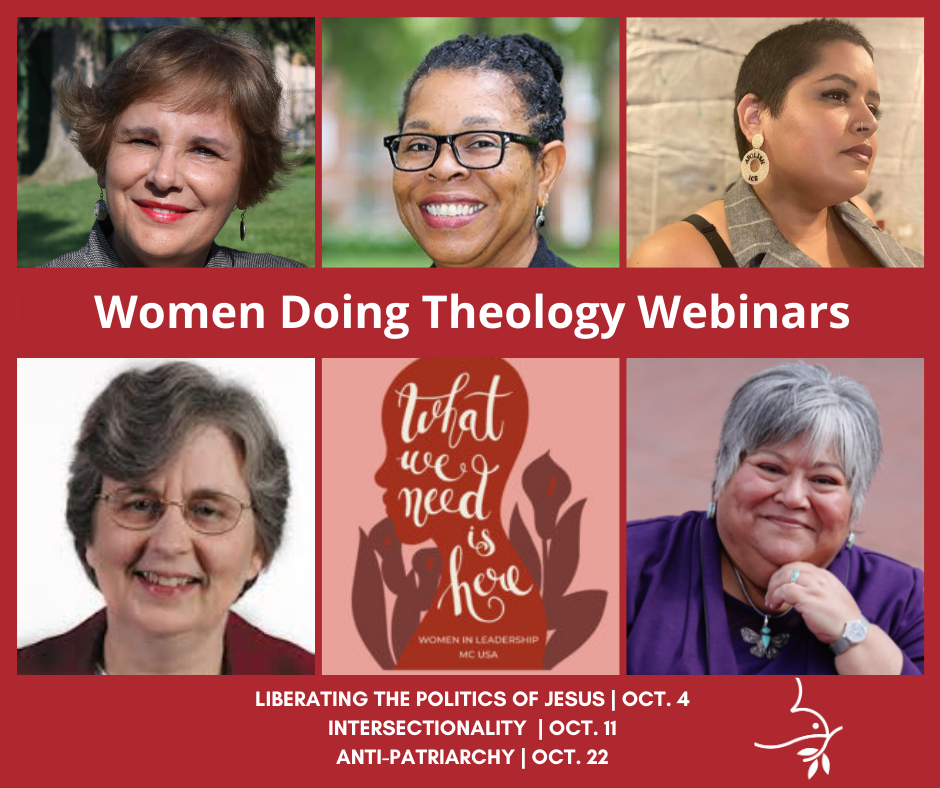 By MC USA staff
Women in Leadership (WiL), a ministry of Mennonite Church USA (MC USA), will be addressing intersectionality and patriarchy in its upcoming webinars on Sunday, Oct. 11 and Thursday, Oct. 22, 2020. Attendees are asked to register here by October 8 for both events.
The webinars are part of WiL's "What We Need Is Here" series, focused on engaging theological work born out of women's experiences. The webinar series is an alternative to WiL's Women Doing Theology conference, which was slated for November but postponed for attendees' safety and wellbeing.
"We're grateful to cultivate this space, even as we mourn the bodily-ness of our communal gatherings," said Melissa Florer Bixler, member of the WiL steering committee. "We continue to hear that this year's theme, 'What We Need is Here,' resonates with many women and people outside the gender binary. Our question has shifted because of the pandemic, as we ask this in a different kind of space."
WiL previously announced the first webinar in the series, "Women's Wisdom and Experience," which will take place on Sunday, Oct. 4, 2020 at 4 p.m. PT / 5 p.m. MT / 6 p.m. CT / 7 p.m. ET.
Spanish interpretation will be available for all three webinars.
The other upcoming webinars are:
By Their Nature: The Interlocking Way of Oppression and Liberation
Sun., Oct. 11, 2020 @ 7 p.m. ET / 6 p.m. CT / 5 p.m. MT / 4 p.m. PT, followed by optional caucusing
Host: Shannon Dycus, member of the WiL steering committee and dean of students at Eastern Mennonite University
Presenter: AnaYelsi Velasco-Sanchez, an IndoLatinx mujerista working to create and agitate her way through the Latin diaspora. She is an educator, consultant, writer and artist working to assist people in building an interlocking framework for justice.
Velasco-Sanchez will provide a one-hour plenary session on intersectionality and its liberating news for the church, followed by a time for optional small-group caucusing. The plenary session will address questions, such as:
What are the possibilities for liberation when we attend to the ways multiple oppressions manifest themselves in people of color?
What does this mean for the church?
How have we failed, and what work is before us?
Following the presentation, attendees may choose to caucus, according to accountability group. Groups will include: BIPOC, LGBTQ, LGBTQ BIPOC, Espacio para Latin@s hispanohablantes, gender expansive, white allies, and cisgender men. After 30-minutes of caucusing, the accountability groups will come together for a closing discussion.
Anti-Patriarchy: Navigating the Church
Thurs., Oct. 22 @ 7 p.m. ET / 6 p.m. CT / 5 p.m. MT / 4 p.m. PT
Host: Melissa Florer-Bixler, member of the WiL steering committee and pastor of Raleigh (North Carolina) Mennonite Church.
Presenter: Iris de León-Hartshorn, MC USA associate executive director for Operations and a respected elder in the Mennonite church.
De León-Hartshorn will share about her decades in church leadership, how she navigated patriarchal spaces and her hopes for the future of the church.
"Patriarchy, like racism, is something that is taught," said de León-Hartshorn, "so it is not about individuals, but a system that upholds men and dehumanizes women."
A worship gathering for the "What We Need Series," is also being planned for November, according to Sue Park-Hur, MC USA denominational minister for transformative peacemaking. More details will be coming soon.
Women in Leadership is a Peacebuilding ministry of Mennonite Church USA that works to dismantle patriarchal systems in Mennonite Church USA. WiL focuses on empowering women to live out the call of God on their lives, increase their capacities, and contribute their wisdom in congregations, area conferences, agencies and institutions. mennoniteusa.org/ministry/church-vitality/women-in-leadership/
Mennonite Church USA is the largest Mennonite denomination in the United States with 16 conferences, approximately 530 congregations and 62,000 members. An Anabaptist Christian denomination, MC USA is part of Mennonite World Conference, a global faith family that includes churches in 86 countries. It has offices in Elkhart, Indiana and Newton, Kansas.  mennoniteUSA.org