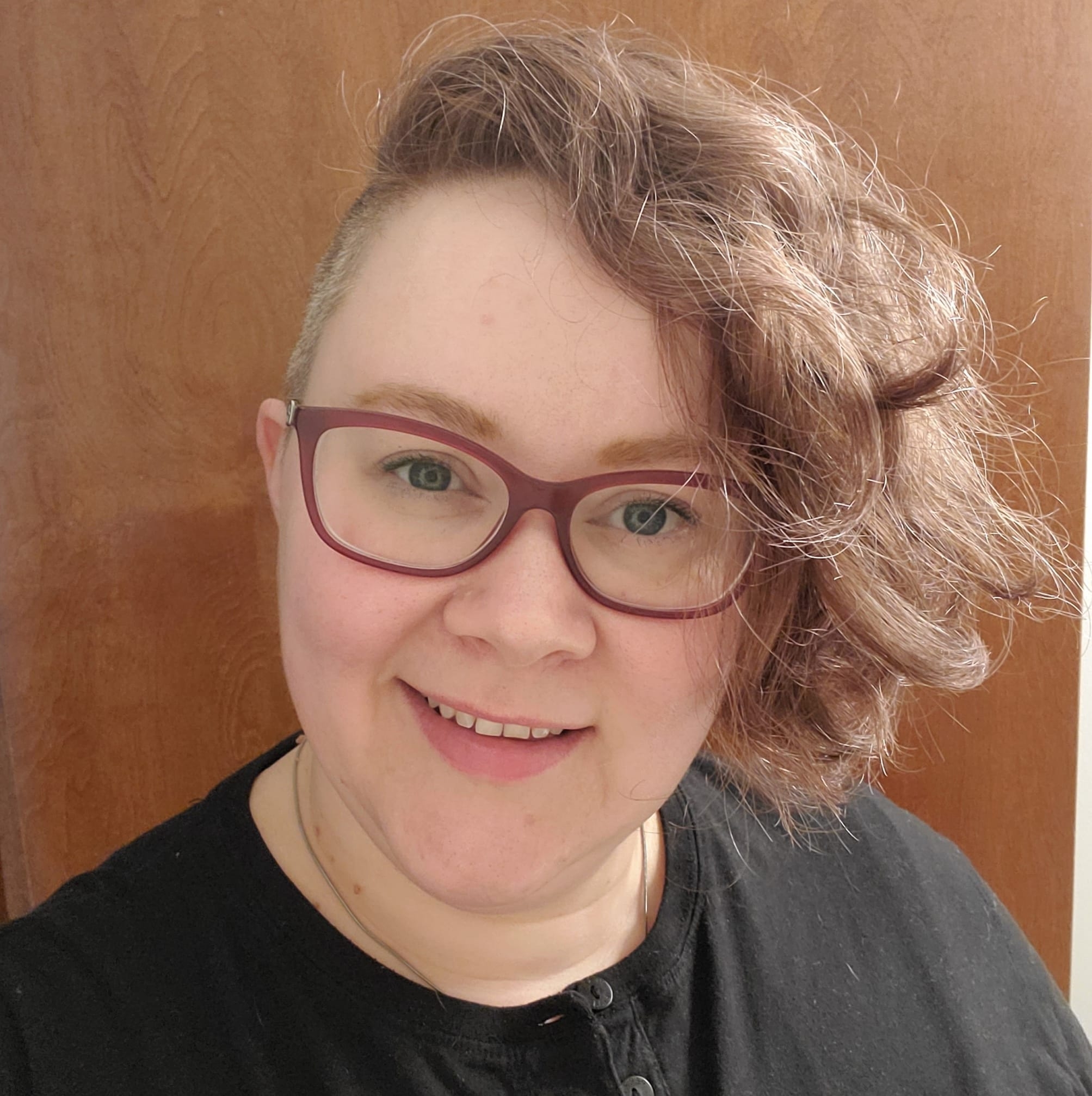 Debbie Bledsoe is a student at AMBS and is studying for her MDiv, with a focus on Pastoral Ministry. She and her wife, Emily, are originally from North Carolina. She is passionate about Queer inclusion in the church and hopes for a time where all are invited into membership, marriage and ministry. 
______________________________________________
I adore church. I love the goofy little things we do as a people, trying our best to love God and each other. I love the rituals, the hymns, the potlucks and the earnest ways we try to do life together with people who are different from us.
We, as believers, have two common threads running through us: our love FOR God and the love OF God. At its best, church is the place where we try to weave those threads together into something beautiful. Church is a place where people come together from diverse backgrounds and differing beliefs, and I just love that.
For years, my wife and I searched for a church home that felt right and accepted us, but when that search was unfruitful and painful, we gave up. We existed in this "wilderness" space for several years, spending time with God on our own, feeling the love of our Creator even if our fellow believers didn't agree with the affirmation and love we felt from God. After a while we decided to try again. We learned about Mennonites and discovered that there were core truths in Mennonite theology that felt real and important to us, so we sought out a local affirming Mennonite church.
We had the incredible luck to live near Raleigh Mennonite Church (RMC) in North Carolina. We visited and were welcomed with literal open arms. From our first moment at RMC, we felt at home. For the first time, people who love God like we do loved us for who we are, and we were invited into church life and leadership.
Eventually my pastor spoke my call to ministry aloud, and my life turned upside down. I heard God's voice affirm in me that my life-long love for the church and desire to serve others had been a call to ministry all along. I'd never been given "permission" as a woman — and a Queer one at that — to pursue ministry, so I didn't know that's what I was feeling my whole life. I felt my love for God and the church open up in overwhelming and life-encompassing ways, and I said yes to my call.
Even though I was a new, "convinced" Mennonite without any real knowledge of the Mennonite world, I felt God calling me to Anabaptist Mennonite Biblical Seminary (AMBS). I began my MDiv studies in August 2020, and AMBS felt like home right away. My wife and I moved to campus, and we were surrounded by love, joy and acceptance.
At AMBS, we have the great privilege of being a part of a strong and incredible Queer community. In classes, I feel affirmed and encouraged. On campus, I feel wrapped in God's love and grace. My professors are loving and desire for me to be successful as a pastor. I've been invited to be the Pastoral Intern at an incredible church, and I am looking forward to joining my beloved Queer friends who are already pastors in Mennonite Church USA (MC USA).
My love for the church has grown beyond what I ever could have imagined, and I am delighted that I get to dedicate my life to serving God in the church. The problem is that church can also be a place that causes pain. For so many, myself included, church has been a source of shame, heartbreak and ostracization. As a Queer woman, I have experienced this at the hands of a number of churches. I spent years hopping from church to church, hoping to find a place where I could serve God alongside others who love God, only to be made to feel unwanted because of my Queer-ness. I longed to be in community with others, yet they often created boundaries around themselves and around God.
I know that there have been, and still are, many Queer Mennonites who have faced such shame, heartbreak and ostracization within Mennonite churches. Their stories haunt me, and my heart breaks. They have stories that sound just like mine, only my experiences were outside of Mennonite churches.
As I tell my own story of finding joy and acceptance within the Mennonite Church, I want to honor the pain of their stories — and the strength and resilience so many who have come before and alongside me have shown. There's goodness in my story, but there's a long history of heartbreak in these same spaces. How can these two things be held together?
Each Queer Mennonite has a unique story to tell, and together these stories create a tapestry of celebration and lament.
It is clear to me that God is calling Queer people to ministry through AMBS and in MC USA, and I feel like each step toward inclusion is a step in the right direction. I am overjoyed that I am able to celebrate finally finding a home and recognize that my ability to celebrate comes because of the hard work of others and at the cost of many broken hearts.
I am grateful for those that have come before me and am blessed to be part of the sacred work of this church. I feel like I've found the home I've been searching for my whole life, and every day is a marvel as I consider God's love and mercy in my life.
The views and opinions expressed in this blog belong to the author and are not intended to represent the views of the MC USA Executive Board or staff.