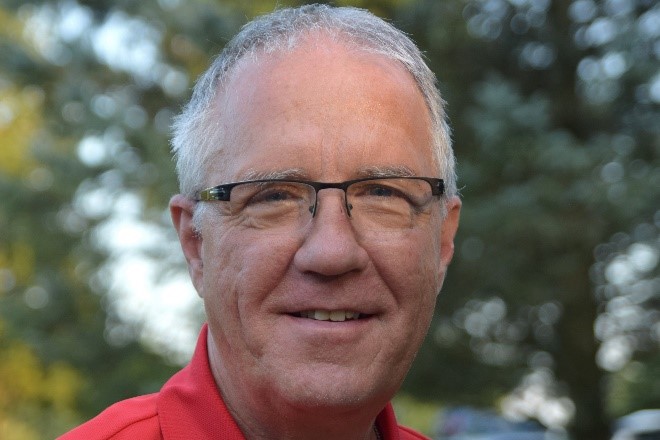 Ruben Chupp retired from full-time pastoral ministry after 28 years and now serves as an on-call chaplain at Goshen Health. He offers spiritual direction and works at two local funeral homes, as needed. He attends Sunnyside Mennonite Church in Dunlap, Indiana.
Introduction by Marlene Kropf.
_______________
Whether before teaching Sunday School or preaching a sermon or guiding a spiritual direction session, many of us pause to pray. It's a way of consciously opening ourselves to God's presence and invoking God's blessing on what will happen. The following "Prayer before Spiritual Direction" is by Ruben Chupp.
"I keep a paper file for each directee, which includes brief 'minutes' of each session; these notes help me maintain the directee's history,"  Ruben says. "Before we meet, I place my hands on the file, hold in my mind the face of the directee and offer the prayer."
The most important part of the prayer, according to Ruben, is the "fulcrum" – the italicized lines near the middle of the prayer.  No other sentence is as important as these fourteen succinct words.
"The prayer did not shape itself overnight. Rather, it came together over a period of years,"  Ruben also says. Now it has become his own, shaped, he believes, by the power of the Holy Spirit.
Prayer Before Spiritual Direction
The Lord's Prayer
Personal Petitions: Vertical Dimensions
Lord Jesus Christ, Son of God, have mercy on me, a sinner.
Forgive me where I have sinned.
(Luke 18:13)
Lord Jesus Christ, Son of God, I believe.
Help my unbelief.
(Mark 9:24)
Lord Jesus Christ, Son of God, make haste to help me.
Come quickly to save me.
(Psalm 41:13)
Fulcrum
Lord Jesus Christ, Son of God, you must become greater.
I must become less.
(John 3:30)
Personal Petitions: Horizontal Dimensions
Lord Jesus Christ, Son of God, give me this day someone to serve.
Give me this day someone to serve me.  Give me this day godly wisdom and discernment.
Lord Jesus Christ, Son of God,
may I seek to understand before I seek to be understood.
May I listen before I speak. May I listen more than I speak.
Lord Jesus Christ, Son of God, may the grace I have so lavishly been given
be the grace I extend to others. Amen.
Learn more about the Mennonite Spiritual Directors Network at mennosdn.org.
The views and opinions expressed in this blog belong to the author and are not intended to represent the views of the MC USA Executive Board or staff.