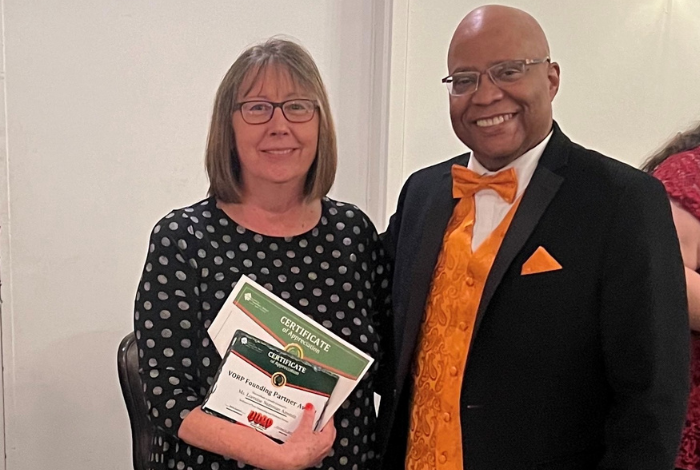 ELKHART, Indiana (Iglesia Menonita de EE. UU.): El Center for Community Justice (Centro por la justicia comunitaria) en Elkhart, Indiana, honró a Lorraine Stutzman Amstutz, ministra denominacional por la paz y la justicia de la Iglesia Menonita de EE. UU, por su trabajo en justicia restaurativa, en un evento el 21 de octubre, celebrando el 45° aniversario de su Programa de reconciliación víctima/agresor (VORP por sus siglas en inglés), el primer programa de justicia restaurativa de su tipo en los EE. UU.
Irwin Larrier, el director ejecutivo del Centro por la justicia comunitaria, reconoció a Stutzman Amstutz con el Premio de Copartícipe de Fundación de VORP, por su destacada labor con el Centro como reciente graduada universitaria en la década de 1980 y su continuas contribuciones a la justicia restaurativa.
"La coordinación de VORP fue una de las primeras inversiones profesionales de Lorraine", dijo Larrier. "Ella trajo una pasión por la perspectiva alternativa que tiene VORP del crímen y el castigo, y fuertes capacidades relacionales para estos esfuerzos. Comprendió la importancia de los valores que apuntalan las prácticas restaurativas: respeto, responsabilidad y relación. A través de los últimos 45 años, su vida ha reflejado las habilidades y los valores que ella desarrolló en esa lucha".
Stuzman Amstutz, quien presentó además el discurso inaugural del evento, compartío acerca de los comienzos de su trabajo con VORP: trabajando tan cercanamente con los agentes de la condicional, que pensaban que ella era su colega, capacitando a voluntarios, y alcanzando a víctimas que a menudo no estaban dispuestos a involucrarse con mediadores o agresores.
"El trabajo que realicé en el Centro de Justicia Comunitaria (CCJ por sus siglas en inglés), brindó la base del modo en que yo quería llevar a la práctica lo que estábamos pidiendo de los demás. Si yo no era capaz de concretarlo en mi propia vida, entonces ¿cómo podría hablar con honestidad con los demás?" preguntó.
Estas experiencias impactaron su carrera en los años y décadas que siguieron.
"Una de mis áreas de pasión fue la disciplina restaurativa en las escuelas", dijo. "Cuando tenía a tres hijos/as en el sistema educativo, me di cuenta que las respuestas disciplinarias de la escuela espejaban el sistema legal, y sabíamos cómo estaba resultando ese sistema". Describió cómo, siendo consejera de un secundario menonita, utilizó la disciplina restaurativa para ayudar a los estudiantes a manejar sus diferencias y evitar conflictos más serios.
Más adelante, Stutzman Amstutz sirvió como coordinadora del programa de justicia restaurativa del Comité Central Menonita durante más de 25 años, y fue coautora de "The Little Book of Restorative Discipline for Schools" (El pequeño libro de disciplina restaurativa para escuelas) y "What Will Happen to Me?" (¿Qué me pasará a mí?). Antes de unirse al personal de la junta ejecutiva de MC USA en 2022, se desempeñó como supervisora de cuidado temporal para COBYS Family Services, en Lancaster, Pensilvania.
Stutzman Amstutz se graduó de Eastern Mennonite University, en Harrisonburg, Virginia, con un título bachillerato en trabajo social. Obtuvo su máster en trabajo social de Marywood University, en Scranton, Pensilvania.
El Centro por la justicia comunitaria está enraizada en los principios de justicia restaurativa y asiste al condado de Elkhart con servicios de mediación y facilitación restaurativas, el trabajo de reintegración restaurativa y la capacitación restaurativa.