por Adriana Celis
El pasado 24 de julio en las instalaciones de la Iglesia Menonita Prairie Street, se realizó el servicio unido de las iglesias menonitas del condado de Elkhart Indiana. Aunque inicialmente dicho servicio se iba a llevar a cabo en el Elkhart Park, y los planes eran tener un día de adoración al aire libre donde cada asistente llevase sus sillas y mantas. Dichos planes fueron cambiados por motivos climatológicos. Sin embargo, dicho evento pudo ser realizado y contó con una buena afluencia de personas que forman parte de las iglesias que tuvieron participación entre ellas: College Mennonite Church, Sunnyside Mennonite, la iglesia Piedra Viva, New Foundation United in Christ, Fellowship of Hope, Belmont Mennonite y Neighborhood Fellowship.
Compañerismo en la casa de Dios
Los asistentes experimentaron el compañerismo como fruto de la diversidad cultural de varios idiomas, acentos y distintas generaciones. Todos reunidos con el propósito de exaltar a una sola voz, el nombre de Dios. Con cantos de alabanzas tradicionales y en el mismo sentido contemporáneas, en dos diferentes lenguas tanto en inglés como en español, los asistentes gozarón de un tiempo único y muy agradable. También se llevó a cabo la cena del Señor Jesús, lo cual marcó un momento muy significativo.
Por otro lado, la predicación en inglés, estuvo a cargo de la pastora Madeline Maldonado quien es pastora de alcance en College Mennonite Church. La pastora Madeline aceptó la invitación para predicar por parte de Suella Gelber quien es la moderadora del Ministry Credentialing Team de Indiana Michigan Mennonite Conference y pastora de la Iglesia Fellowship of Hope.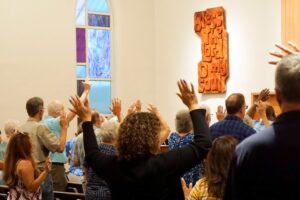 El sermón contó con traducción simultánea al español por parte de Cristian Alemán quien es coordinador de alcance y director de música bilingüe del College Mennonite Church.
El tema principal de la predicación estuvo basado en Salmos 104, versículo 30, el cual expone «la realeza, la magnificencia y superioridad de Dios como creador quien habita, recorre el universo y lo observa como su obra creativa»
La pastora Madeline expuso «el aliento de Dios mediante su Espíritu Santo tiene un poder asombroso en la vida de las personas, cuando Él sopla aliento de vida, este genera una transformación real y efectiva en toda la faz de la tierra».
El servicio concluyó entre adoración colectiva y oraciones, no solo por los diferentes retos que se viven a diario en el mundo, sino también por los constantes desafíos que se enfrentan en los Estados Unidos como lo son: el creciente odio racial, las injusticias, las guerras y la más reciente ola de violencia que ha estado viviendo el país por las masacres colectivas.