Caring for climate: Beyond denial and despair
This webinar took place Thursday, February 27. Below you can find the full webinar as well as each presenters' individual presentations.
---
About
Many people are still in denial about the climate crisis and still, others are in despair. How can congregational ministries help us navigate the myriad emotions we experience related to climate, moving us from inaction to hopeful engagement? Join Doug Kaufman and other Mennonite climate leaders in discussing how people become involved in climate action, including why we are involved and how to help others get involved.
This webinar is part of Mennonite Church USA's Learn, Pray, Join initiative on Climate Justice, in partnership with Mennonite Creation Care Network (MCCN) and the Center for Sustainable Climate Solutions (CSCS).
The Full Webinar

Doug Kaufman

Dr. Christy Miller Hesed

Dr. Sibonokuhle Ncube

Ken Pitts

The presenters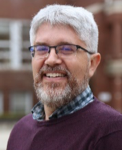 Doug Kaufman is a director of pastoral ecology at the Center for Sustainable Climate Solutions, Goshen College, and pastor of Benton Mennonite Church, who began creation care ministries in response to too much manure in the Elkhart River where they baptize. He is completing a Th.M. in ecology from the University of Toronto.
---
Dr. Christy Miller Hesed is an environmental anthropologist and conservation biologist whose work focuses on engaging underrepresented communities in climate change adaptation planning. She was the Director of Engaging Faith Communities for Coastal Resilience, a project that brought together rural African American church communities with county and state government employees and environmental NGOs to address climate change on the Chesapeake Bay. She lives in Hesston, Kansas.
---

Dr. Sibonokuhle Ncube has served as the National Coordinator of Compassionate Development Service, the relief and service agency of the Brethren in Christ Church of Zimbabwe and a partner of Mennonite Central Committee. She is currently a student at Anabaptist Mennonite Biblical Seminary. She has almost 20 years' experience in various development contexts, including climate change management and finance and disaster preparedness. She is a former deaconess of Mount Pleasant Brethren in Christ Church in Harare, Zimbabwe and was baptized at the Lobhengula Brethren in Christ Church, Bulawayo, Zimbabwe. She lives in Goshen, Indiana.
---

Ken Pitts is Environmental Science School Outreach Specialist for Oregon Metro in the Portland area, with 35 years of secondary biology and environmental science teaching. He gives climate crisis presentations for middle and high school youth. He is part of the Portland Climate Reality Project and the Portland Mennonite Church Justice Committee. He lives in Portland, Oregon.