"Ask the Lord of the harvest, therefore, to send out workers into his harvest field." Luke 10:2b
By Cami Dager
(Mennonite Church USA) – In January 2016, Zion Mennonite Church (Zion), a Mennonite Church USA (MC USA) congregation in Souderton, Pennsylvania, started providing 20 students at a local elementary school with backpacks of food for the weekend. This began The Bean Bag Food Program, an outreach ministry to address childhood hunger. Today, the program has expanded to serve almost 200 students at six elementary schools and one middle school – and inspired a similar program in a neighboring school district.
"The backpack program ensures that children get enough food on weekends and holidays to avoid hunger when they can't depend on school meals," said Donna Halteman, founder and coordinator of Zion's The Bean Bag Food Program.
Food security is especially critical for children, as their diets affect their current health and physical, mental and social development. While the USDA's National School Lunch Program helps to address childhood hunger by providing nutritionally balanced, low-cost or free lunches to 29.7 million children daily, for many children, school meals may be all they eat.
One local parent said, "As a single mom on a tight budget, the healthy food options in the backpack are a blessing."
"What I like best about getting the Bean Bag backpack is that I get to provide food for my family," said one student. "The Goldfish crackers are my favorite food in the bag!"

Video by Henry Frank
How it began
"I always felt called to help others," said Halteman, an accountant at Care and Share Thrift Shoppes, an independent nonprofit organization in Souderton.
She was inspired to focus on her own neighborhood a few years ago when she heard a sermon by Scott Roth, then conference minister for the Eastern District Conference of MC USA. He urged the congregation to look for ways they could serve in their own community, mentioning tiny E. Merton Crouthamel Elementary School (EMC) less than a half mile away. At EMC, more than four out of 10 children currently are food insecure.
Halteman began praying about how she could help. A friend shared an article about "Snack in a Backpack," a community program to reduce childhood hunger in Fannin County, Georgia that offered detailed instructions on how to start a backpack program. The idea for The Bean Bag Food Program had taken root.
In the spring of 2015, Halteman shared her idea with EMC Principal Tamara Callahan.
"The Bean Bag Food Program was a perfect fit with our whole-child approach," said Callahan. "If we want students to succeed, we need to make them feel safe and loved and meet their basic needs before we can teach them academics."
With lots of prayer and an initial investment of $3,000 from private donors, The Bean Bag Food Program was underway. The Zion congregation, which had experience packing snacks for a community afterschool program, embraced the idea and provided the space to store and process the backpack items. Five people from the congregation volunteered to fill the bags.
How it works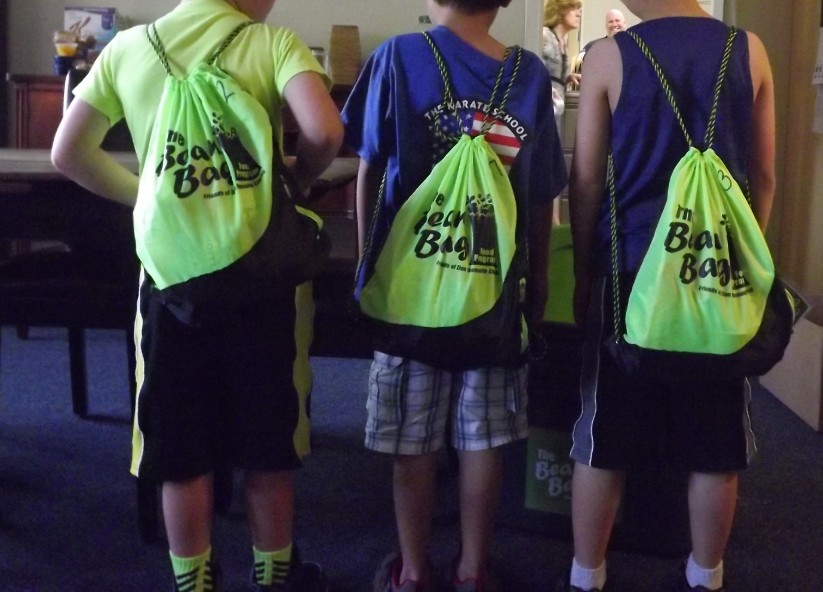 At EMC, Callahan identifies those students who are eligible for free lunches through the National School Lunch Program and invites them to join The Bean Bag Food Program with permission from a parent/guardian. The children are assigned a number that is written on their backpack. In this way, the identity of the students is kept confidential, even from the volunteers. Sometimes children outside the program ask to receive a backpack. They are given one too.
"If a child is brave enough to ask, we know there must be a need," said Callahan. "No one here is ashamed to take the backpacks, because we make the concept of community part of our culture at EMC."
The volunteers fill the backpacks with food purchased at a discount from local supermarkets and wholesale clubs. The goal is to provide food that is high in protein, low in sugar, shelf-stable, lightweight and easy to open and prepare.
Typical contents include:
Two breakfast items (i.e., cereal or instant oatmeal)
Two lunches (i.e., protein bars or food in pop-top cans)
Two snacks
Fruit (i.e., raisins, applesauce and, hopefully soon, fresh fruit)
High-protein chocolate milk.
"Often, the volunteers include notes for the children, telling them how special they are, encouraging them to read or just wishing them a good day," said Halteman.
The program provides one backpack per eligible student. Some families receive more than one. The students pick up their full backpacks after the dismissal bell rings on Friday afternoon and return them empty on Monday morning.
Reaction to the program has been very positive.
"It's been such a blessing," said Callahan. "The children are excited to receive the backpacks and their families really appreciate it."
To Callahan, it's not just about the food: "If we can be of help to our EMC families and alleviate some of their stress, then those families can put energy into other places."
What it looks like today
During the four years since the program started, it has grown 100%. Community involvement also has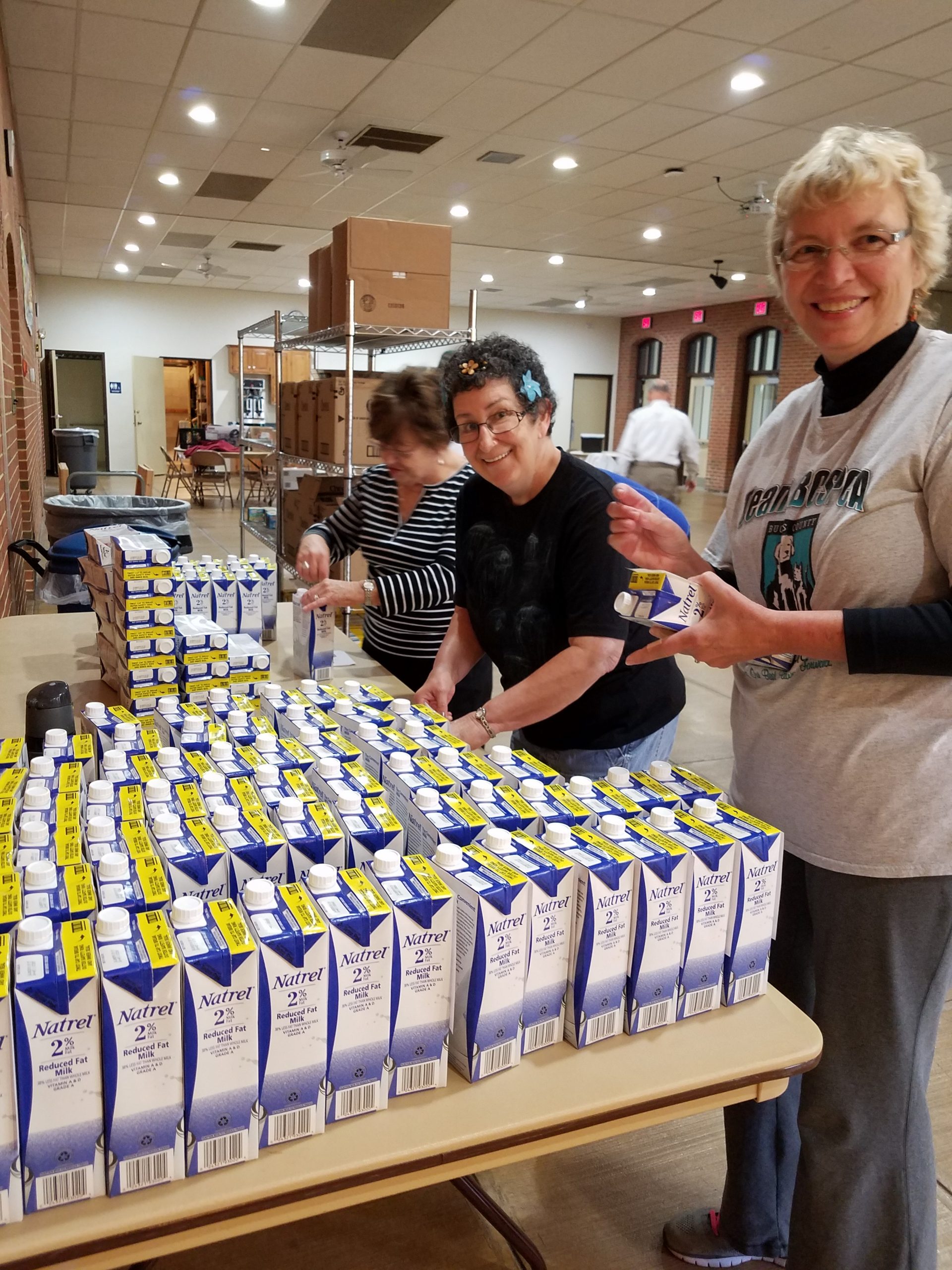 grown. Today, two other local churches partner with Zion to take turns filling the bags: Zwingli United Church of Christ and Indian Creek Church of the Brethren, both in Souderton. A total of about 60 people volunteer each month to fill the backpacks.
The Bean Bag Food Program receives no state or federal assistance and is fully community-supported, with ongoing funding provided by Zion Mennonite church, local businesses, other local churches and community members. According to Halteman, the program costs $10 per student per week for 40 weeks.
In fall 2019, Zion Mennonite held an organ recital fundraiser that raised $3,000 for the program.
"At the recital, a family that formerly participated in the Bean Bag program came up and thanked me," said Halteman. "They said the program was a big help to them – and now they wanted to give back!"
Looking ahead, Halteman hopes The Bean Bag Food Program will continue to grow, eventually encompassing the remaining three schools in the district: Indian Valley Middle School, Souderton Area High School and Souderton Vantage Academy.
She offers encouragement to other congregations and organizations interested in starting similar programs: "You can do it! If that's where God wants you to be, it will work out."
"You just need to be organized, have compassion for children and be willing to work really hard!" Halteman said with a smile.
For more information on Zion or to donate to The Bean Bag Food Program, please visit https://zionmennonite.org/.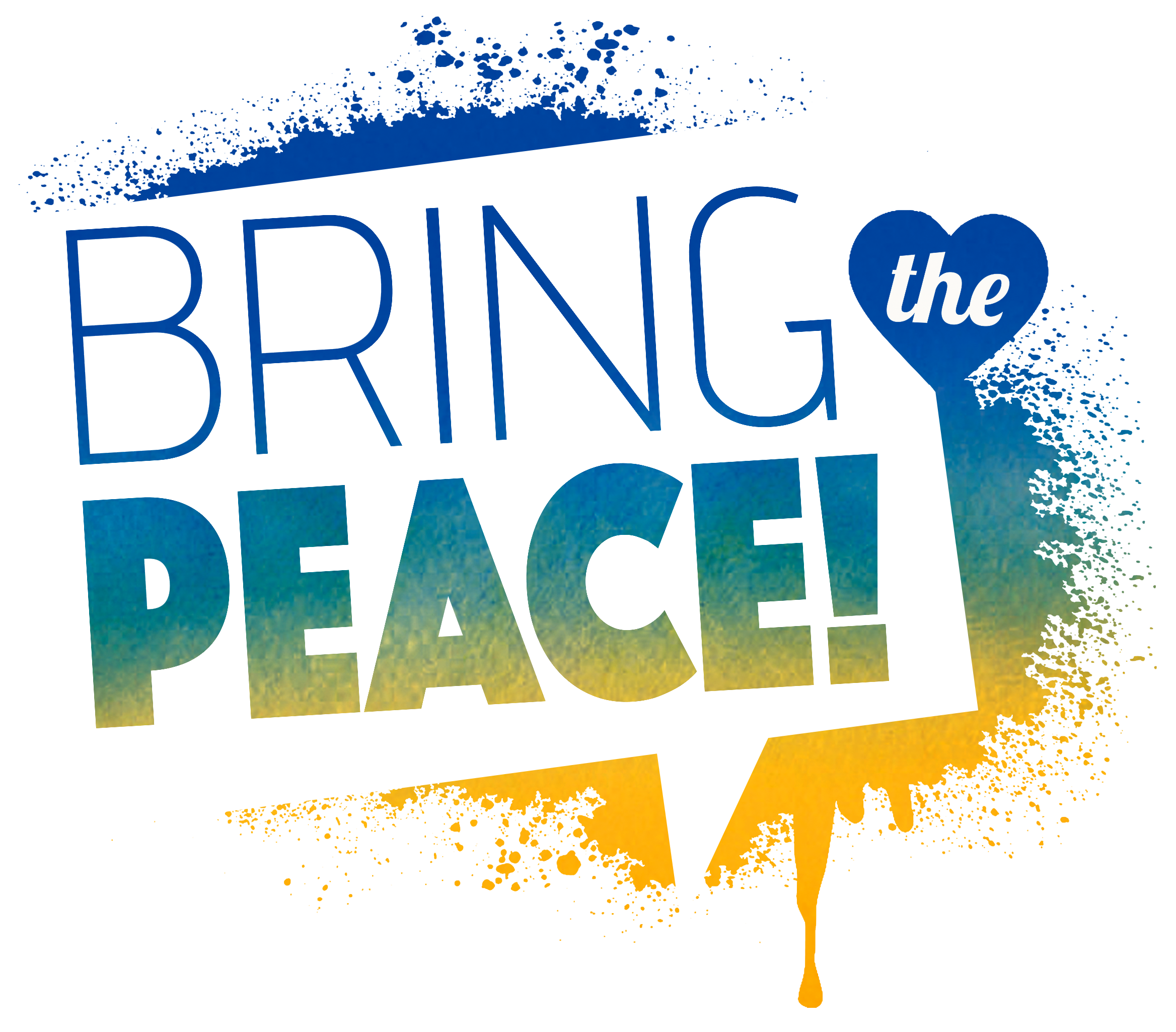 This is a #BringThePeace feature article by MC USA. #BringThePeace is MC USA's call to action for individuals and congregations to extend peace in our communities.
Mennonite Church USA is the largest Mennonite denomination in the United States with 16 conferences, approximately 530 congregations and 62,000 members. An Anabaptist Christian denomination, MC USA is part of Mennonite World Conference, a global faith family that includes churches in 86 countries. It has offices in Elkhart, Indiana and Newton, Kansas.  mennoniteUSA.org