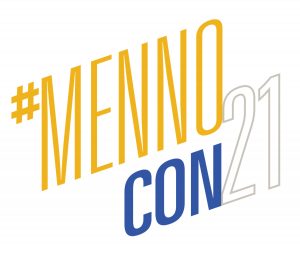 By MC USA staff
Mennonite Church USA's (MC USA) Convention planning team – Director of Event Planning Scott Hartman and Event Services Coordinator Sarah Chase – shared a behind-the-scenes look at planning for MennoCon21, the denomination's biennial convention, which will be held July 6-10, 2020, in Cincinnati, Ohio.
Who is involved in planning convention?
Hartman: It takes many people to plan convention. Sarah and I facilitate most of the programs and elements. Shana Peachey Boshart, denominational minister for Faith Formation, helps coordinate seminars and worship planning. Executive Board (EB) communications staff create the various printed and digital pieces related to convention and coordinate the design of the exhibit hall. The executive director and associate executive directors work with the EB to organize and execute the delegate sessions.
Convention could not happen without the amazing people that volunteer before and during the event. We recruit volunteer coordinators from across the denomination to oversee the various components of convention, including servant projects, recreation, seminars, and activities for children and junior youth. Those coordinators enlist additional volunteers to help within their specific areas during the convention week. More than 125 volunteers help convention run smoothly. One of the key groups of volunteers is the worship planning committee, which discerns themes, scriptures and key features for each worship service.
When does the planning begin? 
Chase:  Planning for convention begins four to five years before the actual event. Site selection is the first step. Cities submit bids to host MennoCon, and we conduct site visits to compare the bids. When a site is chosen, we sign contracts with the convention center and hotels.
More focused planning for convention starts two months after the previous convention. Scott and I meet with the EB staff to evaluate the previous convention and discern key elements for the next one, including the theme. Then, we start working on more specific components.
What makes Cincinnati a good choice for this Convention?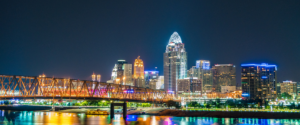 Hartman: Cincinnati offers a convenient geographic location and wonderful facilities. The city is within a 13-hour drive of a big portion of our constituency. The Cincinnati/Northern Kentucky International Airport (CVG) is serviced by 11 passenger airlines/tour operators and has 50+ non-stop destinations. CVG is a quick, 20-minute trip from downtown Cincinnati where the convention center and hotels are located.
We will be using two hotels in Cincinnati to house participants. The Hyatt Regency Cincinnati and Hilton Cincinnati Netherland Plaza are located within two blocks of the Duke Energy Convention Center. We have a good selection of double and king rooms at each hotel. The Hilton Cincinnati Netherland and its French art deco character is recognized as a National Historical Landmark.
Duke Energy Convention Center is the perfect size facility for our convention, with three exhibit halls, two ballrooms and more than 30 meetings rooms. The meeting rooms and ballrooms are located on the second and third floors which creates a compact feel for the center.
The center has made great strides in diverting waste from our landfills and stretching energy efficiency goals to make a positive impact. Other "green" initiatives include:
A solar array on the roof of the exhibit halls
LED lighting in first floor exhibit halls
Green-certified soap and eco-friendly paper products in all public restrooms
Recycling of used cooking oil
Front of house composting to encourage attendees to contribute to conservation
Multi-stream recycling units
What are you looking forward to this year?
Chase: Convention always brings fun and excitement! I love seeing people connect and grow. I am most excited to see how the Holy Spirit moves. We were so blessed last convention, and, while this year will look different, we can count on the Spirit moving! The worship planning committee has been spending time with our #BringThePeace theme and has planned some amazing services. Whether we are together in person or virtual, I believe that God will speak into our denomination. I look forward to seeing and hearing how people are blessed by the experience.
Hartman: I look forward to convention and working with our volunteers. I enjoy seeing people from across MC USA come together to worship and to hear laughter throughout the convention space. It is good to reconnect with longtime friends and to make new friends. I want convention to be a great experience for everyone in attendance, and I look forward to hearing stories of the impact convention has had on people's lives.
#BringThePeace is a very appropriate theme for MC USA right now. I'm eager to hear what the speakers will bring to that theme during worship and to see the creativity of organizations in the exhibit hall.
Are there any scriptures that have been particularly meaningful to you personally during this planning process?
Chase: "BringThePeace" has been a great theme to dig deeper into what exactly peace is and how we experience it. The scriptures chosen for the worship services have been meaningful to me. Right now, the scripture that is speaking to me is Philippians 4:7 "Then you will experience God's peace, which exceeds anything we can understand. His peace will guard your hearts and minds as you live in Christ Jesus." My desire is to help people experience God's peace.
Hartman: "BringThePeace" has lots of current applications. One of the verses that exemplifies this theme for me is Micah 6:8 "He has shown you, O mortal, what is good. And what does the Lord require of you? To act justly and to love mercy and to walk humbly with your God." If I can do these things, I can help bring Christ's peace to those around me.