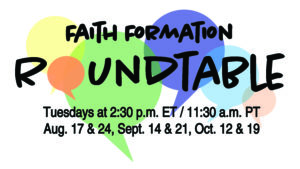 Mennonite Church USA (MC USA) is hosting a series of virtual Faith Formation Roundtable discussions to connect, encourage and support faith formation leaders amid the uncertainties of the ongoing COVID-19 pandemic. The Faith Formation Roundtables will be held via Zoom twice a month in August, September and October.
"The Faith Formation Roundtables will provide an opportunity for pastors, leaders, teachers and volunteers to gather and discuss topics they're passionate about," said Shana Peachey Boshart,  MC USA denominational minister for Faith Formation and the host of the online events. "I'm hopeful that these conversations will spark new, practical ideas that leaders can use in their ministries."
The Faith Formation Roundtable gatherings will be held on Tuesdays at 2:30 p.m. ET. The topics are:
August 17                    Planning for Fall 2021 Children's Sunday School
August 24                    Planning for Fall 2021 Youth Ministry
September 14             Intergenerational Summer Worship: How did it go?
September 21             Staying connected with your college students
October 12                  Ruth Goring, Mennonite author of children's books
October 19                  Family faith formation with "Pause: Play, Breathe, Pray"
Peachey Boshart will be joined by pastors and leaders from across the denomination who will help start the conversations by sharing their plans and challenges. On October 12, she will introduce Goring, a member of Living Water Community Church, Chicago, Illinois, and author of several books that nurture faith in children.
"We encourage participants to bring their ideas, concerns and questions," said Peachey Boshart. "In our conversations, we trust that the Holy Spirit will be present and giving us guidance."
The Zoom calls will not be recorded.
Mennonite Church USA is the largest Mennonite denomination in the United States with 16 conferences, approximately 530 congregations and 62,000 members. An Anabaptist Christian denomination, MC USA is part of Mennonite World Conference, a global faith family that includes churches in 58 countries. It has offices in Elkhart, Indiana and Newton, Kansas.  mennoniteUSA.org