Carlos Romero ends term as executive director of Mennonite Education Agency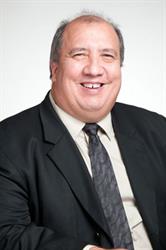 Carlos Romero transitioned from his role as executive director of Mennonite Education Agency (MEA), effective in July 2019. The MEA Board of Directors accepted his announcement at a March 8-9 meeting with regret and deep appreciation for his passionate commitment to Mennonite education and decades of faithful service to the church and its schools.
Romero has served as executive director since the formation of MEA in 2002, guiding the new agency's mission to strengthen the life, witness and identity of Mennonite Church USA through education. In recent years, he led the board and schools to enlarge their vision from "schools for Mennonites" to "Mennonite schools for all" in response to the increasing need for a distinctively Anabaptist witness in education.
"Romero's work has positioned MEA well for future success," said Richard Thomas, MEA board chair. "During the past few years, Carlos led MEA to make many changes in structure and style of operation, with stakeholder input, creating a dynamic organization that cultivates the soil in which Mennonite schools and educational programs can continue to flourish."
Read more from Mennonite Education Agency.
Tom Stuckey is serving as interim executive director of MEA.
Stanley Green announces retirement as executive director of Mennonite Mission Network
Stanley W. Green, who has served 19 years as leader of Mennonite Mission Network, will retire at the end of July 2020. The Mennonite Mission Network board of directors announced Green's decision at its July 1 meeting in Kansas City, Missouri.
Green became Mennonite Mission Network's executive director in 2000, after serving as president of Mennonite Board of Missions (a predecessor agency of Mennonite Mission Network) for seven years. Green, 64, will leave a legacy of important accomplishments as a steady and familiar presence to many members of the historic peace church that, in association with Mennonite World Conference, connects with more than 2 million Anabaptists globally. Green guided the mission agency of Mennonite Church USA through periods of uncertainty, growth, and sustained success, as the denomination has endured changing times that have affected all parts of the church.
Read more from Mennonite Mission Network.