By Kayla Berkey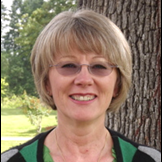 HESSTON, Kansas (Mennonite Church USA) — Linda Dibble, a chaplain and member of the MC USA Executive Board, has been called as the nominee for moderator-elect. Dibble has served in several capacities in broader church leadership and she currently serves on the Pastoral Leadership Team for Pacific Northwest Mennonite Conference and chairs the Albany (Oregon) Mennonite Church Leadership Team. Her nomination has been approved by the Executive Board and was affirmed at the Constituency Leaders Council meeting held March 1.
"Linda comes to the moderator-elect role with a non-anxious presence to lead and guide during celebrations as well as challenging times," said Cal Zehr, chair of the Leadership Discernment Committee (LDC). "I sense that her training as a spiritual director equips her to listen closely in deliberation and create space for all voices to be heard."
Dibble works as a special projects and interim chaplain at Mennonite Village in Albany, Oregon. She received an M.A. in Spiritual Formation from George Fox Evangelical Seminary in 2016 after 20 years of working in accounting. She holds a B.S. in Business Management and a Certificate in Human Resources Management. She also serves on the Western Christian School Board of Directors.
The moderator-elect is selected by the LDC, and if affirmed by delegates at the MC USA Convention in Kansas City, Dibble will serve two years as moderator-elect followed by two years as moderator and chair of the Executive Board, presiding over the 2023 MC USA Convention.
Dibble said she accepted the nomination after prayer and consulting with family and church leaders. "I felt if I was being asked to serve in this role that God was leading me to say yes," said Dibble. "For me, part of learning how to be a servant is recognizing that leadership and connecting people are some of my gifts and that people find value in that."
"The LDC selected Linda because she comes with a desire to carry forth the MC USA vision into the future," said Zehr. "She has a love for God and the church which showed throughout her service as the moderator of the Pacific Northwest Conference during times of reorganization and leadership transitions."
Dibble also manages a five-acre Christmas tree farm that she and her husband own, where she has grown and sold vegetables as well. "I enjoy working in the dirt and in the flower beds with all of God's color. It's therapeutic," said Dibble.
She and her husband have four adult children and six grandchildren. She said they enjoy going to the Oregon coast for refreshment and riding on their recumbent tadpole trikes.
"My prayer for the church is that we would be faithful," said Dibble. "That we would listen through the hard discussions that come and be able to love and bless those that disagree with us. And that's really hard to do, so I'm also preaching to myself."
David Boshart of Wellman, Iowa, is the current moderator and Joy Sutter of Harleysville, Pennsylvania, is moderator-elect through the MennoCon19 meeting. Sutter will serve as moderator for the 2019-2021 biennium.