By Doreen Martens
ALTADENA, California (Mennonite Church USA) — With a ceremonial snip of the ribbon, Full Circle Thrift officially opened for business Oct. 29 in a beautiful historic building on a major street in the Los Angeles suburb of Altadena. The soaring shop is the fruit of many months of hard work for entrepreneurial Pacific Southwest Mennonite Conference (PSMC) mission minister David Gray, a tireless team of volunteers from area churches, and contributions of time, energy, expertise and many truckloads of goods for sale from Mennonites as far-flung as San Francisco and Tucson, Arizona.
The thrift shop is designed to be a profitable enterprise to undergird the creation of an Anabaptist Resource Center to serve PSMC member churches and others interested in the Anabaptist way of faith across the region, while putting into practice Mennonite values of community-building, serving the needs of low-income people and caring for creation by recycling and reusing goods instead of throwing them away.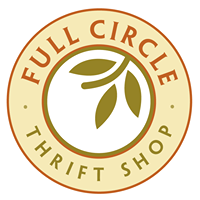 But it was a long time coming, delayed first by a long, frustrating search for a suitable location, then by Los Angeles County's 11th-hour refusal to grant a permit for the original choice in a nondescript strip mall, which came after racks had been purchased and as the team was about to start interviews for a manager. It was back to prayer and hope.
But when the owner of the empty landmark building at 2245 Lake Avenue – rejected earlier because of its high rental cost – came back with a lower offer, the team jumped at the opportunity. Known as Substation No. 8, it once served as a power station for the Pacific Electric Railway and the nearby Mount Lowe railway and is listed on the National Register of Historic Places. Not only does this give the thrift store a cachet for customers, but it also brought a wealth of community goodwill.
Among those taking part in the opening were representatives of the Altadena Historical Society and Altadena Heritage as well as the local Chamber of Commerce and Civic Association. A local ABC affiliate sent a news crew to cover the event, which featured a community art project "upcycling" old clothes into wall hangings, dolls and reusable bags; refreshments and balloons; a fun celebrity-style photo area and even live music provided by musicians from the Wholicare Community Mission Church, a Mennonite congregation in nearby Pasadena.
The launch team got the keys in mid-August, which began a flurry of activity, drawing in volunteers from local churches to move a ton of goods collected over months from communities across PSMC's two states into the building. A group also spent four days moving in a "mother lode" of store furniture purchased at bargain prices from a local Kohl's store that had gone out of business.
"There was a lot of literal heavy lifting, much sweat (all the moving coincided with a heat wave, with temperatures reaching 105 degrees) and even some blood, but thankfully no major injuries!" PSMC administrator Agnes Chigoji wrote in PSMC's weekly update.
A design team determined how to arrange the fixtures and maximize the space for a successful retail operation. While the lease was being finalized, another team interviewed candidates for the store manager position, settling in the end on Paul Netherton, and later for the assistant manager and associates. Other members of the launch team helped with details such as setting up the point of sale system, getting the necessary permits and licenses and developing marketing ideas.
"There is a lot of work that goes into starting a thrift store, and we are so grateful for the talented volunteers who have been working tirelessly on this project," Chigoji wrote.
There were encouraging signs early on, as local people began stopping by to ask about the project.
"They were all excited about us starting a thrift store, and they were wowed by the beauty of the building interior. We plan to build on that and make it a must-visit place in Altadena," Chigoji wrote.
Even so, the team had many more bureaucratic hoops to jump through, requiring plenty of perseverance on Gray's part. At one point, the county argued that since the site had never been used for retail before, a change in designation wasn't possible. It took Pasadena Mennonite Church member Maya Sharp's discovery of an obscure historical article to prove that, a century back, there had in fact been some retail activity there.
The store opened for a few hours a day in mid-September and soon was drawing clientele. On the Friday night before the official grand opening, members of PSMC churches were invited to a preview celebration that included prayers of blessing for the project.
PSMC conference minister Clare Ann Ruth-Heffelbower is buoyed by the "positive energy" so much in evidence that evening, with perhaps a dozen congregations represented. "I think that shows there is real ownership of this by a variety of congregations – we had people here saying, 'I wish Altadena wasn't so far away,' " Ruth-Heffelbower said.
Although the Anabaptist Resource Center for now remains a "virtual" (online) project, since the store doesn't have space to house a meeting area, the shop is already showing signs of becoming a hub for the Southern California Mennonite community, she said. It's possible the building and surrounding space could be a place for after-hours gatherings, potluck meals and other events.
It will also be a way of strengthening ties with the local community. One visitor from the historical society vowed on the day of the opening to clean out her clutter and bring donations to the store – a form of community participation that will be important as the original stock gathered from wide distances is depleted.
Enthusiasm continued through the first week as the store held special days for trick-or-treaters, seniors and even a bring-your-pet day.
"This project is your project," Gray wrote to churches on the eve of the opening. "As churches we come together to form PSMC, and we say that we find our unity in Jesus and Mission. Full Circle Thrift is a project of and for mission. This store will be a place for us to come together and serve Christ alongside one another. Plus it is a place that will help us raise funds to do more mission in the future through the Anabaptist Resource Center."
# # #
A version of this story initially appeared in Pacific Southwest Mennonite Conference's "Panorama" newsletter. This edited version is reprinted with permission.