Mennonite Church USA (MC USA) has announced the worship speakers, led by Dr. Samuel Sarpiya, for the Special Session of the Delegate Assembly, May 27-30, in Kansas City Missouri.
The Special Session of the Delegate Assembly will kick off on Friday evening with a worship service featuring storytellers from across the denomination. The speakers will share stories on the theme, "Emerging Through the Storms of Leadership," based on their ministry experiences. The storytellers will be:
"Worship will feature a variety of speakers who will inspire us as we start each day," said Scott Hartman, MC USA director of convention planning. "Dr. Sarpiya, our keynote speaker, brings a passion for peace that is very contagious."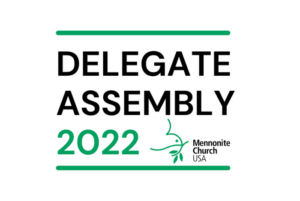 Sarpiya, discipleship pastor at The Meeting House in Oakville, Ontario, Canada, will lead morning worship on Saturday, May 28, and Sunday, May 29. Sarpiya is an author, teacher, trainer, activist and coach for leaders who want to create a better world from the inside out using peace and nonviolence methods. He is also the founding director of the Center for Nonviolence and Conflict, Rockford, Illinois.
On Saturday, his message will be, "What Matters Most: For We Are God's Children Through Faith," based on Galatians 3:23-29.
On Sunday, his message will be, "The Way of Peace in Our Polarized World," based on Hebrews 12:14 and Romans 12:1-2.
Also on Saturday, a panel of MC USA leaders will participate in a discussion on the theme, "Perspectives: Ministry in Context." Marisa Smucker, Mennonite Mission Network's senior executive for Ventures, will lead the panel, which will include:
On Monday morning, Dr. Malinda Elizabeth Berry and Rev. Dr. Sarah Ann Bixler will share a message entitled, "Great Expectations? Rejoicing and Mourning in One Body," with a scriptural grounding in Ecclesiastes 3.
Berry is an associate professor of Theology and Ethics and chair of the History, Theology and Ethics Department at Anabaptist Mennonite Biblical Seminary, Elkhart, Indiana. Bixler is an assistant professor of Formation and Practical Theology and associate dean of Eastern Mennonite Seminary, Harrisonburg, Virginia.
A full schedule for the Special Session of the Delegate Assembly is available here.
For more information on the Special Session of the Delegate Assembly, including official documents, proposed resolutions, staff impact statement, webinars and more, please visit the Delegate Assembly webpage.
Mennonite Church USA (MC USA), is the largest Mennonite denomination in the United States with 16 conferences, approximately 530 congregations and 62,000 members. An Anabaptist Christian denomination, MC USA is part of Mennonite World Conference, a global faith family that includes churches in 58 countries. It has offices in Elkhart, Indiana and Newton, Kansas.  mennoniteUSA.org