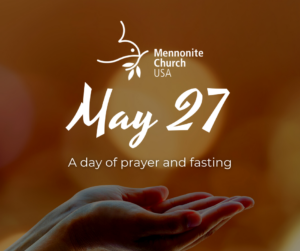 ELKHART, Indiana (Mennonite Church USA) — Mennonite Church USA (MC USA) Executive Board and staff are encouraging conferences, congregations and constituents to come together in prayer and fasting ahead of and during the Special Session of Delegate Assembly, May 27-30, in Kansas City, Missouri.
Delegates have significant work to do during the four-day assembly. Four proposed resolutions – addressing important topics, such as denominational polity, LGBTQ inclusion, accessibility for people with disabilities and justice in our criminal legal system – will be discussed and/or voted on at the Delegate Assembly.
"I think it's important, as we prepare for conversations at the Delegate Assembly, that we come together in prayer," said MC USA Executive Director Glen Guyton. "I believe in the transformative power of prayer, and I pray for Mennonite Church USA. It is my hope that we will live into our call as a historic peace church," he added.
Guyton, along with Lesley Francisco McClendon, senior pastor of C3 – Calvary Community Church, Hampton, Virginia, and Jeff Hochstetler, lead pastor at Berlin Mennonite Church, Berlin, Ohio, discussed the importance and power of prayer in a recent webinar, titled "A Call to Prayer and Fasting."
During the webinar, Guyton designated May 27 (until dinnertime) as a churchwide day of fasting for MC USA.
Francisco McClendon and Hochstetler discussed the relevance of fasting for today's Christians.
"Personally, I've experienced prayer and fasting as a way to focus myself on what's really important," said Hochstetler. "Fasting can be another tool for Christians to use to seek God's face."
"The ultimate aim of fasting is to draw closer to God," agreed Francisco McClendon. "Biblical fasting deals with eliminating distractions for spiritual purpose so that we can be renewed from the inside out. I would say that fasting is a necessary spiritual discipline, and there is not just one way to fast, just as there is not just one way to pray," she added, pointing out that fasting can include anything that battles for our attention, such as social media.  
Guyton also called congregations to publicly commit to praying for the Delegate Assembly. He invited congregations to add their church names to a list that will be shared on social media during the Delegate Assembly as a way to encourage delegates. The sign-up form is here: MennoniteUSA.org/prayer_fasting
MC USA has also provided a four-day devotional prayer guide titled, "One Body, One Church," for all constituents to use during the Delegate Assembly weekend. The downloadable guide was written by Leo Hartshorn, former Minister of Peace and Justice with the Mennonite Mission Network. It is available in English and Spanish here: [English] [Español]
Mennonite Church USA (MC USA), is the largest Mennonite denomination in the United States with 16 conferences, approximately 530 congregations and 62,000 members. An Anabaptist Christian denomination, MC USA is part of Mennonite World Conference, a global faith family that includes churches in 58 countries. It has offices in Elkhart, Indiana and Newton, Kansas.  mennoniteUSA.org 
Suggested reading on fasting
"Fasting" entry in the Global Anabaptist Mennonite Encyclopedia Online (Gameo)
"The Purpose of Fasting" by Richard J. Foster (article)
"Fasting: The Ancient Practices" by Scot McKnight (book for purchase)
"CJP Director Begins 40-day 'Fast for Healing Justice'" by Lauren Jefferson