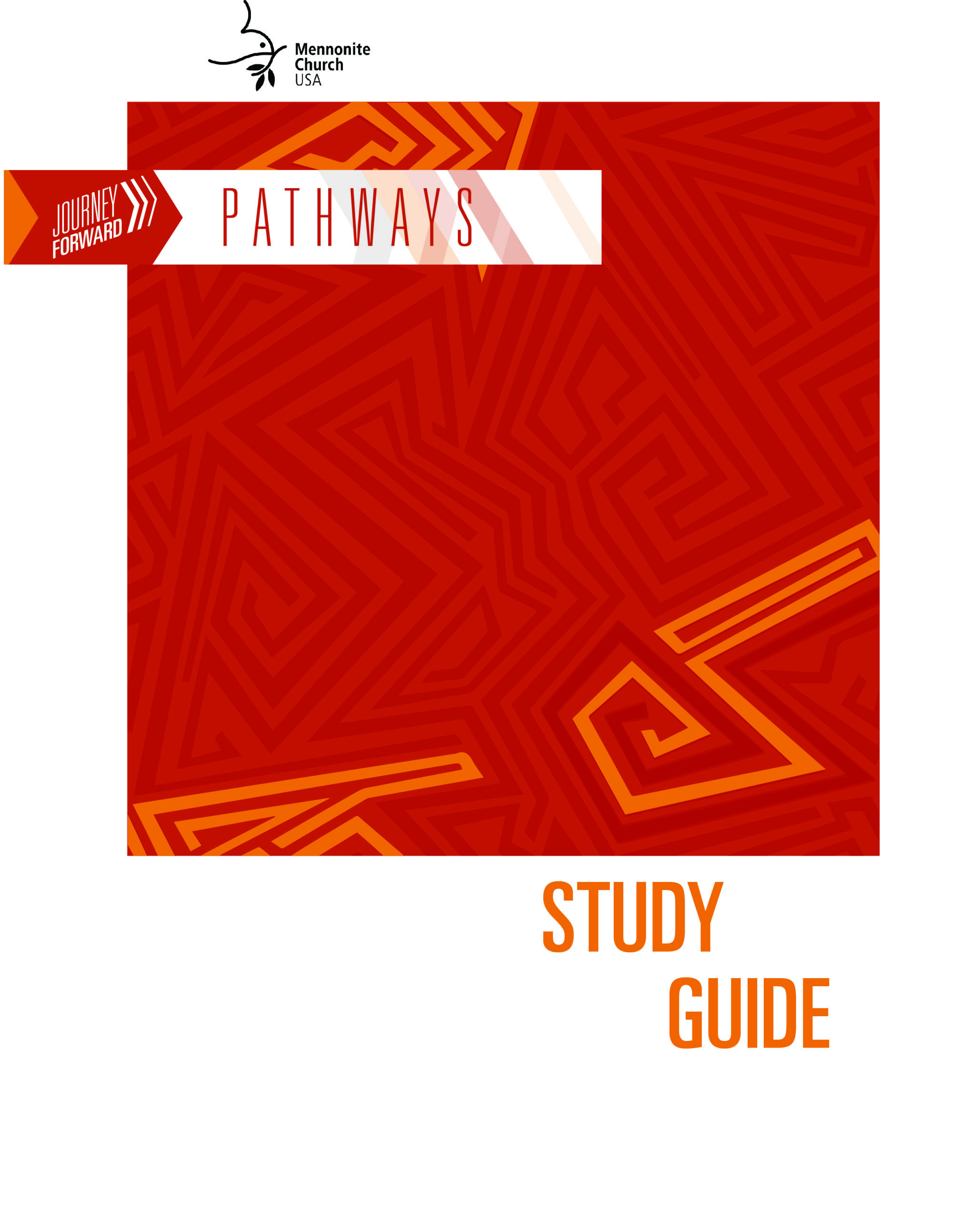 Get the "Pathways" study guide
(Mennonite Church USA) — MC USA releases the Journey Forward study guide "Pathways" to invite churchwide engagement in the two-year Journey Forward process. It is now available online at mennoniteusa.org/pathways. The "Pathways" study guide invites congregations and groups across MC USA to engage in studying Scripture, singing, praying, storytelling, exploring Anabaptist history and values, and discussing how they see God working in their lives.
The "Pathways" study guide is a way for groups to participate in the Journey Forward churchwide renewal process that will highlight how God is working in the lives of people and congregations across MC USA. It is a resource to empower congregations and groups to discover and name how they live out broader church values in their particular contexts.
"The 'Pathways' study guide engages us as a community in Bible study and centers us around Jesus Christ, the living Word," said Iris de León-Hartshorn, associate executive director for Operations of MC USA. "As each community contributes to the larger community of faith, we enrich, teach and inspire each other to join God in our context."
"Pathways" is organized in four sessions: (1) identity and context, (2) follow Jesus, (3) witness to God's peace and (4) experience transformation. It begins with affirmations of God's love and confessions for failing to live up to God's call, and moves through the three core values of following Jesus, witnessing to God's peace and experiencing transformation. These are drawn from the "Renewed Commitments" document, which concisely names core values for MC USA's Journey Forward process.
"As we go through the Journey Forward process, I would encourage each member of MC USA to join together in Biblical study," said Glen Guyton, executive director of MC USA. "The Journey Forward writers say it best: 'The process invites you to connect how you're living God's call to broader church mission and draws our attention to how the [Holy Spirit] is moving in our midst.'"
"Pathways" is designed for use in varying group sizes and for flexible time periods between 4-13 weeks. It can be used in small groups, Sunday school classes and other congregational, conference, agency or constituency group settings. It also includes a section of worship resources for incorporating themes into worship services.
An important part of the "Pathways" study guide will be for groups to record key discussion threads and share these through an online survey, which will be made available at mennoniteusa.org/journey-forward this summer. The survey will make it possible to share themes across the denomination and inform the focus of the MC USA delegate assembly at MennoCon19.
"Journey Forward is a unique opportunity for all of us to engage together as we breathe renewed life and spirit into our beloved church and to help us stay grounded with congregations from north to south and east to west," said Jack Swaim of the Journey Forward Writing Team.
The "Pathways" study guide is now available online for widespread use here.