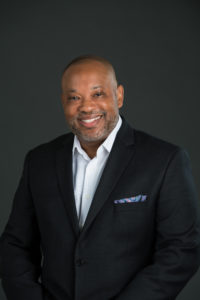 The Mennonite Church USA (MC USA) Executive Board (EB) unanimously voted to reappoint Glen Guyton to another three-year term as executive director of the denomination, effective April 1.
The reappointment affirms Guyton's successful leadership during a particularly challenging time for the church, as it addresses heightened cultural changes, social unrest and financial uncertainty in the United States. Challenges have been further complicated by the unprecedented COVID-19 pandemic.
Guyton's initial term began May 1, 2018. The EB reviewed the results of Guyton's evaluation and affirmed his commitment in leading MC USA in the past, present and future, noting his optimism, non-anxious presence and communication skills, said Joy Sutter, moderator of MC USA.
"Glen's leadership is for such a time as this in MC USA," Sutter said. "The Executive Board is pleased Glen continues to accept the call from the church to lead us into the future."
The executive director reports to the EB, and supervises the MC USA staff to effectively resource and empower conferences and congregations to be effective in God's ministry in the U.S. and the world.
"I think we have increased both the trust and respect for the Executive Board and staff," Guyton said. "Individual donations are up, because people feel good about our work."
Guyton reported a 57% revenue increase since 2019, translating to about $61,000 in additional funds.
"It's not about dollar amounts, but it is about funding tangible ministry, resourcing leaders and helping people to experience the love of Christ," Guyton said.
Along with an improved financial outlook, highlights under Guyton's leadership include:
During his first term, Guyton also authored a book titled, "Reawakened: How Your Congregation Can Spark Lasting Change," which was recently published by MennoMedia.
Guyton's top goals for his next term are:
Resource Deployment: Update non-traditional educational delivery systems to equip leaders, as a compliment to formal theological education. Part of this vision is to reach out beyond the Mennonite community to offer the value of Anabaptism more broadly.
Leadership Development: Provide a clearer roadmap of educational offerings, so people will be able to clearly see their options and map their leadership journey in MC USA.
Value Proposition: Clearly articulate the value of MC USA membership.
With the support of a Schowalter Foundation grant, MC USA will launch a study across the denomination to assess the value that conferences and congregations receive from being part of MC USA.
"I am excited about what can happen when the people of MC USA live out our Anabaptist witness," Guyton said. "We have so much to offer the world. I am thankful for my time with the denomination and I hope that during this next term our church can fully embrace our calling as an Anabaptist peace church. It is time for us to be transformed into the beautiful community of grace, joy and peace."
Guyton's first staff role with a Mennonite organization began in 1998, as an insurance counselor for Mennonite Mutual Aid (now Everence). Guyton joined MC USA staff in 2009, as the director of Intercultural Relations. He held various roles, including chief operating officer and director of Convention Planning. He served on MC USA's EB from 2007-2009 and on the board of Eastern Mennonite University, Harrisonburg, Virginia, from 2003-2007. He holds a master's degree in education from Regent University. Guyton is a member of San Antonio Mennonite Church in Texas.
Mennonite Church USA is the largest Mennonite denomination in the United States with 16 conferences, approximately 530 congregations and 62,000 members. An Anabaptist Christian denomination, MC USA is part of Mennonite World Conference, a global faith family that includes churches in 58 countries. It has offices in Elkhart, Indiana, and Newton, Kansas.  mennoniteUSA.org