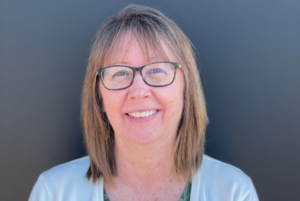 ELKHART, Indiana (Mennonite Church USA) — Mennonite Church USA (MC USA) has named Lorraine Stutzman Amstutz as denominational minister for Peace and Justice, starting May 23, 2022. In this role, she will resource conference ministers, conferences and pastors with opportunities to strengthen capacity and engagement in Christ centered peace and justice, as well as serve as a liaison and coordinator for peace and justice initiatives throughout MC USA.  
"I am excited to welcome Lorraine as the new denominational minister for Peace and Justice," said Iris de León-Hartshorn, associate executive director of MC USA. "Lorraine has vast experience in working on restorative justice and peacemaking. Her work in this area has been exceptional, and I look forward to her work with us at Mennonite Church USA." 
Stutzman Amstutz was the coordinator of Mennonite Central Committee's Restorative Justice program for over 25 years and has co-authored "The Little Book of Restorative Discipline for Schools" and "What Will Happen to Me?" She most recently served as the foster care supervisor for COBYS Family Services, Lancaster, Pennsylvania. She was also one of the contributors to MC USA's Laboring Toward Wholeness curriculum. Stutzman Amstutz graduated from Eastern Mennonite University, Harrisonburg, Virginia with a bachelor's degree in Social Work. She earned her master's in Social Work from Marywood University, Scranton, Pennsylvania.  
"I look forward to working collaboratively with others in order to continue strengthening our capacity and engagement with peace and justice initiatives," said Stutzman Amstutz. She replaces Sue Park-Hur, who has been appointed to the newly created role of director of racial/ethnic engagement.  
"The Anabaptist peace witness is transformative," said Glen Guyton, executive director of MC USA. "We must never forget our radical heritage. Our founders were called 'radical reformers' because they believed in the theological reform of the church and the contemporary social and political order. The radical Anabaptist peace witness rooted in Christ's words is a call that we should run toward while running away from the entrenched culture wars of today. It is our responsibility to live into our faith and our stated purpose. We are called to join in God's activity in the world, participating fully in God's work of setting things right in a broken world, redeeming and restoring all things in Christ to God's intended design," he added.  
MC USA is the largest Mennonite denomination in the United States with 16 conferences, approximately 530 congregations and 62,000 members. An Anabaptist Christian denomination, MC USA is part of Mennonite World Conference, a global faith family that includes churches in 58 countries. It has offices in Elkhart, Indiana and Newton, Kansas. mennoniteUSA.org  
# # # 
Matthew 5:9 (NRSV) "Blessed are the peacemakers, for they will be called children of God."