ELKHART, Ind. (Mennonite Church USA) — Mennonite Church USA (MC USA) has launched "Learn, Pray, Join: End Gun Violence," an initiative to bring awareness to the complex issue that intersects with poverty, racism, discrimination, criminal justice, education and the environment.
Approximately 118 people per day die by gun violence in the U.S. and according to statistics from the Centers for Disease Control and Prevention, more Americans died of gun-related injuries in 2021 than in any other year on record.
"Our Anabaptist faith means prioritizing responses that reject the use of violence and acknowledging the justice issues through advocacy, education as well as compassion and support to those affected by gun violence," said Lorraine Stutzman Amstutz, MC USA denominational minister of Peace and Justice. "We need to use our voice to advocate and explore solutions to the prevalence of gun violence within our communities," she added.
This "Learn, Pray, Join: End Gun Violence" initiative calls Anabaptists to understand this crisis through the lens of faith and seek ways to bring God's hope and healing to hurting communities, through education, disarming practices, advocacy and standing as a visible witness for peace. During October and November, MC USA will seek to engage people in the initiative by offering resources, prayers and ways to care for those harmed by the effects of gun violence in our communities. MC USA's "Learn, Pray, Join" initiatives seek to create opportunities across the church to deepen understanding around a common topic and to come together in prayer and support.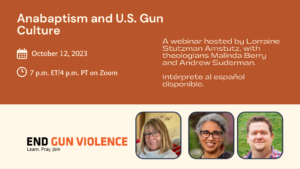 MC USA will host two webinars around the topic of gun violence, beginning with "Anabaptist and U.S. Gun Culture" on Oct. 12, 2023 at 7 p.m. ET/4 p.m. PT. Join the webinar as panelists explore the issues that drive today's violent gun culture in the U.S. and examine how our Anabaptist faith informs our response. Host Lorraine Stutzman Amstutz, denominational minister of Peace & Justice, will lead this conversation with theologians Malinda Berry, Ph.D., of Anabaptist Mennonite Biblical Seminary, and Andrew Suderman, Ph.D., of Eastern Mennonite University. Register here: https://MCUSA.zoom.us/webinar/register/WN_O7dXmKkQShWjEFuNWZbs3g
Through "Learn, Pray, Join: End Gun Violence," MC USA is providing members with:
Opportunities to learn about gun violence through a variety of resources, including congregational study materials, books, videos, webinars and more. In addition, leaders from MC USA will contribute blogs over the next several weeks, which will explore how gun violence harms people and society, how churches are responding and how their Anabaptist faith values are compelling them to do this work.
An invitation to pray for repentance for participating in a culture of systematic violence and for a new vision of peace and justice.
A call to join by ministering to those harmed by gun violence and a call to advocate for more just policies.
For more information on "Learn, Pray, Join: End Gun Violence," visit the online resource page throughout the campaign at: https://www.mennoniteusa.org/lpj-end-gun-violence
Subscribe to PeaceMail, MC USA's weekly email newsletter, and follow MC USA on social media (Facebook, Instagram, X (formerly known as Twitter) and YouTube) to view resources, blogs and more throughout October and November.
Lea la versión en español aquí. 
Mennonite Church USA is an Anabaptist Christian denomination, founded in 2002, and a recognized peace church. Members seek to follow Jesus by rejecting violence and resisting injustice. MC USA's Renewed Commitments state the following shared commitments among its diverse body of believers: to follow Jesus, witness to God's peace and experience the transformation of the Holy Spirit. MC USA is comprised of 15 area conferences and more than 470 congregations across the United States. MC USA is part of Mennonite World Conference, a global faith family that includes churches in 60 countries. Mennoniteusa.org 
###