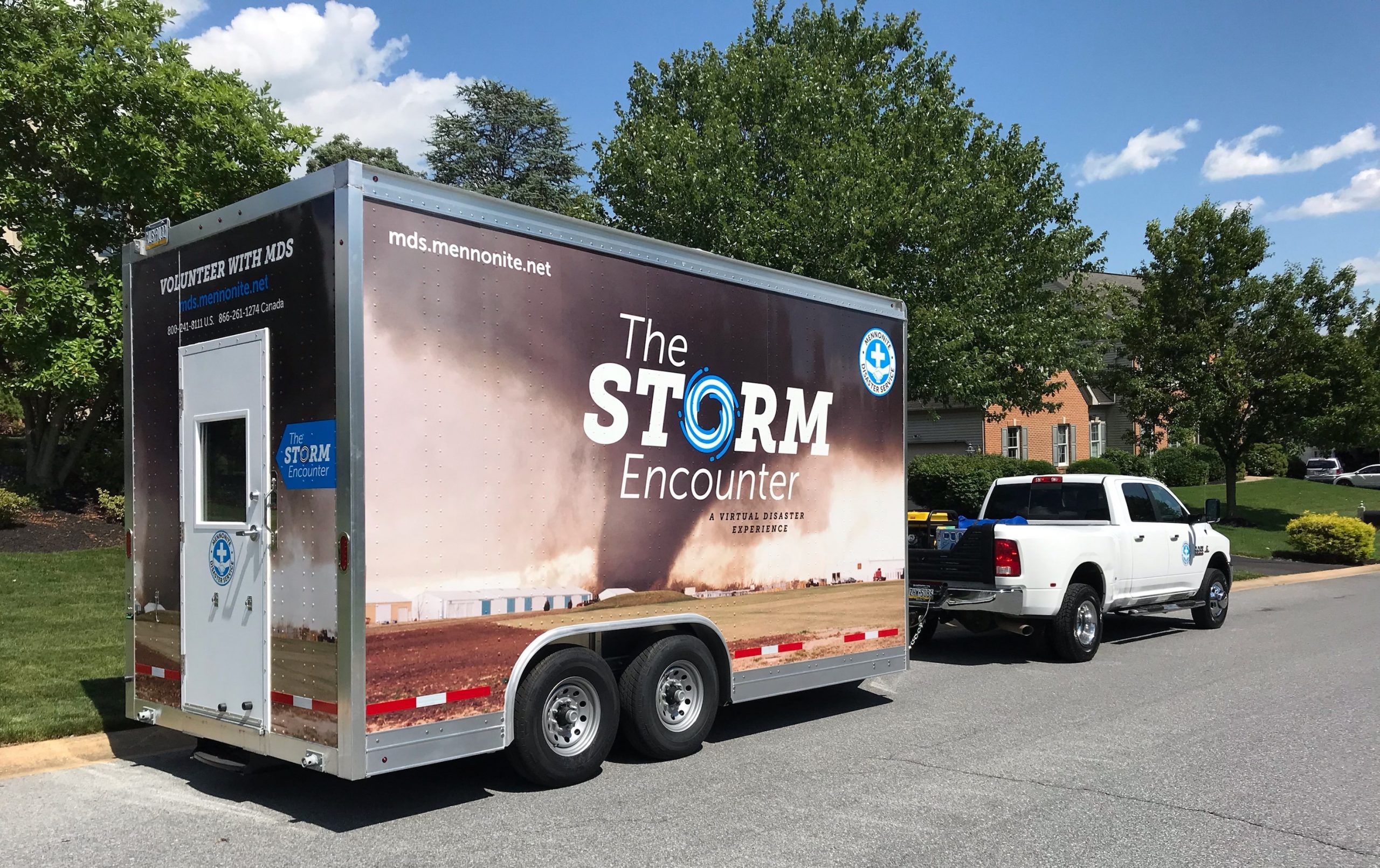 By Camille Dager
(Mennonite Church USA) — Mennonite Disaster Service debuted its new multi-sensory, mobile exhibit, "The Storm Encounter," at MennoCon19, the national convention of Mennonite Church USA held in Kansas, City, Missouri, this past July, to help raise of awareness about its disaster relief efforts and to demonstrate the need for additional relief workers. To date, more than 2,000 visitors have experienced "The Storm Encounter."
"The number of major disasters has dramatically increased since I was appointed in 2004," explained Kevin King, executive director of MDS, a volunteer network of Anabaptist churches with a mission to respond in Christian love to those affected by disasters in Canada and the United States. "At that time, we responded to five to six major disasters per year. This fall, we're working on 16 projects."
More natural disasters mean an increased need for resources, staff, volunteers – and awareness about disaster relief efforts.
King credits Scott Hartman, director of event planning for Mennonite Church USA (MC USA), with the impetus to create the mobile display. Hartman encouraged him to develop something interactive to present at MennoCon19.
Mounted on a pull-behind trailer, the multi-sensory exhibit is a mobile movie theater that allows eight visitors at a time to "experience" a violent storm through an exciting seven-minute video, augmented by surround sound, rumbling vibrations, blowing wind and misty rain. Visitors also receive a close-up look at the raw devastation caused by a major disaster – the 2007 Greensburg, Kansas tornado – and the many MDS volunteers who helped to clean up and rebuild the community.
Once outside the theater, visitors can talk with MDS volunteers about serving with the organization.
"It's really rewarding for me to hear their reactions," said Jesse Huxman, MDS communications manager. "Youth are often attracted to the exciting, interactive nature of the presentation and then moved after seeing it. Adults are sometimes surprised to learn about our efforts. Others tell heartwarming stories of their involvement with past projects."
King's concept for the experiential exhibit was inspired by the Tornado Theater exhibit that he had visited years earlier at the Menno-Hof Museum in Shipshewana, Indiana. He sought to capture the same excitement in a traveling exhibit.
MDS partnered with M.H. Eby, Inc. (EBY) of Blue Ball, Pennsylvania, to design a trailer-mounted theater. EBY has designed and built kitchen, bunkhouse and shower trailers for MDS, as well as the Mennonite Central Committee mobile meat cannery. There was still the matter of funding, however. MDS needed approximately $50,000 to build the vehicle. A family offered to donate the amount anonymously.
"It was a God thing all the way," said King.
On the way to MennoCon19, MDS stopped at the donors' church, so they could be the first to preview the exhibit. Since then, the mobile exhibit has stopped at numerous cities in Virginia and Kansas.
Has "The Storm Encounter" been successful in recruiting volunteers? "Oh my, yes!" is King's enthusiastic response, explaining that it's an effective tool for starting the conversation with visitors.
"The simulation really gave me a good idea me about how big [a storm] could be," said one visitor.
"It's great when we can show up and support other people in their time of need," said another.
This past year, more than 5,500 youth, adults and seniors "showed up," serving with MDS as weekly short-term and long-term volunteers.
"We're a volunteer-centric organization," said King. "We depend on many volunteers to serve as our program and project managers, food servers, laborers, clean-up crews and more.
Although MDS is not an agency of MC USA, it is a valued partner and widely supported by MC USA churches.
"The volunteer and financial support from churches within MC USA has been and continues to be crucial to our success," said Huxman, noting that approximately 20% of volunteers and 46% of the organization's funding comes from MC USA congregations. "We've been blessed with wonderful volunteers, but the more we have, the more we can do."
To learn more about MDS volunteer opportunities, visit  mds.mennonite.net/volunteer.
---
Interested in having MDS' "The Storm Encounter" exhibit come to your event or venue in 2020? Please contact Jesse Huxman at jhuxman@mds.mennonite.net. Event organizers are encouraged to extend their invitations to other surrounding churches, schools and businesses to help maximize exhibit traffic and to ensure good stewardship of MDS' resources.
---