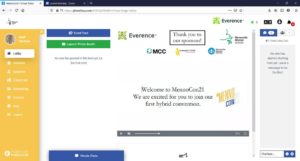 By Jessica Griggs for MC USA
(ELKHART, Ind.) For the first time, Mennonite Church USA (MC USA) is offering convention-goers the option to participate virtually in its biennial MennoCon convention. Using an online event platform called Pheedloop, participants will be able to experience the hybrid MennoCon21 convention, which will take place online and in Cincinnati, Ohio, July 6-10, from the comfort of their homes.  
Scott Hartman, MC USA's director of event planning said, "The virtual programming will capture the excitement of the in-person event, with live-streamed worship, equipping seminars for youth and adults, and a virtual exhibit hall."  
According to Hartman, Pheedloop is specifically designed for conferences, so the experience will be different than being on Zoom. MennoCon21 will have a customized space on Pheedloop dedicated to its programming. Within the Pheedloop account, each individual can add a short bio, add social media links and even upload a profile picture that will be visible to other participants. Pheedloop's easy-to-use interface allows convention-goers to move from the virtual exhibit hall to online seminars to live-streamed worship services with just a few clicks of the mouse. 
The schedule for the virtual programming will closely follow the schedule of the in-person programming in Cincinnati, Ohio. Worship services will be held each morning and evening, and seminars are scheduled each afternoon. Virtual content will include both live and pre-recorded items. All sessions, including those that are aired live, will be available for the month following conference, so that participants are able watch each session at their own leisure. 
Before each worship service, virtual hosts will greet participants and help set the stage for the upcoming service. As worship begins in Cincinnati, a live feed will air on Pheedloop. Virtual participants will see what participants in Cincinnati are seeing on the screens in the worship hall. Following the worship service, the virtual hosts will rejoin the virtual participants to wrap up the worship service. Worship services will be recorded and posted to Pheedloop after their livestream. These recordings will remain available for viewing until the end of July.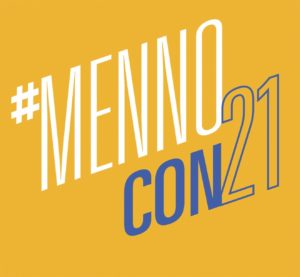 A variety of equipping seminars will be available on Pheedloop, as well. While the virtual equipping seminars will be pre-recorded and available in advance, each virtual seminar will also have a specific air date during convention week. During this specified time, the presenter will be available to interact with participants via text chat in Pheedloop.  
Pheedloop also provides a virtual exhibit hall, featuring MC USA agencies, institutions, ministry partners and constituency groups. Exhibitors can customize their exhibit pages with content, such as videos and promotional brochures, for participants to peruse. Participants can chat directly with a representative from each organization. 
In addition to these features, Pheedloop also provides a chat box on every page, so attendees can interact with others who are attending the same seminars, worship services or exhibit booths. For those looking to catch up with old friends, there's a designated networking tab, which gives the option to initiate private chats and video calls with one another. 
Youth groups are encouraged to participate in convention activities together. Hartman and Shana Peachey Boshart, MC USA's denominational minister for Faith Formation, recently hosted a webinar that explored ideas for how youth groups might engage with convention virtually.  
Those participating virtually will also be able to participate in this year's service project. Instead of offering a service project in the host city, Mennonite Mission Network has put together an opportunity for local service, called "Service in a Box." Virtual registrants will receive the "Service in a Box" packet in the mail. This packet will help participants help lead service projects in their own communities. 
"I'm hoping the virtual event will provide an opportunity for people that have wondered about what convention is like to get a bit of a feel for it," said Hartman. "And with virtual registration offering attendees a lower-cost option to attend conference, at $99, there has never been a better time to attend MennoCon for the first — or hundredth — time." 
After registering, participants will receive information on how to access Pheedloop. Virtual content will be accessible beginning in mid-June and will remain available for the month following convention. Virtual registration gives access to all our livestreamed and preloaded programming and includes a convention T-shirt.  
Registration is now open for in-person and virtual attendance. Register here.
---
For more information
MennoCon21 Hybrid Convention FAQ's