By MC USA staff
Mennonite Church USA (MC USA) Director of Event Planning Scott Hartman addressed questions about the unique challenges of planning a convention during a pandemic. MennoCon21, the denomination's biennial convention will be held July 6-10, 2021 in Cincinnati, Ohio.
What are some of the challenges of planning a major convention during a pandemic?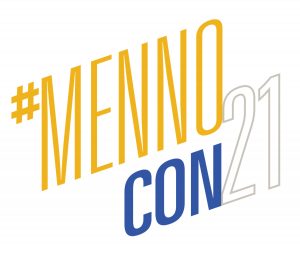 There are always challenges when planning a major convention. Each convention brings different challenges. Planning a convention during a pandemic, however, brings all new challenges and responsibilities. Most people have no experience working with a pandemic. Convention planners worldwide are trying to figure out how to execute successful events – whether hybrid, virtual or in-person. People are craving social interaction, but they also want to be safe.
One of the biggest challenges is the unknowns of the future. It is hard to plan an event that is six months away, when the pandemic is changing daily. As convention planners, we are asking:
What will the pandemic look like next week? Next month? In July 2021?
What safety protocols will be needed in July 2021?
Will large group gatherings be limited in Ohio and/or Cincinnati in July 2021?
Will an effective vaccine be widely available?
Will people feel comfortable to travel or gather in large groups?
Another challenge is the economic impact. We have signed contracts with financial obligations. Some contracts have clauses that release both parties of any obligation. Other contracts carry significant penalties if the event is canceled. While these financial obligations should not take priority over the health of convention participants, they still create challenges for convention planners.
With current social distancing protocols in place, the seating capacity in meeting rooms is drastically reduced. Normal capacity for a room might be 4,000 seats in rows. Pandemic restrictions may reduce that capacity to 432, limiting our ability to host large general sessions.
Catering also presents challenges under the current conditions. Many hotels and convention centers have moved to pre-packaged meals for attendees. The Centers for Disease Control and Prevention (CDC) and other health experts have discouraged the use of buffets. A few facilities are allowing buffets with their servers putting the food on plates for attendees.
What protocols will be in place to ensure everyone's safety on site?
Our convention staff is regularly monitoring the changes across the country, in Ohio and in Cincinnati. We are monitoring recommendations from the CDC and other agencies. We also are observing what other event planners are doing for their events this fall and winter. We will establish specific protocols in advance of MennoCon21. If our staff feels that it is not safe to meet in person, the convention will move to a totally virtual experience.
The Duke Energy Convention Center will be the site of all programming. The center has taken care to institute several protocols to make it a safer environment for meetings:
Achieved Global Biorisk Advisory Council® (GBAC) STAR™ accreditation, the cleaning industry's only outbreak prevention, response and recovery accreditation.
Daily temperature checks and health screenings of all staff and outside vendors.
Hand sanitizers outside each meeting room and in all common areas of the building.
Touchless options, such as faucets and soap dispensers, throughout the building.
Visit the Duke Energy Convention Center "Health and Safety" webpage for information.
Hyatt and Hilton hotel brands have protocols for all properties that include rigorous cleaning practices and requirements to wear masks in all common areas of the hotel.
What is a hybrid convention?
A hybrid convention is an event that includes in-person programming and virtual programming.
At MennoCon21, the schedule and content for the virtual participants will be very similar to that for in-person participants. Attendees will choose one option or the other.
Those who register for the virtual experience will engage via an online platform. Within that platform, participants will have access to worship services, seminars, exhibits and networking opportunities. The worship services will be live streamed directly from the in-person gathering. Seminars will be offered for youth and adults. Churchwide ministries will organize a booth in the exhibit space that will include the opportunity for online participants to chat directly with ministry representatives.
How will registration differ from in-person to virtual?
Registrants will choose the in-person or virtual option at the beginning of the registration process. The fees for virtual participation will be less than those for in-person attendance. Both virtual and in-person registrants will receive a MennoCon21 T-shirt. In-person registrants will have lunch included on Wednesday, Thursday and Friday.
What would an all-virtual convention look like?
Depending on what happens with COVID-19, MennoCon21 might have to move to a totally virtual convention. If that happens, all programming will be available through an online platform. We have not yet determined what an all-virtual schedule look like, but it will include worship and seminars.