By MC USA staff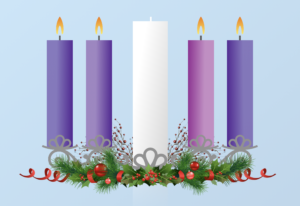 Mennonite Church USA's (MC USA) 2020 Advent at Home devotional, "We Wait for Jesus," is now available for free download. The annual guide for home-based worship provides daily and weekly scripture readings, prayers and activities for individuals and families observing the season of anticipation leading to the birth of Jesus.
"When families worship together, it provides a rich environment for children to grow in faith – and to retain those faith practices for the rest of their lives," said Shana Peachey Boshart, MC USA denominational minister for Faith Formation, citing a 2016 Pew Research Center study that found that a family's "religious commitment is closely linked with retaining one's religion into adulthood."
"We Wait for Jesus" focuses on the traditional Advent themes of hope, peace, joy and love. The devotional provides resources for seven weeks, beginning with the first Sunday of Advent through Epiphany (November 29, 2020-January 6, 2021). The guide leads worshippers through the biblical account of Jesus' birth, from the words of the prophets to the arrival of the Magi.
According to Peachey Boshart, the 2020 Advent at Home devotional is designed to be easy to use and accessible to people of all ages. A flexible menu of activities allows worshippers to choose those that are best suited for their household.
This year's devotional was written by Talashia Keim Yoder, pastor of Christian Formation at College Mennonite Church, Goshen, Indiana. It follows "This is the Story," an at-home curriculum for faith formation found at www.godsstorygodssong.com. 
"As a parent and as a pastor, I have gotten to see firsthand the difference that celebrating Advent can make," said Keim Yoder. "The story of Jesus' birth takes on deeper meaning and becomes internalized when the weeks leading up to Christmas aren't just for cookie baking, present buying and running around to celebrations and concerts."
Keim Yoder encourages pastors and leaders to share the intergenerational Advent at Home devotional with everyone in their congregations.
"At a moment of time when many of our congregations feel distant, a common practice and resource can bring us together," said Keim Yoder. "In our own messy, unpredictable time, we can take comfort in the knowledge that the same God who walked with Mary and Joseph to Bethlehem walks with us into our own unknown future."
About Advent at Home
Advent at Home is a publication of Mennonite Church USA. The devotional was developed by (retired) Anabaptist writer Elsie Rempel of Mennonite Church Canada (MC Canada). MC Canada published it as a companion to Leader magazine from 2002-2015. Central Plains Mennonite Conference and AnabaptistFaithFormation.org sponsored its publication through a Schowalter Foundation grant starting in 2016. AnabaptistFaithFormation.org can now be found at MennoniteUSA.org/FF, which continues to sponsor the annual devotional.
Mennonite Church USA is the largest Mennonite denomination in the United States with 16 conferences, approximately 530 congregations and 62,000 members. An Anabaptist Christian denomination, MC USA is part of Mennonite World Conference, a global faith family that includes churches in 86 countries. It has offices in Elkhart, Indiana and Newton, Kansas.  mennoniteUSA.org