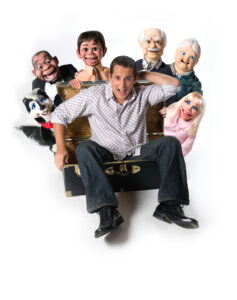 By MC USA staff
ELKHART, Indiana (Mennonite Church USA) — Ryan and Friends, featuring comedian/ventriloquist Ryan Bomgardner, will be performing during MennoCon23, Mennonite Church USA's (MC USA) leading faith formation event, in Kansas City (Missouri) Convention Center, July 6, 2023, at 9 pm.
Bomgardner performs over 175 shows per year throughout North America. He is known for his hilarious and family-friendly ventriloquism act with his "friends," including eight-year-old Jeffrey, the self-proclaimed star of the show, Ardy the skunk, giggly Tiffany and more. According to his website, Bomgardner has performed for major corporations and organizations across the country and traveled to six continents, making people laugh.
"Ryan's act is sure to bring joy and laughter to everyone in attendance," adds Lisa Lehman, MennoCon23 project manager. "We are excited to have Ryan and Friends as part of our event this year."
MennoCon23 is open to all and offers a diverse range of workshops, worship experiences, and keynote speakers. Online registration is open for MennoCon23, July 3-6, 2023. Registration is also open for the Youth & Young Adult Climate Summit, July 7, and the Delegate Assembly, July 7-8. The theme for MennoCon23, #BeTransformed, is inspired by MC USA's Renewed Commitments, which are to "follow Jesus, witness to God's peace and experience transformation."
For the latest information about MennoCon23, visit the MennoCon23 website (convention.mennoniteusa.org) and subscribe (mennoniteusa.org/peacemail) to MC USA's weekly PeaceMail newsletter.
Mennonite Church USA is the largest Mennonite denomination in the United States with 16 conferences, approximately 540 congregations and 56,000 members. An Anabaptist Christian denomination, MC USA is part of Mennonite World Conference, a global faith family that includes churches in 59 countries. It has offices in Elkhart, Indiana and Newton, Kansas. mennoniteUSA.org