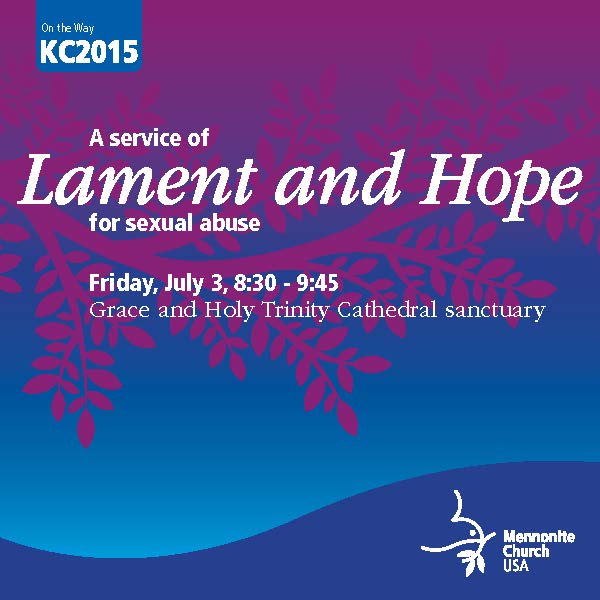 (Mennonite Church USA)—Naming sexual abuse, confessing complicity and taking steps to prevent future abuse will be key elements of Mennonite Church USA's biennial convention this summer, to be held June 30–July 5 in Kansas City, Missouri.
The denomination's Discernment Group on sexual abuse and the church has planned for a public service of lament and hope, a wailing wall, a churchwide statement on sexual abuse and an offering toward a newly established Care and Prevention Fund for survivors of abuse.
The Discernment Group was formed in August 2013 to address the painful legacy of sexual abuse by theologian and professor John Howard Yoder and the church's inadequate responses to that abuse, as well as abuse by other church leaders.
"Our church owes an enormous debt of gratitude to those victims of sexual abuse who persisted in bearing witness to the truth," says Sara Wenger Shenk, president of Anabaptist Mennonite Biblical Seminary (AMBS), Elkhart, Indiana, and Discernment Group co-convener. "Thanks to their wake-up call, the Discernment Group has done significant work. I'm hopeful that as faith communities we will heartily resolve to stand with victims of abuse, to prevent sexual abuse and to advance a vision for sexual integrity that honors the dignity of all persons."
Service of lament and hope
A public prayer service of corporate lament, confession, commitment and hope will take place Friday July 3, from 8:30 to 9:45 p.m. in the Grace and Holy Trinity Cathedral sanctuary, near the Kansas City Convention Center.
"As a community of faith, we acknowledge the sexual violence that was committed by John Howard Yoder," note the lament service planners. "We know that many others have experienced sexual violence due to misconduct other than Yoder's. We welcome all those able to participate in word or silence."
"I am comforted by the thought that as we gather for this service of lament, truth will gather with us, too," says Chuck Neufeld of Newton, Kansas, Discernment Group member and one of the planners of the service. "Whether two or three — or two or three hundred — truth will gather; that's the promise."
In March, a worship service of lament, confession and commitment took place at Anabaptist Mennonite Biblical Seminary (AMBS), Elkhart, Indiana; seminary leaders took institutional responsibility for abuse that happened while Yoder was at AMBS.
In addition to Neufeld, planners of the KC2015 lament service include Mary Lehman Yoder (chair) and Regina Shands Stoltzfus of Goshen, Indiana; and Hannah Heinzekehr of Newton, Kansas.
Wailing wall
A wailing wall located in the exhibit hall in the Kansas City Convention Center will be available throughout the week as a space to name the hurt and pain wrought by sexual abuse. Artist Anita Lehman of First Mennonite Church in Bluffton, Ohio, and Chuck Neufeld have begun creating the wall; convention participants will be invited to add their own contributions, responding to selected questions from the Psalms or sharing their own thoughts and experiences.
"Our hope is that the wailing wall would also serve as a visual, consistent reminder of the pain that sexual abuse causes and its impacts on us as a body," says Hannah Heinzekehr, director of communications for Mennonite Church USA.
Churchwide statement on sexual abuse
Discernment Group members have submitted a statement addressing sexual abuse and prevention for consideration by the Delegate Assembly at KC2015 on Thursday, July 2.
The statement, which is available online, acknowledges that the church has often failed to support those affected by abuse and to focus on teaching and supporting healthy sexuality. It names six actions each for congregations and church institutions, focusing on implementing policies, education and systemic/cultural change to help prevent future abuse.
The statement calls the Church to "resolve to tell the truth about sexual abuse; hold abusers accountable; acknowledge the seriousness of their sin; listen with care to those who have been wounded; protect vulnerable persons from injury; work restoratively for justice; and hold out hope that wounds will be healed, forgiveness offered, and relationships established or reestablished in healthy ways."
Care and Prevention Fund offering
Convention participants will have two opportunities to give toward the newly formed Care and Prevention Fund — on Wednesday, July 1, during adult worship and on Friday, July 3, during youth worship.
Contributions to the Care and Prevention Fund will be divided among support for known victims of sexual abuse (Funds will be administered by credentialed leaders within Mennonite Church USA.); Sister Care, a ministry of Mennonite Women USA; Dove's Nest, an organization working to prevent child sexual abuse; and the Women in Leadership Project of Mennonite Church USA.
After convention, checks may be written to Mennonite Church USA with "Care and Prevention Fund" written in the memo line and sent to Mennonite Church USA, 718 N. Main Street, Newton, KS 67114-1703. Contributions to this fund will be received through Aug. 31, 2015.
More information is online.
Additional resources
See the Mennonite Church USA website for information from the Discernment Group on sexual abuse and the church: FAQs, news and sexual abuse resources.
The Discernment Group on sexual abuse and the church includes co-conveners Ervin Stutzman, executive director of Mennonite Church USA, Harrisonburg, Virginia; and Sara Wenger Shenk; and members Ted Koontz of AMBS; Chuck Neufeld; Linda Gehman Peachey of Akron, Pennsylvania; and Regina Shands Stoltzfus. Carolyn Holderread Heggen of Corvallis, Oregon, is serving the group as an advisor.
###
—Mennonite Church USA staff
Image available:
Image for lament service