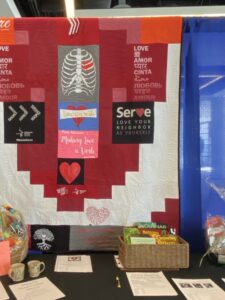 Attendees at MennoCon23 have the opportunity to bid on a one-of-a-kind t-shirt quilt by  Marie Harnish of Indianapolis, Indiana, in a special silent auction to benefit Mennonite Church USA's Justice Fund.  An accomplished quilter with a bachelor's degree in art education from Goshen (Indiana) College, Harnish donated the quilt as a fundraiser for MC USA.
She designed the quilt using "Love is a Verb" t-shirts from MennoCon19. "I really liked the image and words on these shirts and collected as many as I could at that convention," Harnish wrote in her letter to MC USA Executive Director Glen Guyton in which she offered the twin-size quilt as a donation for a fundraiser.
Proceeds from the quilt and several other silent auction items will benefit the Justice Fund, a mutual aid fund that provides grants to MC USA churches that are actively involved in dismantling racism, addressing police brutality, reimagining policing in our society or combating poverty.
Other silent auction items include a set of award-winning children's books, a live magic act, and gift baskets. The items and bidding sheets are displayed on a table adjacent to the MC USA exhibit #21.
Bidding will end on Thursday at 2 p.m. CT and will be announced shortly after.