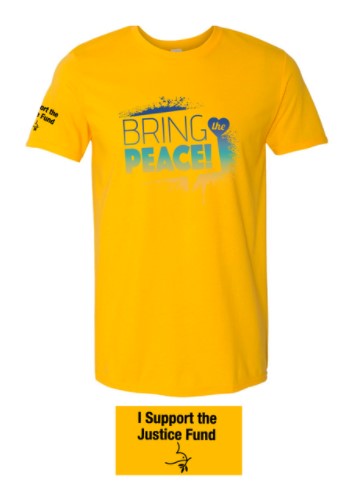 Mennonite Church USA (MC USA) has introduced a new way to contribute to its peace and justice work. The denomination launched a T-shirt fundraiser this week to support its Justice Fund, a mutual aid fund that assists MC USA congregations engaging in their communities to dismantle racism and build peace.
"The T-shirt fundraiser is a fun and tangible way for individuals and families to connect with and support the social justice work of the church," said MC USA Event Services Coordinator Sarah Chase, who helped organize the fundraiser. "Our goal is to raise $30,000 for the fund, which can assist up to a dozen congregations."
The Justice Fund will receive $10 for each adult tee sold and $5 for each youth tee. The fundraiser concludes on Nov. 22 at 11:59 p.m. Tees will ship upon the completion of the fundraiser.
The tees cost $15 for youth sizes (extra small-extra large) and $20 for adult sizes (small-3XL). Three shirt designs are available: #BringThePeace, Love is a Verb, and a commemorative convention motif. Shirts may be ordered online here.
The Justice Fund awards grants up to $2,000 to congregations that are actively engaged in their community and partnering with another church or organization on issues addressing racial justice, poverty, police brutality/reimagining policing and immigration or are seeking start-up money to engage in these areas. Congregations that contribute $500 toward their project may receive an additional $500 matching grant from the Justice Fund for a total of $3,000 to support their justice work.
MC USA, which seeded the Justice Fund with $2,000, has received $22,775 in donations since launching it in June and has distributed six grants, totaling $8,000 to MC USA congregations.
To apply for a Justice Fund grant, congregations are invited to complete a brief online application.
To donate directly to the MC USA Justice Fund, click here and designate your donation for the Justice Fund.
The MC USA Justice Fund is part of the denomination's #BringThePeace initiative. #BringThePeace is a call to action for individuals and congregations to extend peace in their communities. It is also a prayer inviting God to bring the peace that expands our capacity for empathy, compassion and love that actively seeks to dismantle oppression and violence. Learn more at mennoniteusa.org/bringthepeace.
For more information on MC USA's peacebuilding efforts, visit http://mennoniteusa.org/what-we-do/peacebuilding/.
Mennonite Church USA is the largest Mennonite denomination in the United States with 16 conferences, approximately 530 congregations and 62,000 members. An Anabaptist Christian denomination, MC USA is part of Mennonite World Conference, a global faith family that includes churches in 86 countries. It has offices in Elkhart, Indiana and Newton, Kansas.  mennoniteUSA.org
To dig deeper on this topic:
Undoing racism, MC USA's new anti-racism resource portal