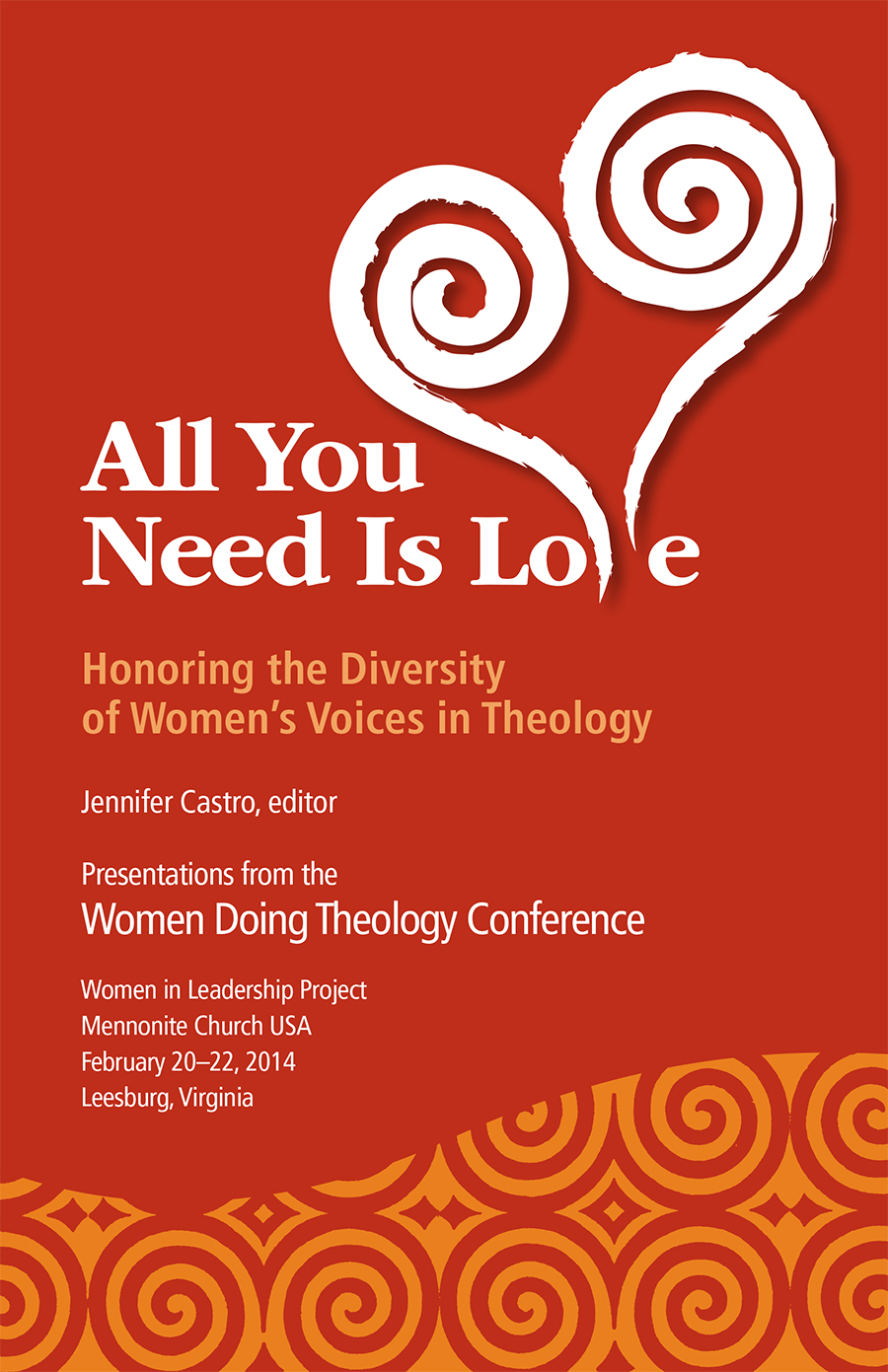 ELKHART, Indiana (Mennonite Church USA)—Twenty of the papers presented at All You Need is Love: Honoring the Diversity of Women's Voices in Theology, the first Women Doing Theology Conference hosted by the Women in Leadership Project (WLP) of Mennonite Church USA, are featured in a book that is now available online.
"I've spent a lot of time with these essays over the last few months, and every time I came back to them I encountered something new — a new insight, a new idea, a new thought, a new challenge," says WLP Coordinator Jenny Castro, who edited the 216-page collection from the February 2014 conference, which was held in Leesburg, Virginia. "This collection offers people across Mennonite Church USA and the broader church fresh perspectives on self, God and our role in the world."
Castro says the collection reflects diverse voices of women doing theology across the denomination addressing the question, "What does it mean to love in the midst of a world rife with struggle and oppression?"
The authors of the papers in the collection share their biblical and theological reflections on expressions of Christian love through a variety of topics, including disability, technology, farming, yoga, business, sexual ethics, birth and infant loss. They explore Christian ecofeminism, feminist perspectives on the crucifixion, Christian and indigenous identities, and scriptural authority. They share personal stories of receiving insight, guidance and healing.
The writers draw inspiration from Karen Baker-Fletcher, Pamela Cooper-White, Kelly Brown Douglas, Elisabeth Schüssler Fiorenza, Lydia Neufeld Harder, Beverly Wildung Harrison, Elizabeth A. Johnson, Julian of Norwich, Sallie McFague, Kwok Pui-lan, Rosemary Radford Ruether, Ntozake Shange and Teresa of Avila, among others.
Contributors include Laura L. Brenneman, Tracy Neufeld, Christine J. Guth, Blanca R. Vargas, Suella Gerber, Sarah Ann Bixler, Anita Hooley Yoder, Claire DeBerg, Meg Lumsdaine, Katerina Friesen, Catherine Thiel Lee, Dorothy Yoder Nyce, Sarah Augustine, Erica Lea, Cathy Stoner, Maria C. Hosler Byler, Lindsay Mustafa Davis, Jane Hoober Peifer, Janet Stauffer, Kimberly Penner and Julia Feder.
Download a free PDF or purchase a printed copy through Amazon for $10: www.mennoniteusa.org/aynl.
###
—Mennonite Church USA staff
Image available:
Cover of All You Need Is Love: Honoring the Diversity of Women's Voices in Theology.