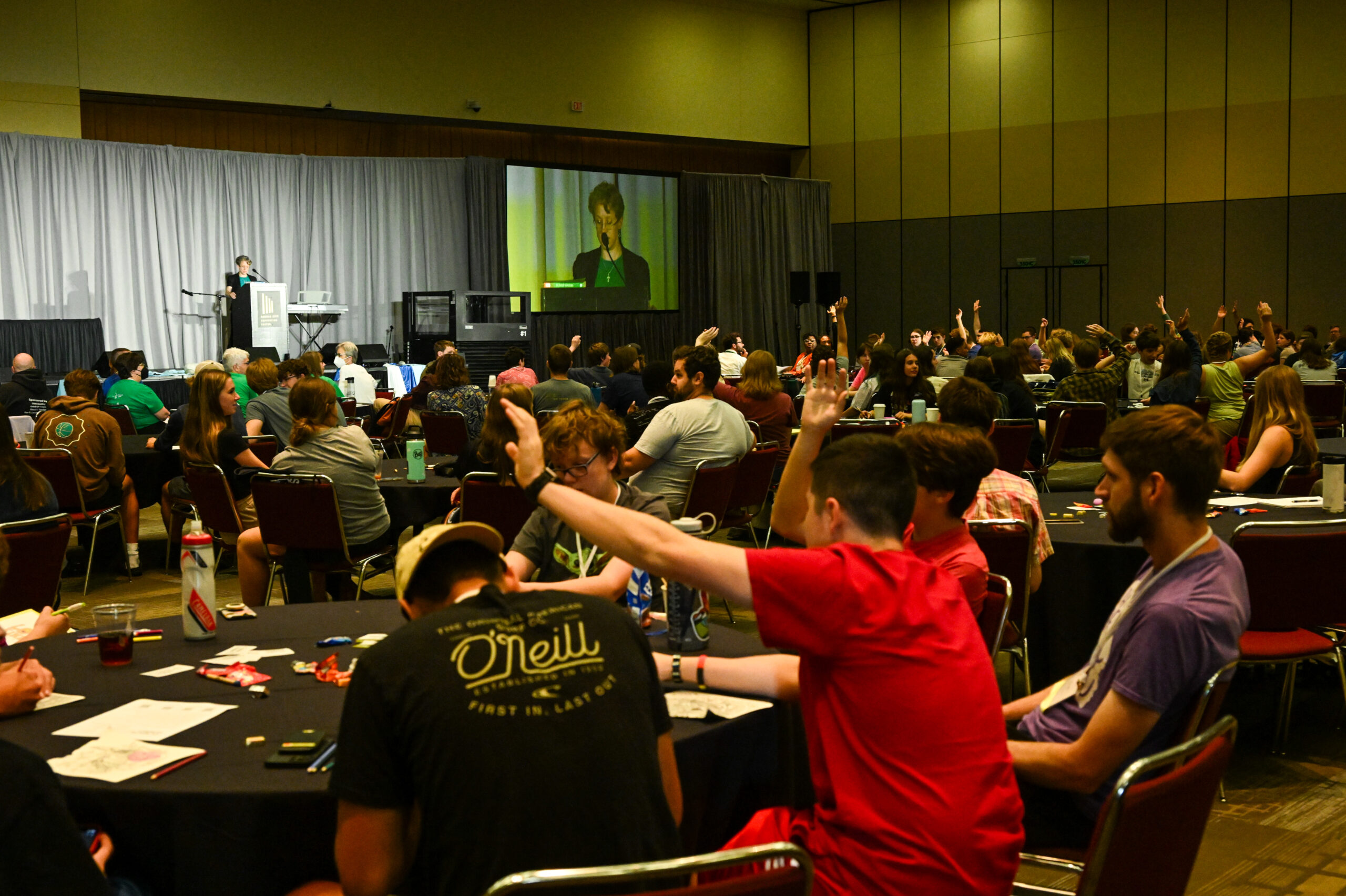 KANSAS CITY, Mo. (Mennonite Church USA) – Approximately 300 youth, young adults and their sponsors gathered in Kansas City at the Kansas City Convention Center on July 7, 2023, for the Youth & Young Adult Climate Summit, a day-long event, directly following the denomination's national convention, MennoCon23. The summit focused on climate change, including climate anxiety, social justice and advocacy themes.  
The summit day began with an opening worship service, scripture reading from Romans and a centering exercise. Lorraine Stutzman Amstutz, MC USA denominational minister of Peace and Justice introduced the summit planners, Jennifer Halteman Schrock, leader of Mennonite Creation Care Network, Doug Kaufman, director of Pastoral Ecology at Anabaptist Climate Collaborative, Sara Gurulé, constituent engagement representative at Mennonite Mission Network, Sarah Werner, MC USA climate justice intern; Galen Fitzkee, legislative associate with Mennonite Central Committee, Eva Webb, master's student in environmental education at Merry Lea Environmental Learning Center of Goshen College, Indiana, Lynn Hur, a recent graduate of University of California, Los Angeles, and Tai Linklater, student at Canadian Mennonite University.  
The event's keynote speaker, Talitha Amadea Aho, author of "In Deep Waters: Spiritual Care for Young People in a Climate Crisis," and a chaplain at a children's hospital in the San Francisco Bay Area, addressed the effects that the climate crisis has on young people along with the realities that our globe is currently facing.
Amadea Aho said, "As Christians, we need to remember that Jesus was a poor man and that he preached good news specifically to the poor. We need to pay particular attention to the suffering of the climate crisis that hits poor people first and hardest. We can not ignore it!"  
She spoke about holding the tension between being active in our faith amid a global climate crisis and resisting the guilt and shame that is designed to shrink our lives and make us feel unjustly responsible. Amadea Aho argued that worldly systems have put us in this position, we did not do this to ourselves alone. 
 "Somebody wants you to feel that anxiety … because it shifts all the existential weight of the way that humans are collectively trashing the earth onto you, personally, specifically, anxiously, 20 times a day or more, and that does not belong to you," said Amadea Aho.  
Following Amadea Aho's keynote address, Halteman Schrock introduced the day's visual, a collection of rocks that participants were encouraged to take with them and carry throughout their day at the summit. Halteman Schrock then introduced a second worship session and prayer, using songs and text from Voices Together, to transition into the morning break.  
After the morning break, four panelists came together to answer questions related to climate justice, facilitated by Abby Endashaw, summer service national coordinator for Mennonite Central Committee. Sarah Nahar, a non-violent action trainer, and interspiritual theologian, Luke Beck Kreider, Ph.D., assistant professor of Religion and Sustainability at Goshen College, Indiana, Lynn Hur, a recent graduate of University of California, Los Angeles, and Sibonokuhle Ncube, regional director for Africa and Europe at Mennonite Mission Network, took the stage to share their experiences, joys and sorrows with the audience. Beck Kreider shared, "I know now that, with natural disasters and environmental issues, inequality heightens risk, poverty increases vulnerability, and racism increases vulnerability."  
Following the break for lunch, attendees could choose two breakout sessions in which to participate. One of the breakout sessions, titled "Caring for Young People in a Climate Crisis" presented by Amadea Aho, was geared toward youth sponsors and adults who are in positions of caring and ministering to youth and young adults. The topics discussed centered around how to serve youth as they walk through times of intensity and anxiety, how to support and engage with youth and the climate crisis without burdening them with their own experiences, and helping youth to be active in participation, moving from neutral to engaged. 
Becky Bathurst, a breakout session participant and member of Forest Hills Mennonite Church, Pennsylvania said, "I appreciated the space to share about where we all are, to brainstorm together about a range of participation. It was helpful to hear other perspectives and other approaches."  
A second breakout session, titled "Climate Change Advocacy" presented by Galen Fitzkee, legislative associate for Mennonite Central Committee, focused on themes of advocacy, action and US government policy. Fitzkee directed participants to directly advocate for legislation that would support climate justice using an online campaign called Climate Action for Peace. The virtual climate campaign was launched on May 17, 2023, and focuses on how people around the world, with the help of MCC's partners, are taking action to respond to the impacts of climate change and how to get involved.
Fitzkee said, "I am encouraged to see so many bright and curious youth talking about climate change in general and about political advocacy in particular, stemming from their own Anabaptist beliefs to meet the moment."  
The summit ended with all participants gathering again to worship, debrief, pray and think of ideas in which to collaborate moving forward. During worship, Halteman Schrock encouraged participants to bring their rocks back to the front and build an altar.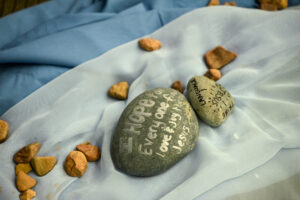 Halteman Schrock ended by introducing the new initiative, Generation Z Energy & Spirit Challenge, a way to respond to one of the two categories, Energy and Spirit, between July 1, 2023, and April 15, 2024. Participants who will graduate from high school in the classes of 2024, 2025, 2026, or 2027 and who are accepted at one of the specified Mennonite schools will receive a $1000 Energy & Spirit Grant as part of their financial aid package.  
Read daily highlights from MennoCon23 in The KC Sauce, MC USA's online convention news sheet.
Mennonite Church USA is the largest Mennonite denomination in the United States with 16 conferences, approximately 517 congregations and almost 52,000 members. An Anabaptist Christian denomination, MC USA is part of Mennonite World Conference, a global faith family that includes churches in 59 countries. It has offices in Elkhart, Indiana and Newton, Kansas. mennoniteUSA.org
Christle Hain, MC USA staff