In the midst of significant social unrest in the United States, Mennonite Church USA (MC USA) has launched a Justice Fund to provide a way for individuals and congregations to support MC USA churches that are actively involved in dismantling racism, addressing police brutality, reimagining policing in our society or combating poverty.
The Justice Fund will use donations to provide grants for MC USA congregations that are engaging in their communities to dismantle racism and to build peace. Congregations also may use these funds for seed money to begin working in these areas.
To donate to the MC USA Justice Fund, click here and designate your donation for the Justice Fund.
To apply to the justice fund click here.
---
Help contribute through our t-shirt fundraiser!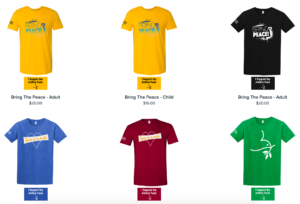 ---
The MC USA Justice Fund is part of the denomination's #BringThePeace initiative. #BringThePeace is a call to action for individuals and congregations to extend peace in their communities. It is also a prayer inviting God to bring the peace that expands our capacity for empathy, compassion and love that actively seeks to dismantle oppression and violence. Learn more at mennoniteusa.org/bringthepeace.
For more information on MC USA's peacebuilding efforts, visit http://mennoniteusa.org/what-we-do/peacebuilding/.