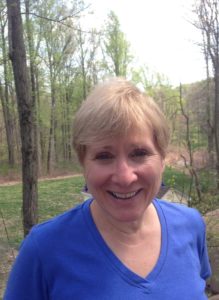 For more than a year, the Mennonite Spiritual Directors Network has been posting brief articles about spiritual direction – testimonies that witness to the potential of spiritual direction for encouraging and deepening spiritual growth. 
Now the focus of these testimonies expands.  In addition to continuing articles about spiritual direction, the series will also include brief articles about spiritual practices that renew our faith and strengthen us for ministries of love – peacemaking, healing, compassion and service.
Klaudia Brady Smucker is currently a pastor in transition. She sees her main work right now as de-cluttering; spiritually, emotionally, and materially. Most days, she views this time as a wonderful journey. She has two young adult daughters and lives in Pennsylvania with her husband Bob and dog Cooper.
We are double-minded in your presence,
because we treasure what you end and we fear what you conjure —
but we are your people and trust you all this day in your awesome, awful work.

This quotation from Walter Brueggemann's prayer, We Treasure What You End, comes to mind when I think of spiritual direction and the place it has had in my life. I am currently in transition, having left a pastorate and committed to taking whatever time I need before I take on anything else.
Spiritual direction has kept me grounded in the midst of joy and enthusiasm as well as in the turmoil, pain and identity issues I am facing now.
I am in the process of letting go and paying attention. I have an eagerness to learn, even as I fear the unknown journey ahead.
Transitions in life can be crazy-making and the many voices I hear in the midst of my transition would be more difficult to sort through if I didn't have a safe place to process them. As I drive through the gate once a month to the Jesuit Center in Wernersville, Pennsylvania, I can feel my blood pressure lower and my breathing slow down. I know that whatever I bring with me that day will be received by my spiritual director with grace and compassionate listening. She will walk with me into the darkness of sorrow and rejoice with me as I notice, with her nudging, that even the darkness is not dark to God. She will gently challenge unhealthy assumptions and notice where God is at work in me even when I can't see it. She will ask me, "Where do you see God's grace in this situation?" She will remind me not to get ahead of the grace, which is her way of saying, "Slow down and let God's purposes unfold." Jesus is our companion as we laugh and cry together. Jesus is our light and our role model as I seek to follow and serve him.
Opening my heart and life to be more like Jesus is an intentional journey that never ends.
It is not about eternal life, although I'm grateful for that promise.  It is about letting go of what I treasure here on earth, which often isn't worth what I thought it was:  the title of pastor, the things I own, the busyness of life, and the many good things that ended up making me so very tired. It's about letting God do awesome, awful work, finding in the process what it is that God treasures. My monthly meeting with my spiritual director holds me accountable to pray, ponder, and process the way I am living and to trust the future, no matter where my fearful imagination might take me. It has helped me stay the course and has saved my faith. Thanks be to God