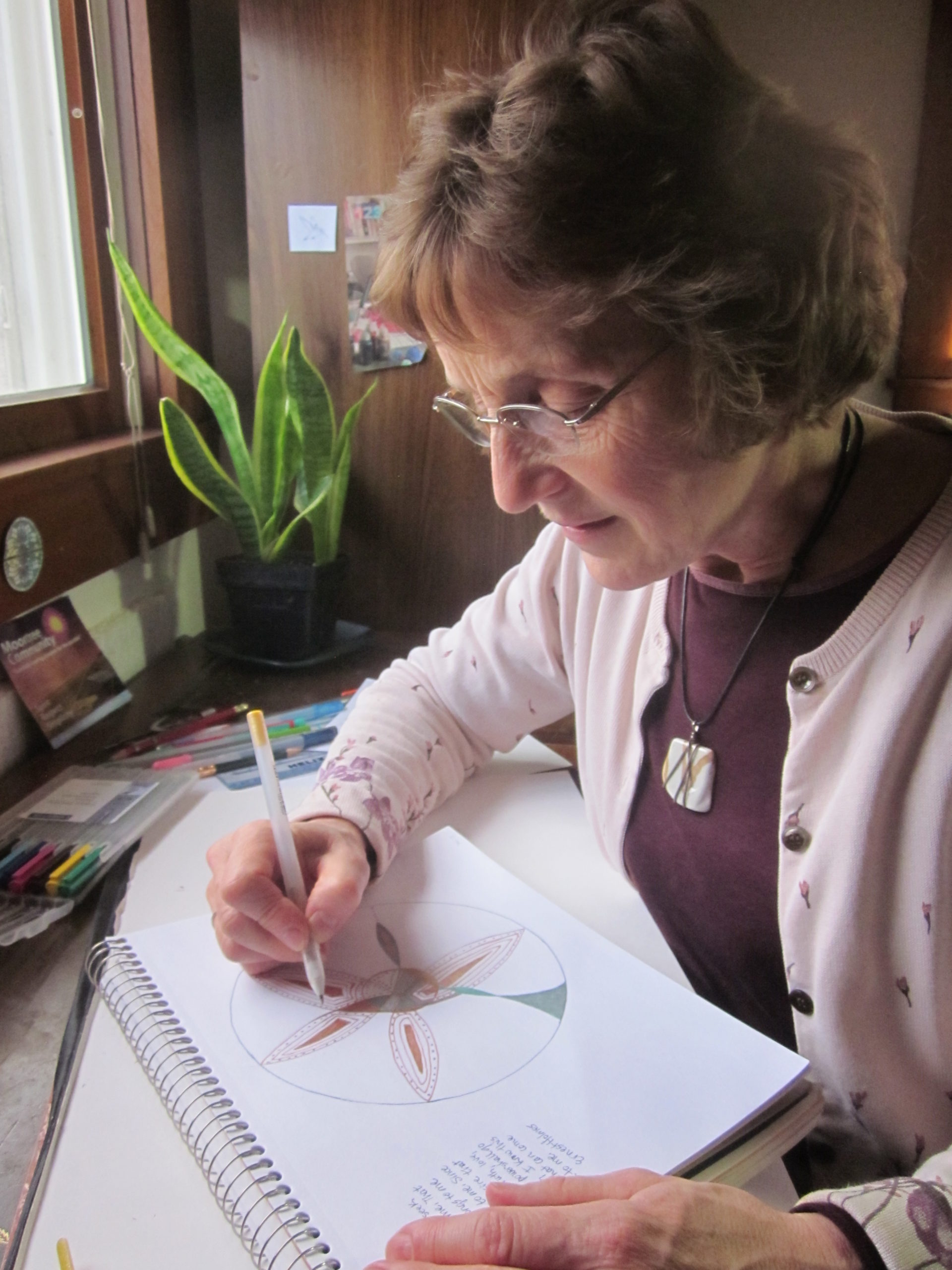 For more than a year, the Mennonite Spiritual Directors Network has been posting brief articles about spiritual direction – testimonies that witness to the potential of spiritual direction for encouraging and deepening spiritual growth. 
Now the focus of these testimonies expands.  In addition to continuing articles about spiritual direction, the series will also include brief articles about spiritual practices that renew our faith and strengthen us for ministries of love – peacemaking, healing, compassion and service.
Vera Smucker Shenk of Goshen, Indiana, is currently doing a chaplaincy residency at Bronson Hospital in Kalamazoo, Michigan. She has worked as a spiritual director for 14 years and is a member of Faith Mennonite Church, Goshen.
"I make art to let my soul know I'm listening."
– Melody Ross
I know how it feels to have creative blocks, to feel stuck and feel resistant to growth. I know of my longing to grow and to want to have a fulfilling life. I know the voice of the dark angel that says, "Your work is not worthy of being seen" or "It is not good enough."
I know the voice of the light angel whispering to the grass, "Grow, grow," being assured by my spiritual director, a Catholic sister, that this is the will of God.
I know from experience the strong pull of the creative spirit within me. I know from my teaching days that the right brain is the artistic center and the less logical part of me.
My spiritual director integrates art creativity and the spiritual self.
"Life without creativity is no life at all," she says.
The cycle of life and the creativity of seed, growth, fruit, harvest and consumption happen over and over for our sustenance.
When I trust my creative self to put paint to paper, something happens for me: The right brain opens up old blockages and resistances because of the very way we are made, opening up channels that have been blocked by the logical left brain – and by my left-brained, dark angel critic.
On the pediatric floor of the hospital where I'm doing a chaplain residency, the walls have been hand-painted by a local artist. Depicted is a colorful scene of nature, children and design. On a wall is the phrase:
When words fail, art will paint the story
            and music will sing it.
Often my soul does not have the words … It has only longing and "groans and sighs" for things yet seeking to be birthed and known.
Using art and combining it in spiritual direction deepens my soul work, deepens my understanding of myself and deepens my spiritual growth. My spiritual director tosses a koan in my direction for my reflection:
"You know more than you know…"
She offers me food for my soul journey by reflecting on my art pieces with me, to look "further in," to glean more than I could have known or expressed or appreciated by myself. She says, "Your cup can be full only if you're using your creativity."
So art expression is a spiritual practice for me. It is an ever unfolding process that can't be fully explained – a place of mystery and marvel, a place to free me from the dark angel of too much logic and thought, a place where my light angel beckons and says,
"Grow … create … be alive … see with new eyes."