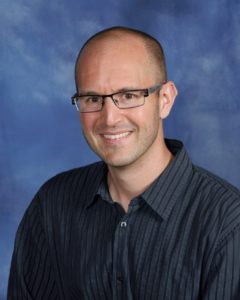 Jacob Liechty is a student at Anabaptist Mennonite Biblical Seminary (AMBS) in Elkhart, Indiana, where he is working toward a Master of Divinity in Pastoral Ministry. Earlier this month, Oct. 6 – 8, he attended the first Deep Faith Conference, a gathering of U.S. and Canadian Anabaptist faith formation practitioners. This is the second in a series of reflections from Deep Faith participants. For more on Deep Faith, visit mennoniteusa.org/deepfaith.
We all know how badly the church in both the United States and Canada is struggling. We've seen the infographics, the trend lines, the surveys of young people who say the church is largely irrelevant to their lives. Membership, attendance, participation and giving are low and falling. We all know this, and I won't dwell on it here.
The question I want to ask is the same one all of us who care about the church are asking: "Where do we go from here?"
Last weekend, over a hundred of us — pastors, lay leaders, social workers, students and other practitioners — gathered on the campus of AMBS for the first Deep Faith conference. We came to discuss lifelong faith formation in an Anabaptist context, not the future of the church per se. But, as is often the case in these settings, the second issue was clearly the context in which we were addressing the first.
Our three days together were as engaging and varied — as deep and faithful as you would expect a Deep Faith Conference to be.
What gave me hope was meeting some of the innovative leaders who aren't just looking toward the future of the church, they're already there. And the future they're living is, increasingly, a "church without walls."
So, what does this "church without walls" look like? I left the conference with three very different models:
Model 1: The Church in Cyberspace
This model was presented by our first plenary speaker, John Roberto, President of LifelongFaith Associates. Roberto argued that the church finds itself not merely in an era of change but in a change of eras. The old is dying and we must prepare to be midwives to the new that is being born. And what is "the new"? In Roberto's view, it will be heavily dependent on a broadband Wi-Fi connection and a 4G LTE equipped smartphone.
The church of the future, according to Roberto, won't be so much a "producer of religious content," as a "curator," providing the digital means by which users can access a network of episodic and associative faith formation experiences. Yes, you can take a breath now! Rather than unpacking what that means and pointing out the flaws in it, I'd like to say how much I appreciated Roberto's unapologetic assessment of our contemporary context. The internet and mobile communications are here to stay. And we don't have to flee in terror. Rather, we can see how they've opened up a new frontier where people relate to other people. And wherever that's the case, the church should be present too.
Model 2: The Church among the Townsfolk
This model came from Scott Roth, Associate Pastor at Perkiomenville Mennonite Church. Roth is a powerfully persuasive speaker, a man who has dedicated himself to what he calls "personal, no-box living," and invites others to join him for the ride. Although he's a clergy member at a "church with walls," his ministry extends far beyond them. The "congregation" to which he ministers is the entire town of Perkiomenville. His mission partners aren't just church-sponsored organizations, but local businesses, government agencies, schools, non-profits and emergency services. And his outreach is based on the simple principle of "see a need, meet a need." This has resulted in an astonishing variety of projects and initiatives: a cafe and recreation center for local youth, a nerf club, aquaponics and robotics teams, a bike shop, an informal dinner gathering and more. For Roth, there is no "us" within the walls and "them" without. It's all "us."
Model 3: The Church in the Wilderness
This final model was presented by Andrew Michaels, Director of Camp Luz in Orrville, Ohio. Unlike in the previous two models, which urge the church to "be where the people are," Michaels sees his ministry as calling people away. At Camp Luz, he offers a short-term, intense experience of Christian community in a sacred place that has been prayed over and set apart. Here, there are no distractions. Just campers and counselors and God. And because of that, there's room for a special kind of worship — the worship that rises up from people who have been playing together, brushing their teeth together, stumbling to breakfast in their pajamas together, giving each other permission to be giddy, slaphappy, weepy, needy, blown open and shaken apart together. This isn't so much church that brings us together as church because we're already together, and how can we keep from singing?
So … is the church dying? I suppose that depends on what you mean by "the church." Something is definitely dying. Many of the traditions and institutions we've passed down so carefully from our parents' and grandparents' generations are, I suspect, dying. There's sadness in that, and we should grieve it. But the church? I don't think so.
Why? Well, because God is still God.
God has never stopped bending the arc of human history toward redemption, and I don't believe God will stop now. And people are still people, still desperately in need of redemption. As long as points one and two are true, the church will remain also, orienting people to God's redemptive work.
So the question is not "Will there be a church?" but "What will the church look like?" Will it be in cyberspace? Among the townsfolk? In the wilderness? Yes, I would say, all of these and more. God is doing a new thing. Get ready.