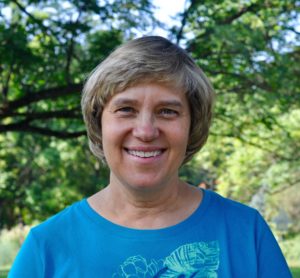 Doreen Miller serves as congregational spiritual director of Gingrichs Mennonite Church in Lebanon, Pennsylvania. "I am a loved sinner," she says. "What more could I want in this life?" Doreen is a member of the Mennonite Spiritual Directors Network.
Three years ago, I took up a new spiritual practice – drawing my prayers.
A recovering perfectionist, I quickly noticed the need for one fixed rule in using the colored pencils: Don't erase!
Somehow, banishing the eraser switched my attention from the product to the process of prayer.
Before long, poems spilled out to accompany my drawings. I had discovered so much freedom in not "fixing" my drawings that I declared once again: Don't erase! Somehow, writing in pen instead of pencil allowed the words to flow unimpeded, without the usual fits and starts of self-analysis and self-criticism.
Quite unexpectedly, in providing spiritual direction, the power of this principle grew even clearer. Sometimes, directees would hesitate to remember and recount their sad tales of illness, abuse, suffering, addiction, or sin. At first, I would also hesitate to proceed down the painful paths of desolation with them but would opt instead for the cheerful encouragement of their consolations. Yet, in "erasing" or avoiding the darkness, we were missing the treasures hidden there.
Our entire life stories have shaped us, both the darkness and the light. God is always present with us, weaving together the dark and light threads of our experiences to form the tapestry of our lives and our selves. In an important sense, we are our memories – all of them.
Erasing, suppressing or ignoring the ugly or painful memories diminishes us.
The Bible does not erase the misfortunes, weaknesses, and sins of God's people. How could we possibly know God and ourselves as well without recalling the disobedience of Adam and Eve, the four hundred years of slavery in Egypt, Israel's wanderings in the wilderness, David's adultery, or the Babylonian exile? Jesus did not ignore or gloss over the Samaritan woman's sad situation nor the sin of the woman caught in adultery. He met them as they were. The mistakes of Peter, the other disciples and the early church are openly recounted in Scripture, not wiped squeaky clean.
Does this mean we must disclose all our sins and sadnesses to each other? No, we need not go to the opposite extreme of erasing by dwelling on our misfortunes. We need not endlessly spiral in self-pity and regret. Instead of erasing, we can accept and act. Instead of erasing, we can remember and forgive.
Instead of erasing painful memories, we can look for the presence of God with us always.
God does all the erasing we need. In Christ, God erases our guilt and our punishment. In the generous love of God, we find the safety and freedom to let go of perfectionism. In the unchanging love of the Creator, we remember God intentionally made us human and fallible. In the power of the Spirit, every inborn personality trait, every past event, and every present situation is "worked" for our good.
So, don't erase. Don't re-write your past or your present. Let God love you as you are and watch what happens.