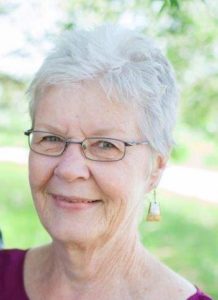 For more than a year, the Mennonite Spiritual Directors Network has been posting brief articles about spiritual direction – testimonies that witness to the potential of spiritual direction for encouraging and deepening spiritual growth. 
Now the focus of these testimonies expands.  In addition to continuing articles about spiritual direction, the series will also include brief articles about spiritual practices that renew our faith and strengthen us for ministries of love – peacemaking, healing, compassion and service.
Connie Shelley is a member of Sojourn Mennonite Church in Fort Collins, Colorado. She is very grateful that her daughter and son and eight grandchildren all live within a 50 mile radius. Connie is currently on the staff for the Spiritual Formation Program at the Center for Spirituality at Work in Denver as well as coordinator for the Spiritual Direction Program at the Denver Women's Prison.
Becoming a Spiritual Director
In 2001 when I completed spiritual direction training at the Center for Spirituality at Work in Denver, I had absolutely no idea where it would take me. I did not know whether any opportunities would open for me to companion the deep way of the Spirit. I did know that my training had already shifted my soul in a profound way, and for that I was grateful. One of the requirements of our program was to be connected with people who live on the margins of our society, whether they are elderly, homeless or dying (think Jesus). We learned that becoming a spiritual director is not a vocational choice but a charism or calling — and that distinction made a big difference in how we viewed our training.
Offering Spiritual Direction in Prison
In 2004 I took additional training by the Colorado Department of Corrections in order to prepare to become a spiritual director at the Denver Women's Prison. Since that time I have accompanied some women for a few months and some for a few years.
I want others to know that women in prison are much, much more than the crime for which they are imprisoned. There is within each of them the little girl that God created and loved into being. I don't go there because they need me; I go there because I need them. I go there because they are more aware that they are in prison than those of us who are on the outside. I go there because I cannot love what I do not know, and I want to know them and see them in the way that God sees them.
TM is a beautiful young woman who is extremely talented and articulate. When I first began to see her, she wanted to get out (of course, they all do) so she could be free to seek God. I suggested that maybe her job for now was to find God within the razor wire … and so her journey began. She has given me permission to share the following testimony with you.
A Woman's Testimony
God is in …
The smile from a stranger when you're in your darkest place.
The baby toad in front of you when everything else seems dead.
I'm the sunrise with the colors that makes your very soul smile,
I'm the perfect gust of wind when you need a fresh breath of air
and in the snowflake lying perfectly upon your friend's shoulder.
I'm in the woman who comes one day to help you along;
who loves you solely for who you are … and always will.
I'm the music that speaks to your heart at the very moment you need it.
I'm the first budding leaf, knowing you'll be excited to see it.
I'm in the friend that keeps coming back and grows with you.
I'm that contented smile you have in the most oppressive of places.
I'm that One who catches your eye in a crowd of unfriendly faces.
I'm that burst of hope you feel, even when it doesn't make sense.
I'm that hand that holds on to you, even though you've let go before.
I'm the One who has loved you, no matter where you've been,
what you've done, or how long you will stay where you are.
I'm the One who has heard your cries, longed to hold you in my arms.
I'm the One who wants you to come to me every day, just as you are.
I will always be there to talk with you,
through a smile,
a toad,
a sunrise.
I'll be talking to you for the rest of your life, even when you don't talk back.
I'm the One that you feel calling,
letting you know,
right now
I'm here.
I AM.