A delegation of 15 board members and staff of Mennonite Church USA agencies and organizations arrived in Bethlehem Monday February 24, 2014 for the first leg of an eight-day learning tour in Israel/Palestine.
Participants include the following board members and staff of Mennonite Church USA agencies and organizations:
Joy Sutter, Isaac Villegas, André Gingerich Stoner (Executive Board)
Duane Oswald, Larry Nickel, Chad Horning (Everence)

Madeline Maldonado, Tanya Ortman, Stanley Green (Mennonite Mission Network)

Noel Santiago, Carlos Romero (Mennonite Education Agency)

David Maldonado (Iglesia Menonita Hispana)

Ann Hershberger, Ed Diller, Ron Byler (Mennonite Central Committee U.S.)
Throughout their travel, we'll post updates, reflections and pictures from the group here.
See also: "Come and See": Mennonite leaders visit Israel/Palestine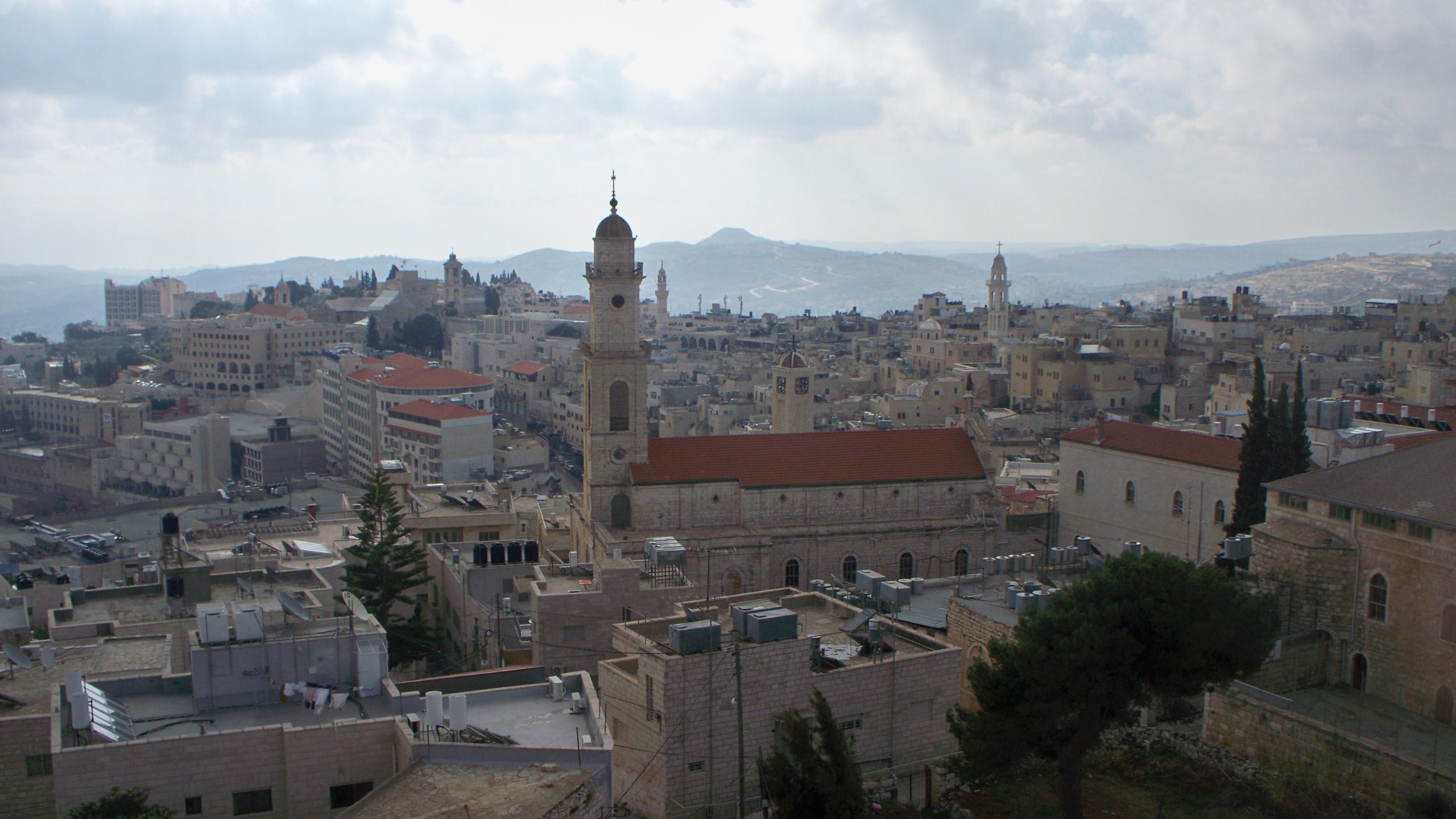 Andre Gingerich Stoner, Tuesday February 25: This is the view out my hotel window towards Manger Square, the heart of Bethlehem, where Jesus was born and the angels sang "Peace on earth."  Many of us did not realize that Bethlehem is located in the occupied Palestinian territories.  Though it is less than five miles from Jerusalem, the road is blocked by a separation wall and checkpoints. A shopkeeper who served some of us coffee this afternoon told us he hadn't been able to go to Jerusalem for fifteen years.  Tomorrow we are visiting the church of the nativity.  Today we spent time walking along the wall which snakes around and between the city, neighboring villages, and Israeli settlements.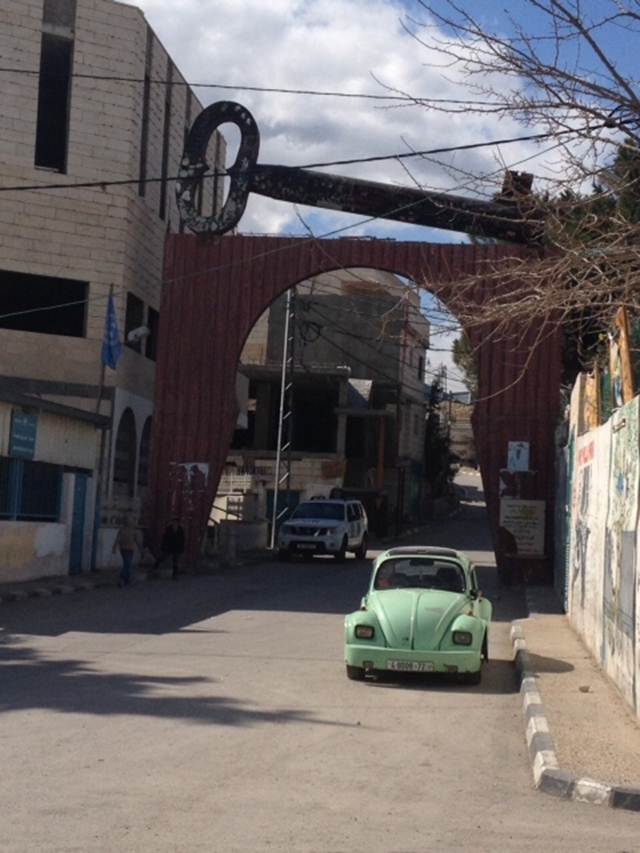 Tanya Ortman, Wednesday February 26: Today we visited Aida refugee camp in Bethlehem, Palestine.  The entrance to the camp is marked with a prominent key.  The Palestinian refugees of Aida were forced out of their villages in 1948.  They left under the impression they would be able to return soon, taking little but the keys to their homes.  Many years later they still yearn for the day they will be able to return to their villages.  Their keys represent their history, but also their hope.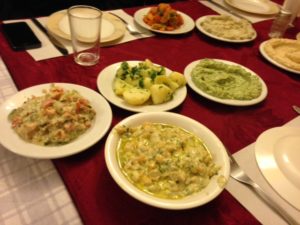 Chad Horning, Friday February 28: The weather has been blustery and cool, but everywhere we traveled, from Aida Camp to Beit Omar and from Bethlehem to the South Hebron Hills, we have been welcomed with warm hospitality by our teachers and hosts. Arabic coffee and sweet mint tea lubricate nearly every conversation.  And the group has been sustained by an easy camaraderie and delicious food, including hummus for breakfast. What a great idea!
Isaac Villegas, Saturday March 1: 
In Jerusalem we were graciously welcomed for a Shabbat meal hosted by a rabbi's family. They passed around a stack of prayer books for us to join along, or at least to read the English translations of their Hebrew prayers. A line from one of the prayers, a prayer of gratitude: "We thank You, Lord our God, for having given us the heritage of a lovely, free and spacious land to our fathers."
Free and spacious land? Given to whose fathers? Their prayer jolted me back to the West Bank, to the Occupied Territories, to the Palestinian villages we've visited over the past several days. The land has never been free or spacious. It has always been inhabited, and contested.
I am reminded of a passage from Ari Shavit's recent book, My Promised Land: The Triumph and Tragedy of Israel, where he reflects on his great-grandfather's migration from England to Palestine in the early 20-century to claim the land of Israel as part of the Zionist movement. Shavit explains the blindness of his great-grandfather, his inability to see that the land was not spacious or free:
"Riding in the elegant carriage from Jaffa to Mikveh Yisrael, [my great-grandfather] did not see the Palestinian village of Abu Kabir. Traveling from Mikveh to Rishon LeZion, he did not see the Palestinian village of Yazur. On his way from Rishon LeZion to Ramleh he did not see the Palestinian village of Sarafand. And in Ramleh he did not really see that Ramleh is a Palestinian town. He does not see the Palestinian village of Haditha, the Palestinian village of Gimzu, or the Palestinian village of El-Kubbab. My great-grandfather does not see because he is motivated by the need not to see. He does not see because if he does see, he will have to turn back. But my great-grandfather cannot turn back. So that he can carry on, my great-grandfather chooses not to see."
I've seen too much in four days. Too many walls — towering walls stretching for mile after mile, turning Palestinian cities into open-air prisons. I've heard too many stories of Palestinian villages threatened by Israeli settlements, villages erased by Jewish colonialism.
I've seen too much. I've heard too much.
During the Shabbat service tonight, the rabbi reflected on seeing the invisible: "How do you see what you cannot see?" He asked. "Sometimes what is most important, you cannot see."
I would add, How can we open our eyes to what we do not what to see? Or, more tragically, what happens when we choose not to see what don't want to see, because reality would threaten us?
Can I choose not to see, not to remember, the used tear gas canisters I held in my hand? The tear gas used against Palestinian kids and youths in Aida Refugee Camp? The tear gas bought with my taxes, given as a gift to the state of Israel? The tear gas canisters manufactured by a U.S. company in Pennsylvania?
If you've learned how, please tell me how I can forget what I saw, how I can forget what I heard. Perhaps Ari Shavit can awaken his great-grandfather from the dead and ask him how he did it.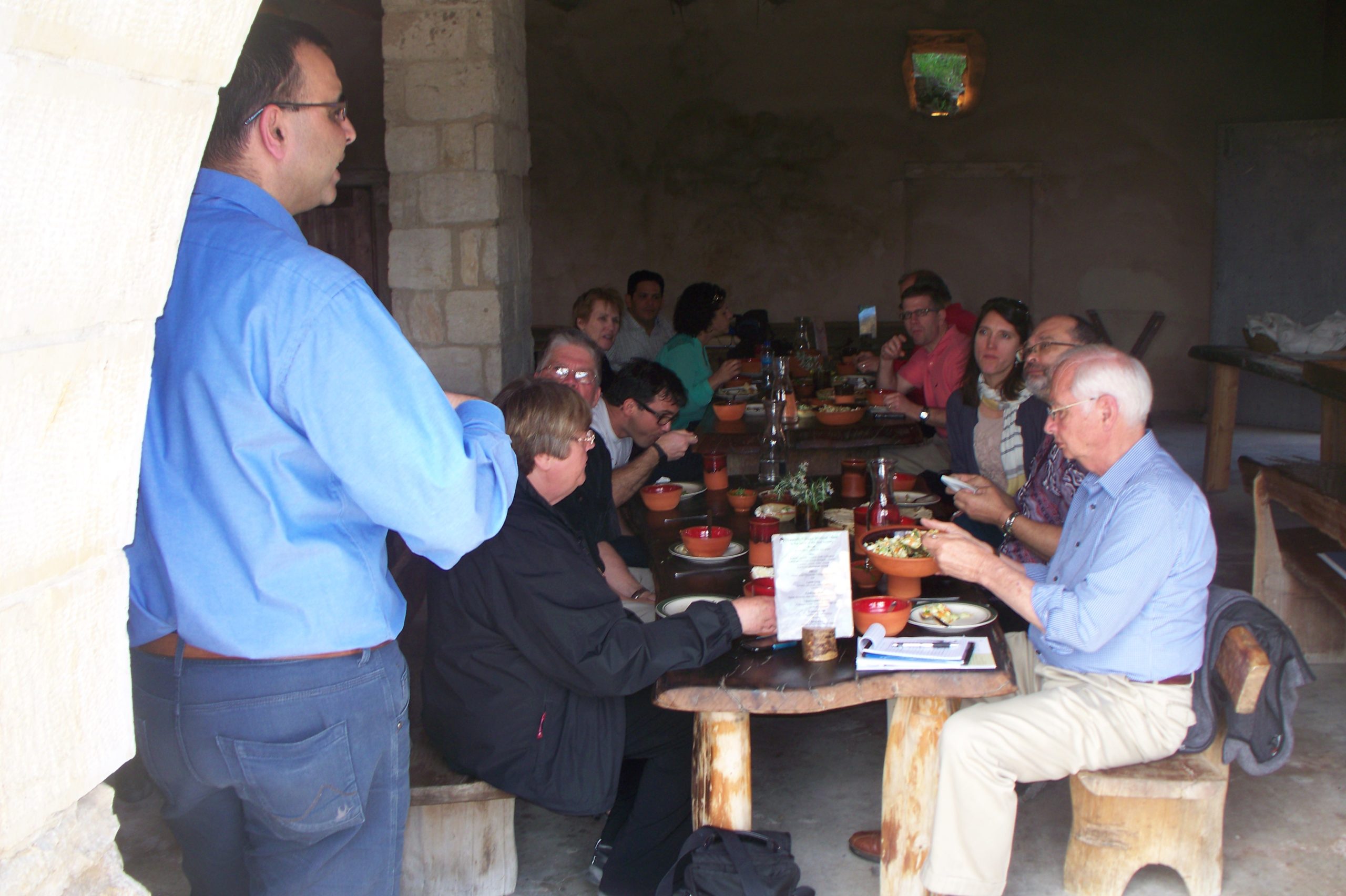 Andre Gingerich Stoner, March 1: Today we traveled to Galilee.  The city of Nazareth is one of several areas in Israel with significant numbers of Palestinians.
We enjoyed a first century meal at Nazareth Village.  Mennonite Mission Network played a decisive role in developing this interpretive center about the life of Jesus.  We were greeted here by Bader Mansour, chair of the Nazareth Village board and leader of Baptist Churches in Israel.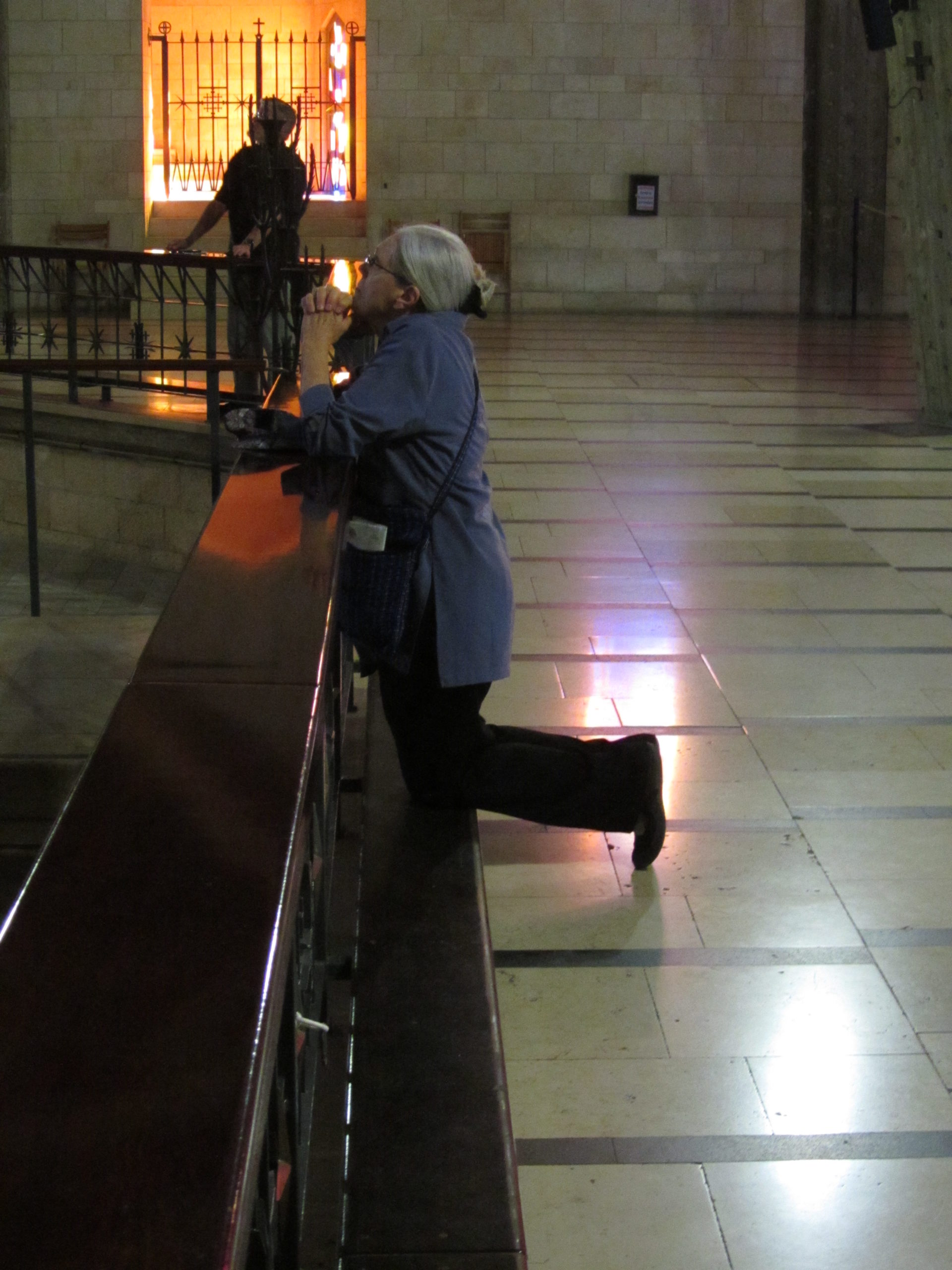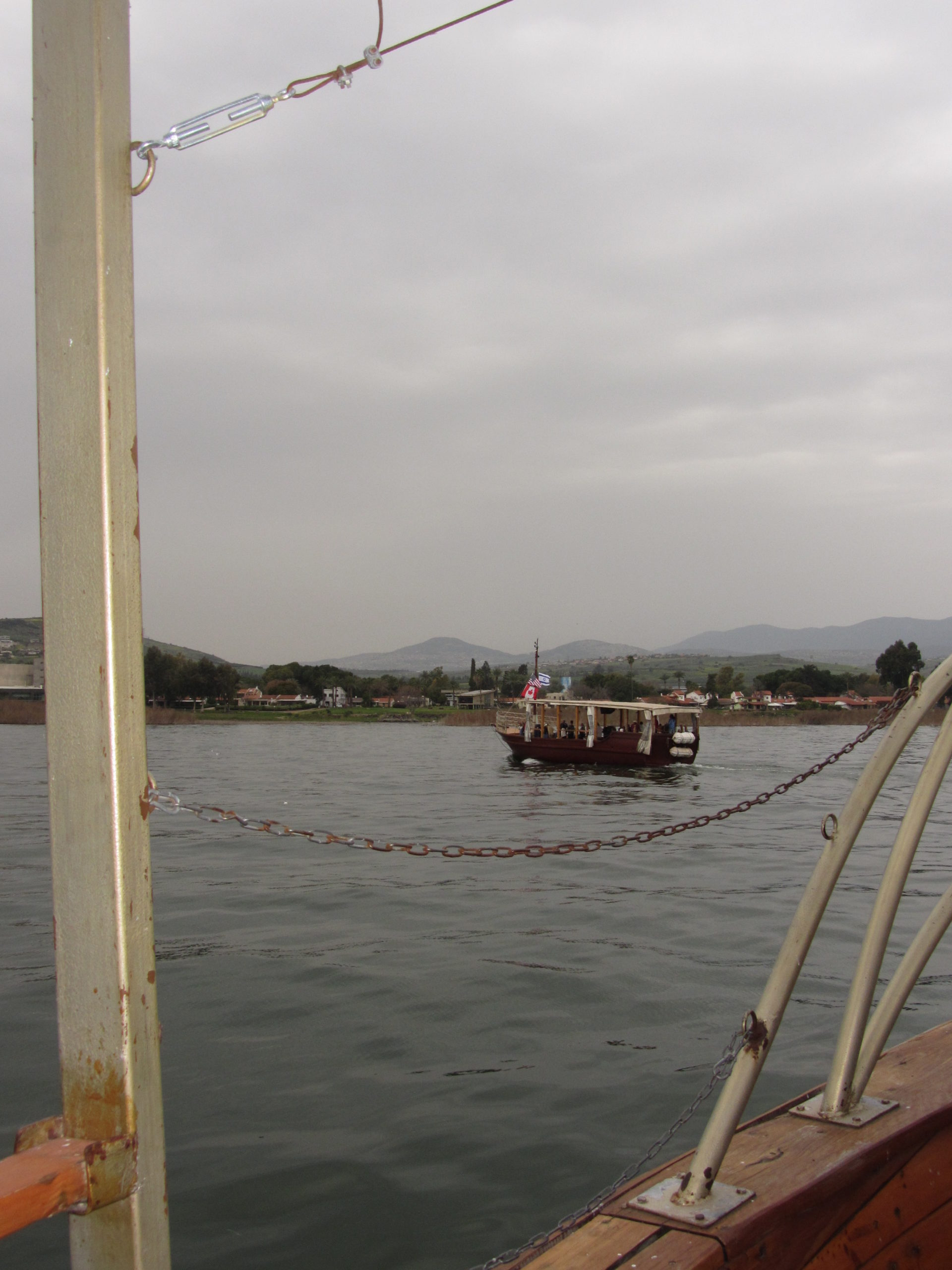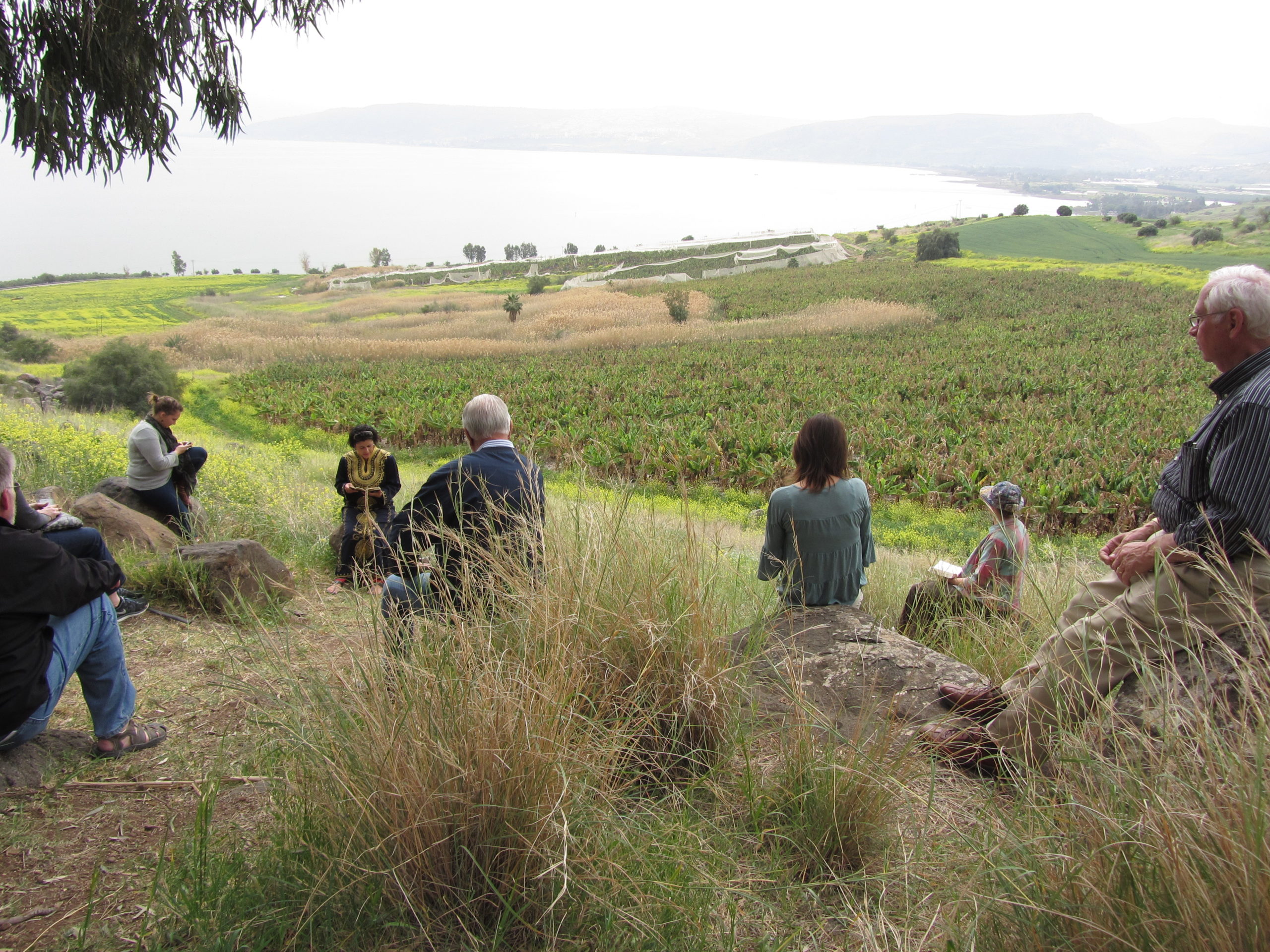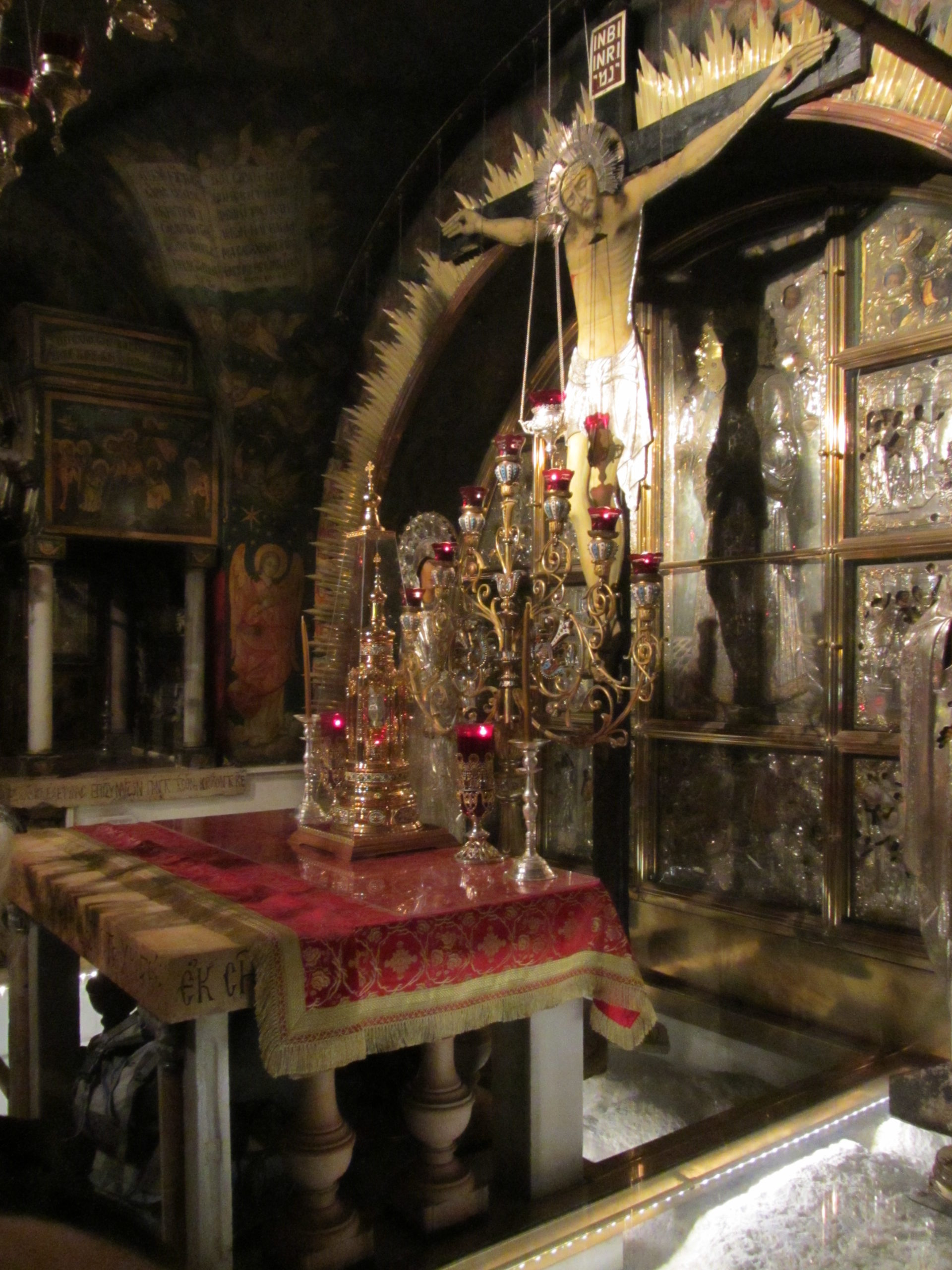 Ed Diller, March 2: Yesterday we spent the day in Nazareth. As we walked through the Church of Annunciation, we were overwhelmed by the stunning sounds of Ave Maria played on the beautiful pipe organ which filled and reverberated throughout the cathedral.  (See the above photo of MCC Board Chair Ann Hershberger as she listens to the wonderful music in such an inspiring space.)
Later in the evening, four friends and I were lost in the hills of Nazareth. While we caused our compatriots some worries, we had a wonderful time talking with one another. It was also interesting to think that Jesus may have looked over the city from the same hills we were climbing.
This morning we worshiped on a boat on the Sea of Galilee.  This land and these waters are a part of the story and spiritual heritage of each of us. What a wonderful way to physically and emotionally connect with our Biblical history.  Later, we worshiped on the Mt. of the Beatitudes where we read and contemplated the Sermon on the Mount.  Again, what an amazing way to connect with that passage that we all have read and heard so often.
Finally, this afternoon, we returned to Jerusalem where several of us visit the Church of the Holy Sepulchre.  As we waited to see the spot where tradition says that Jesus was crucified and died, we were fortunate to see a group of Orthodox priests perform a ritual near the site.
This was an extraordinary Sunday that will remain in our hearts and minds.  What a wonderful opportunity.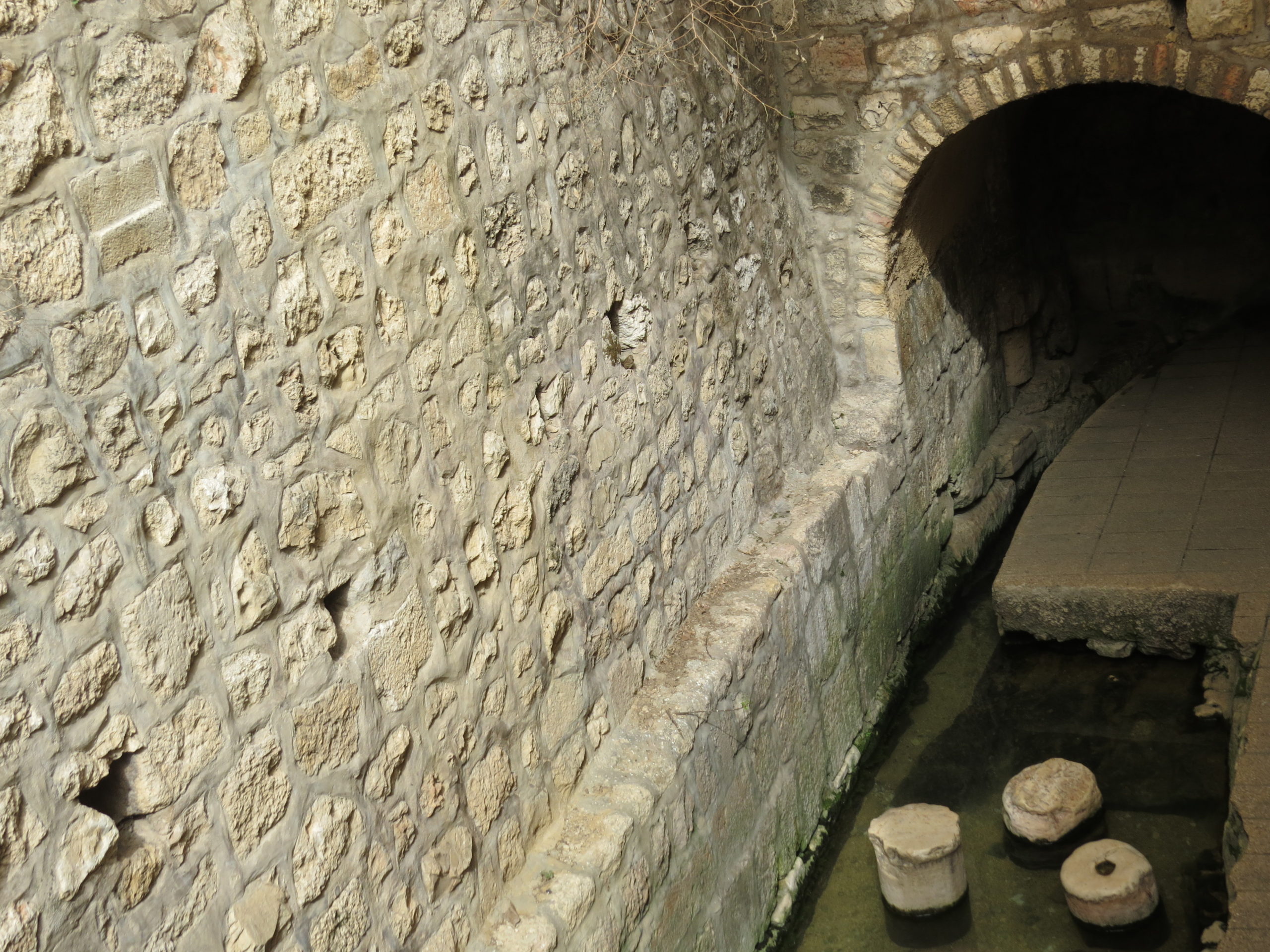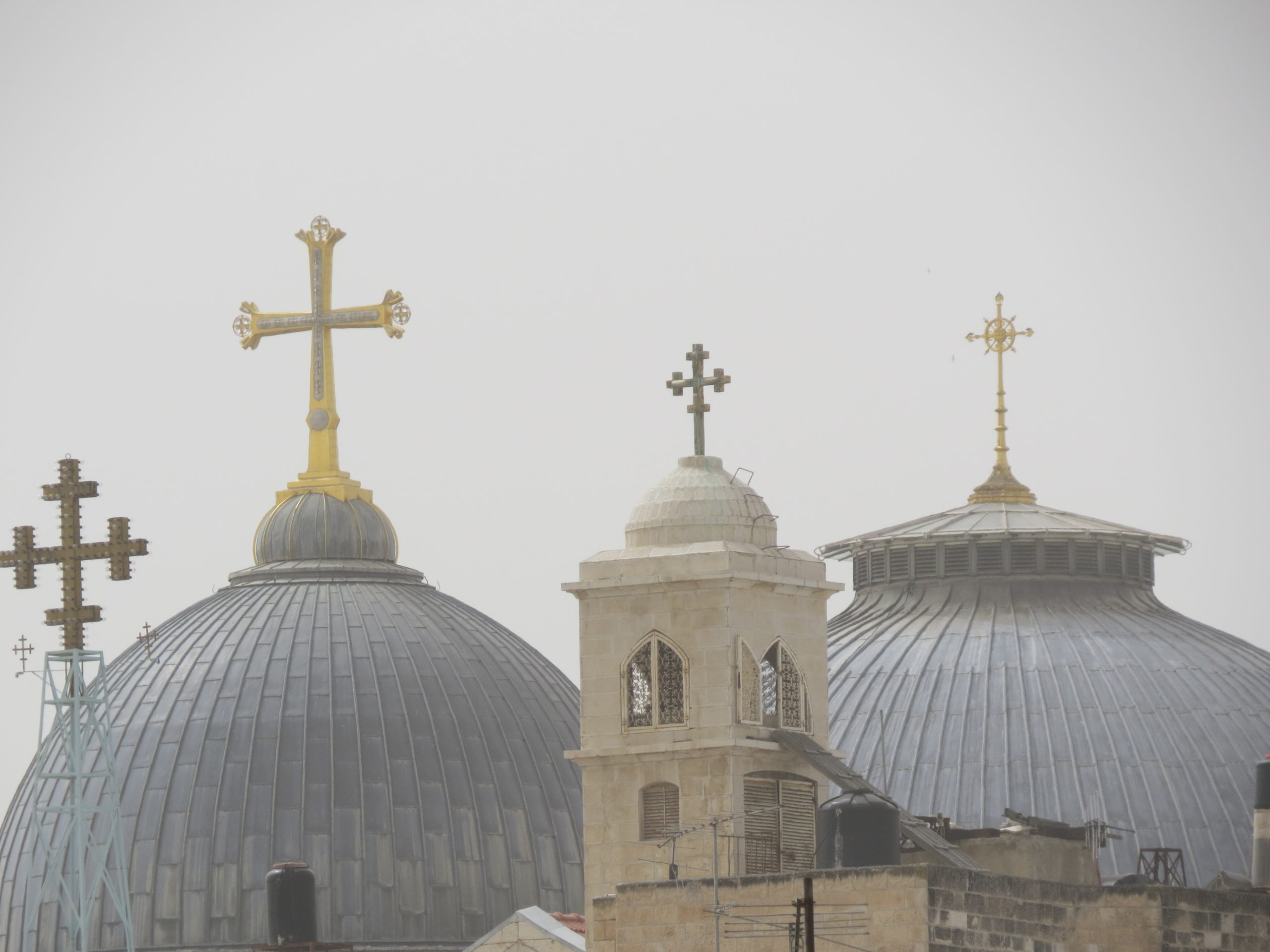 Stanley W. Green, March 3: 
In Silwan, just outside the Old City walls, under the shade of the protest tent, we heard the cry:
"Please, do not be blind to our plight." See our children carry their toys and favorite dresses to school for fear, terrified  that the bulldozers will come while they are away. These ravenous beasts satiated only by demolition and destruction, will pulverize the things we treasure most.
Up the hill, around the bend, we came to the Pool of Siloam spoken of in John 9:9-12.
Down there where the ancient water still flows, washing off a muddy eye-pack Jesus applied, a blind man received his sight.
Around the city walls and down through the Bab Alamud, or Damascus Gate, we entered the Old City, veering off the beaten path of pilgrims and shoppers, we took the "road less travelled."
From the beguiling overlook on the rooftop, the city the seemed at peace,
countless crosses, crescents and menorahs rising above the skyline seemed to announce that they were sentinels appointed for the sake of that peace.
In the alleys we traversed, and in the courtyards we stood, violence claimed its territory:
we saw Palestinian homes with their water cut,
we saw invasions by young single army recruits preparing the way for settlers to colonize ancient communities and effect the evacuation of Palestinians,
we felt the anguish and indignity of mothers and their children made to feel uncomfortable in the hope that they will exit the city gates never to return.
At Yad Vashem, we saw unspeakable atrocities that flaunted humanity's capacity for evil. All the death and debasement made it difficult to breathe, stifling any words in our mouths.
Cloistered in a meeting-room at a religious guesthouse we struggled to unshackle ourselves from the discomfort of the dumbstruck, we longed again for the miracle at Siloam; we yearned for the day when the declaration "Never again" would not be followed by "to us."
We wished that we could be joined by Jews and Palestinians, by our sisters and brothers in the U.S. and by all God's children everywhere, to work together to ensure that injustice and oppression, dispossession and violence not only are stayed for those of our tongue or tribe, but that every inch of humanity would be spared their blight.
Andre Gingerich Stoner, Wednesday March 5: Yesterday we had our closing debriefing at St. George's Guest House in Jerusalem.  Our hearts are full of impressions, encounters and experiences which we will carry with us and continue to ponder.  How can we best share learnings from our trip with friends and family when we return home?