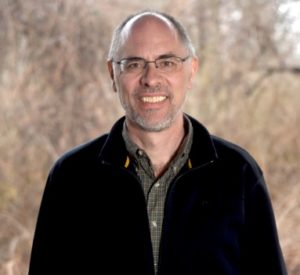 Andre Gingerich Stoner is director of Interchurch Relations for Mennonite Church USA.
Two days after the presidential election, pastors and church leaders from our neighborhood in South Bend, Indiana met together. We were about half African-American and half white. We ate together, got to know each other better and prayed together. Eleven churches were represented. We came from a Catholic parish, Black Baptist and Pentecostal churches, an African Methodist Episcopal and an Episcopal congregation. We were a pastor of a white evangelical congregation, the clerk of a Friends meeting, and a leader of our small Mennonite intentional community, Cana Community.
Together with two Black pastor friends, I helped convene and lead the meeting. I've known these two pastors for more than 15 years. We helped start a prayer ministry at murder sites together and initiated 10 p.m. to midnight prayer walks for a season. It has been good reconnecting with them during this last year, first through the support and encouragement of Kern Road Mennonite Church and now through the Near Northwest Neighborhood, Inc. (NNN), a community development corporation that serves this part of South Bend.
At the end of this month, I'll be concluding my work with Mennonite Church USA on interchurch relations. I started on a very part time basis — five hours a week! — eleven years ago.
It has been a real privilege to represent Mennonites and to build relationships with other traditions and denominations in the body of Christ during this time. Now I am looking forward to immersing myself again in interchurch relations at the local level.
My work with the pastors is part of the new role I am assuming in the NNN as a "neighborhood networker." The near northwest neighborhood of South Bend is a one square mile area, with 3,600 residents, about 40 percent of whom are African-American. In addition to nearly 15 churches, the neighborhood has two elementary schools, a hospital, a number of small businesses, Ph.Ds. and high school drop-outs, historic homes and vacant lots, a volunteer run coffee shop and a corner bar that brings together a remarkable mix of people. My wife, Cathy, and I have lived in the neighborhood for more than 20 years and raised four children here. Our neighborhood has many of the challenges but also many of the extraordinary gifts and graces of urban communities across this country.
The pastors and neighborhood leaders want to help cultivate the art of neighboring here, and to build a web of relationships that has the strength to speak effectively into decisions that affect the lives of our neighbors.
At the end of our meeting in November, we committed to keep working together as we "seek the welfare and shalom of the city." That is my prayer for our neighborhood and that is my prayer for Mennonite Church USA.