By Willard Metzger
Dear Ervin:
On behalf of Mennonite Church Canada, I want to warmly invite you and guests from Mennonite Church USA congregations to our 2014 national church assembly in Winnipeg, Canada.
From July 3-6, we will be worshipping, praying, and learning together. Our theme is "Wild Hope: Faith for an Unknown Season." We will prayerfully and biblically explore what it means to be a family of faith in a post-Christendom context. We would like to do that together with you.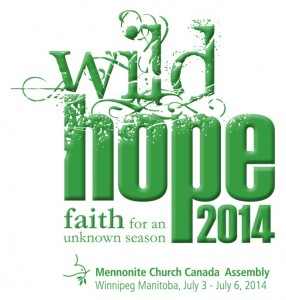 In your consideration of this invitation, I want to share with you a very important decision: In 2011, Canadian delegates voted to begin meeting biennially. Delegates also decided to begin our biennial schedule in 2014 so that our extended church family in MC USA could join us in the years when MC USA does not meeting – and so that Canadians could join MC USA assemblies in the years when we do not meet.
We deeply value our relationships across the Anabaptist family of faith. In a global atmosphere where borders and boundaries are becoming more defined, Mennonite people of faith can demonstrate unity in Christ that extends beyond geo-political lines. Crossing borders to meet together can make a much needed counter-cultural statement. Please join us.
Sincerely,
Willard Metzger,
Executive Director