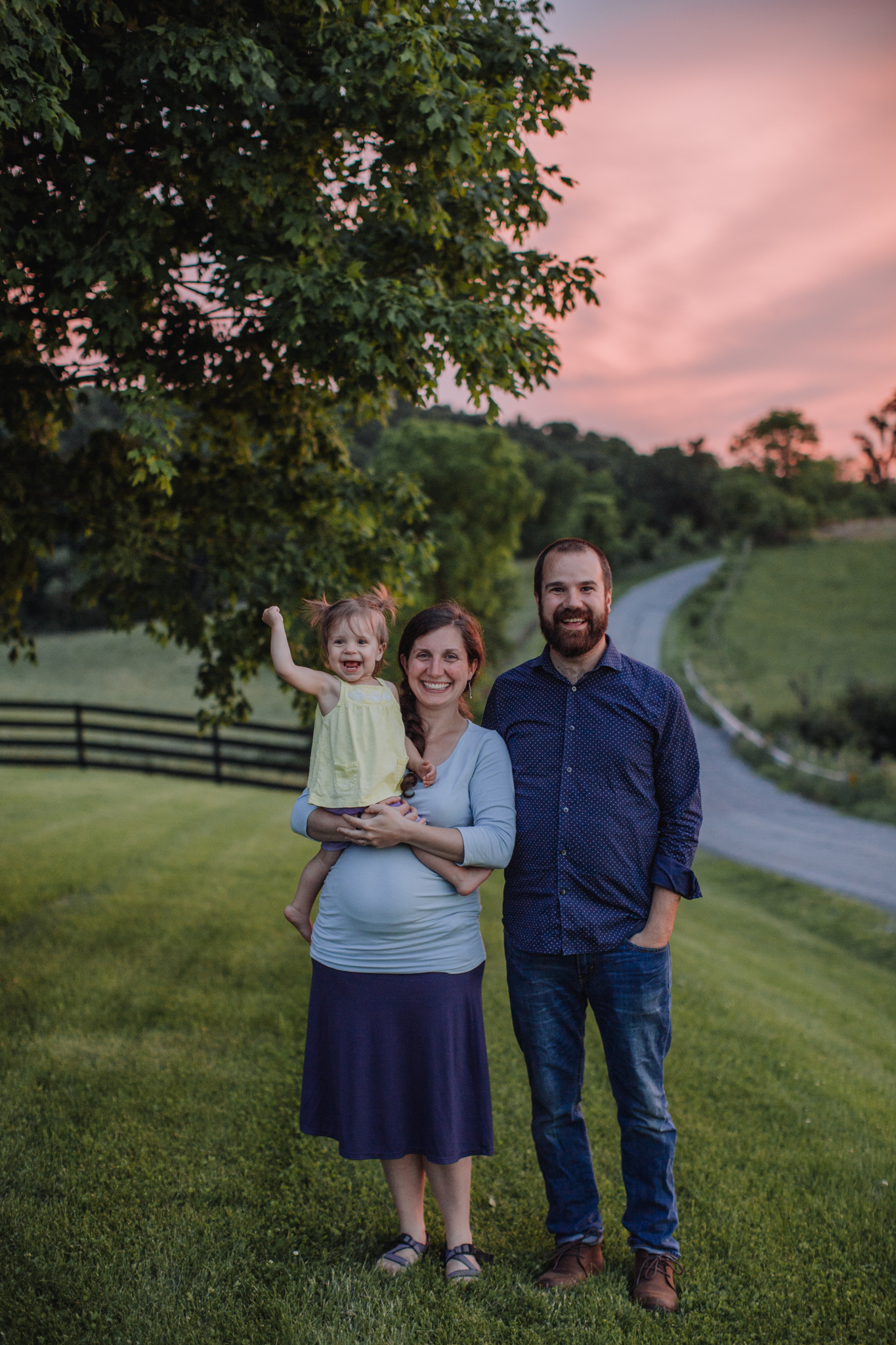 Seth Thomas Crissman is a licensed minister in Virginia Mennonite Conference. He is a member of The Walking Roots Band, a Harrisonburg, Virginia-based folk band. He and his wife Theresa work for Virginia Mennonite Missions, helping congregations share and receive God's love in their local neighborhoods through after school Kids Clubs. Seth also teaches special education part-time. They have three children, one of whom was born this winter.  Photo by The Commoneer LLC
"I love the LORD, because he has heard my voice and my supplications. Because he inclined his ear to me, therefore I will call on him as long as I live. The snares of death encompassed me; the pangs of Sheol laid hold on me; I suffered distress and anguish. Then I called on the name of the Lord: 'O LORD, I pray, save my life!' Gracious is the Lord, and righteous; our God is merciful. The LORD protects the simple; when I was brought low, he saved me." Psalms 116:1-6  NRSV
Theresa gave birth to our third child this winter, Maria. Maria's small eyes are kind and her voice is so strong. She is sleeping against me as I write this.
When it comes to interpreting our children's cries, Theresa seems to be exceedingly gifted at listening to their infant cries and knowing just what they need.
Maria's urgent cries when she is hungry, tired, cold or needing changed are met with skilled listening and appropriate action when Theresa is the one caring for her. When I am the primary caretaker, sometimes it takes a few guesses before I realize that all she needs is a good burping! It'd be easy to be jealous of Theresa's superpower, but most of the time I'm just thankful for how Theresa can listen, understand and respond with such swift accuracy. I'm constantly paying attention to learn Maria's cries so I can know how to better respond.
In Psalms 116, the writer says, "I love the LORD because he has heard my voice and my supplications … [and] saved me." God's attentive ear towards the Psalmist and subsequent saving action is not an outlier, rather an expression of God's very nature and character. This is who and how God is, has been and will be.
"Gracious is the LORD, and righteous; our God is merciful. The LORD protects the simple."
People crying out to God for help and God hearing them and acting is a well-established pattern throughout the Hebrew Scriptures (Haggar and Ishmael, Leah, those enslaved in Egypt, Hannah, Elijah, the list could go on).
Jesus' life and interactions with those around him place him firmly in this Holy tradition as God-with-us. Remember Jesus' statement of purpose in Luke 4, while reading from Isaiah 61:
"The Spirit of the Lord is upon me, because he has anointed me to bring good news to the poor. He has sent me to proclaim release to the captives and recovery of sight to the blind, to let the oppressed go free, to proclaim the year of the Lord's favor."
This is GOOD NEWS that God hears the cry of the oppressed, sees those who are unseen/ignored, and has come near in Jesus Christ to bring salvation.
On this Maundy/Holy Thursday, we remember that Jesus took up a towel, washed his disciples' feet, and instructed his disciples to:
wash each other's feet and
love each other as they have been loved by God.
The disciples first needed to receive from Jesus this deliberate act of love and service. From then on, the instruction was to give and receive this act of love (and service) to each other.
We who are disciples of Jesus must first receive from God ("as I have done to you" John 13:15b; "just as I have loved you" John 13:34b). In receiving from God we begin to be shaped as disciples into earthen vessels that are able to better hear and respond to others with God's love. When we hear and respond as those who have been shaped by God's love, Christ's love is re-presented.
We must open ourselves up to this transformative work of God. We need it. We have at times ignored those most in need in our communities … those most in need of God's physical and spiritual good news. The invitation/command to the physical, earthy work of washing each other's feet helps to equip us as the church to love and listen with God's heart and ears. We must take up our towel, as well as our cross, and follow.