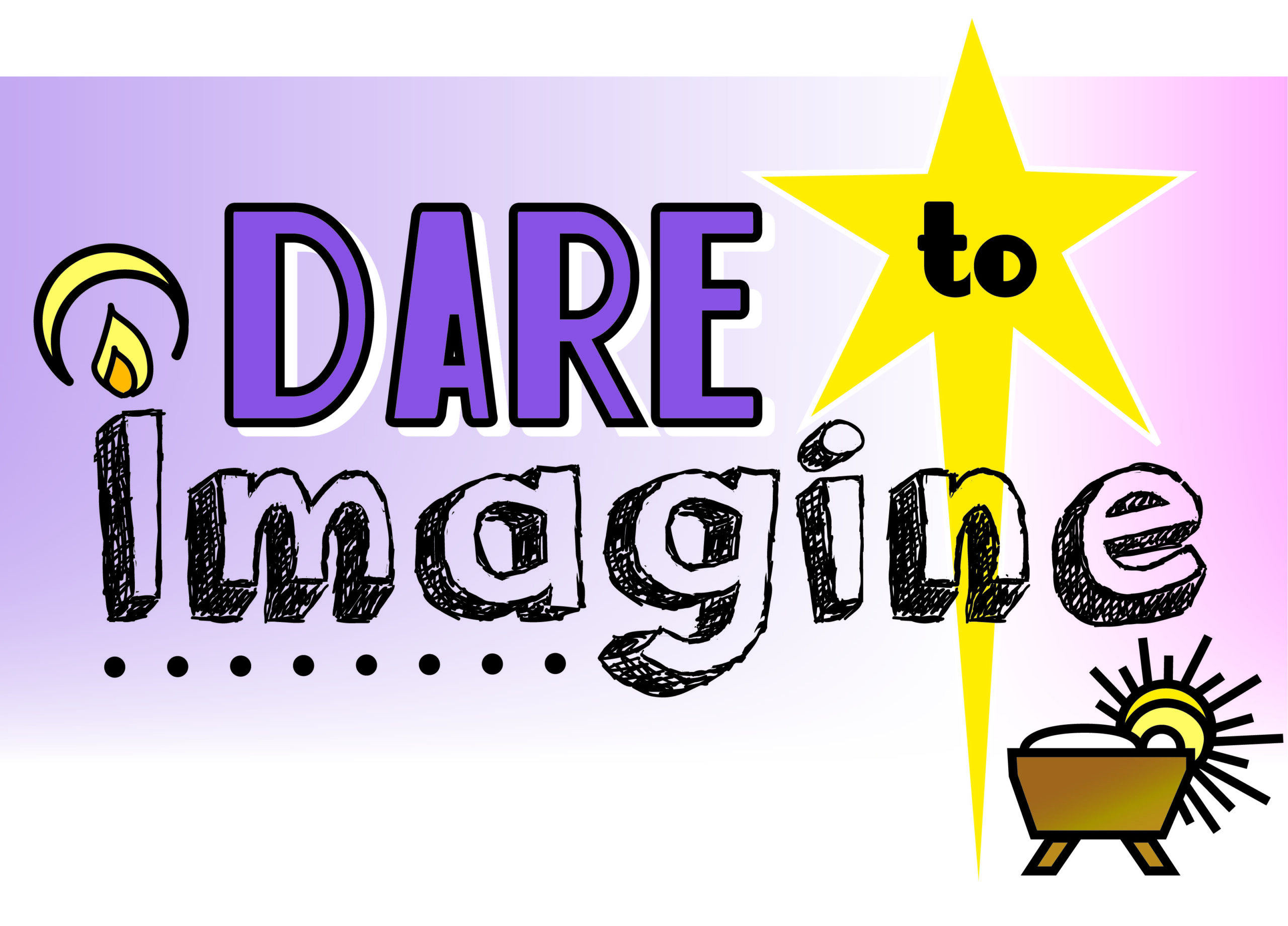 Mennonite Church USA's  2021 Advent at Home devotional, "Dare to Imagine,"  was written by Talashia Keim Yoder, pastor of Christian Formation at College Mennonite Church in Goshen, Indiana. 
We invite you to wait for Jesus as we share weekly reflections and activities for all ages. Download the full Advent At Home worship guide.
Week one: God's hopeful goodness!



Week of November 28
Focus Scripture: Jeremiah 33:14-16
Additional Lectionary Scriptures: Psalm 25:1-10; 1 Thessalonians 3:9-13; Luke 21:25-36
Weekly worship ritual
Connect to the "big story"
God created a good world. We were created to live peacefully, but we often miss the mark. When that happens, we have to deal with the consequences, but God sticks with us. Our whole story is a story of God sticking with us. In the Bible, God called Abraham and Sarah's family to be a blessing to the earth, and even when they missed the mark, God stuck with them. When the people were in slavery and cried out to God, God stuck with them by sending Moses to lead them. When the people
of God had a hard time understanding how to live God's law of love in community, God sent leaders like Joshua, judges like Deborah, and prophets like Samuel to bring the people back to God.
The people wanted to be ruled by kings, and God sent the prophet Samuel to anoint the first two kings of Israel. The second king was David, who was from the tribe of Judah. During the time of the third king, David's son, Solomon, the kingdom divided into two: the Northern Kingdom of Israel and the Southern Kingdom of Judah. God kept speaking through prophets in both kingdoms, sticking with the people, even as the Northern Kingdom fell to Assyria.
About a hundred years after the Northern Kingdom fell, Jeremiah was a prophet in Judah. The people of Judah were anxious that they would also be overtaken by a foreign nation, and Jeremiah was prophesying while Jerusalem was under siege from Babylon. In the middle of this intense, scary, chaotic time, Jeremiah spoke the word of hope that we hear in this week's Scripture. In the middle of all this trauma and chaos, there is deeply rooted goodness! In time, the people of God would come to understand this prophecy as pointing toward a future Messiah. Jeremiah's words prompt us to dare to imagine God's hopeful goodness.
Tell the story: Jeremiah 33:14-16
If you have the Shine On story Bible, this passage is part of the story on page 144.
Talk about it: Choose a few of these prompts to explore:
 Jeremiah wasn't the most popular prophet. He spoke to the people about the ways they weren't following God. In particular, they weren't following God's way of justice. He was especially upset with the people for worshiping other gods. People didn't like what he had to say, and they sometimes threatened to kill him or put him in prison. Given all this, we can imagine why he might not have lived a very happy life. He was sometimes called the "Weeping Prophet." Yet, he kept on telling the people what God was calling him to say! God's call is often joyful, but sometimes it's painful, too. Can you think of any times when following God wasn't so fun?
The chapter before this one describes Jerusalem under siege by Babylon. It was a desolate and hopeless time, and God told Jeremiah to go buy a field! In such a tumultuous time, buying a field would have seemed like a foolish thing to do to many people. Imagine – how might this seemingly foolish act have been an act of daring hope? That's like buying property in a country at war — it makes no sense! Think about it: how might this ridiculous act be an act of daring hope
Notice the names and places in this passage: David, Israel, Judah. Given what we know from connecting to the big story and thinking about other parts of Scripture, how do you think the people might have heard this? Why are these the names used?
This new dwelling will be called "the-LORD-Is-Our Righteousness." Why? What does it mean for a place or a people to be called that?
The Bible was written by people whose lives were lived very close to nature, and sometimes reading it outside makes us read it differently. Go read this passage outside. Look at the sleeping natural world around you. Do you see anything sprouting from the ground? If you're in a northern climate, the world around you may be sleeping, and it may be hard to imagine a branch or shoot coming out of the ground. But we know that, in time, it will. What does this have to do with hope?
Imagination Station: How did this story prompt you to imagine and create?
Daily worship ritual
Light one purple candle and say something like, "Jesus brings God's hopeful goodness!" Or, if you want to keep it simpler, say, "Jesus brings hope."
Read Jeremiah 33:14-16 or one of the other lectionary Scriptures for the week. Alternatively, read the story of Jesus' birth from Luke 2:1-20.
"Imagine the Journey:" Move Mary and Joseph toward the Nativity scene.
Prayer: God, even when the world around us seems to be full of chaos and violence, you are at work. Make us bold enough to imagine and see your hopeful goodness springing up! Amen.
Blow out the candles.
Sing a song of hope

Visit MC USA's Faith Formation page to find a one-stop hub of formation resources for all ages, curated through an Anabaptist lens.
The views and opinions expressed in this blog belong to the author and are not intended to represent the views of the MC USA Executive Board or staff.