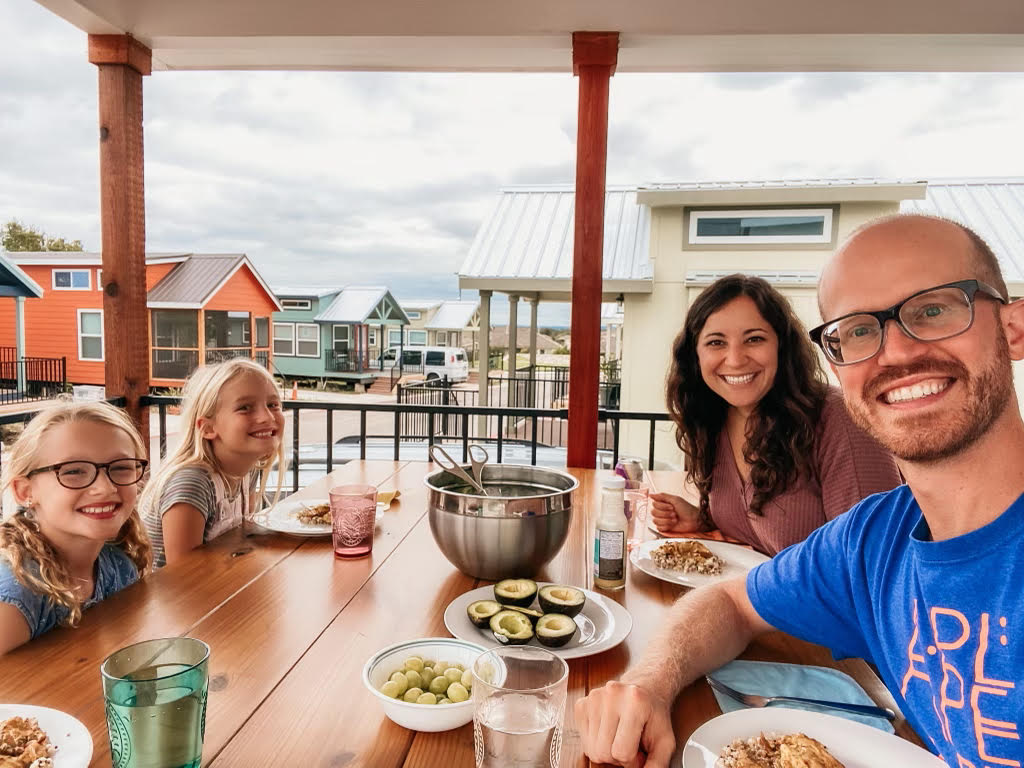 Christina, the author of this blog post, and Dustin Hite are cofounders of A Faithful Presence (AFP), a neighborhood-based ministry at Community First Village in Austin, Texas. Their daughters, Kaylynn (11) and Kristin (10), are integrated into the heart of the ministry, and the four of them live together as intentional neighbors among a community of about 300 people who have been chronically homeless. Before launching AFP, the Hites served together for a decade in church-based pastoral ministry, in which they spent their time building community and coming alongside those on the margins of their city, especially those who were experiencing homelessness and those connected to the foster care system. You can learn more at afaithfulpresence.org.
____________________________________________________________
Just over a year ago, our family of four moved from central Illinois to Austin, Texas, to become missional neighbors in a tiny home village designed to provide affordable housing and a supportive community for those who have lived through chronic homelessness.
At the time, we were co-pastoring a small interdenominational church in Peoria, Illinois, living out our Mennonite values among folks from a variety of Christian backgrounds. We loved our church family, and we loved serving that congregation.
But after an unexpected and compelling tour of Community First! Village in spring2019, we felt drawn to discern what life could be like if we made a huge change.
What if we uprooted our family and replanted in this one-of-a-kind neighborhood, built on the foundation of serving the marginalized and living deeply in community with one another? We began to discern next steps and soon realized our ministry path was taking a new direction. This place was built on Mennonite values: Followers of Jesus, compelled to share their lives in community, are co-creating a future together that heals and builds hope.
Having worked with individuals experiencing homelessness for seven years, our family was familiar with some of the common causes of houselessness. Living below the poverty line, lack of affordable housing, and the sudden loss of income are all prevalent parts of the typical story.
But in our ministry here, at Community First! Village, where we now reside as "Missional Neighbors", we are keenly aware that it's the intersection of poverty, trauma, loss of family/support networks and severe mental health challenges that seem to lead to chronic homelessness. This chronic homelessness can last years or even decades, and there are no simple solutions or quick fixes. In fact, chronic homelessness seems to confound many social service systems which are mostly designed to deal with emergency situations and rapid rehousing. These people, who are made in God's image, seem to be living right at the intersection of several failing systems, yet they are often only thought of — and most avoided — when they're sitting at the intersections of our busiest streets, pleading for someone to notice all that they're carrying.
There has to be another way, and that's why Community First! Village exists. Community First! was built on the premise that, "Housing alone will never solve homelessness, but community will." And we believe this whole-heartedly.
When we explain our day-to-day life and ministry in this unique neighborhood, the simplest description seems to be intentional neighboring. What we do here is fairly ordinary. We sit on our front porch with our morning coffee. We show up to weekly events, like Open Mic Night. We lend our hand-mixer to a friend down the street, so she can bake a birthday cake for her fiancé. We have people over for dinner. We play pickleball and go to the weekly farmer's market and give our neighbors a lift to the nearest grocery store, so they don't have to walk the mile in the Texas heat.
And we build community. We lay the groundwork for healing, showing up daily with a posture of openness and understanding. Slowly but surely, we are building trust by showing we can be counted on.
So much of our time is spent listening. Sometimes, we share part of our own story, when it's helpful, and then we listen some more. We remind people of their God-given value and worth, while doing our best to reflect God's unchanging love.
And we allow ourselves to be changed. We learn from our neighbors, often being blown away by their generosity and compassion.
Of course, there are more difficult days. We come alongside those dealing with severe mental health challenges or chronic pain or physical disabilities. We lean into hard conversations, sometimes diffusing intense situations. And we see so many battling addictions.
This isn't a place where you must "clean up your act" in order to have a safe place to live. This is a neighborhood built on love and compassion and God's grace — with a sincere desire to see people flourish, as they slowly learn to trust again, after years of only being able to truly depend on themselves. 
And we keep believing the best, extending grace, receiving such authentic love and care, and doing what we can to return the kindness.
Our ministry, A Faithful Presence, is much less about what we do and much more about how we show up in the day-to-day regular moments of life among our friends who have been pushed to the side, trampled upon and utterly ignored for far too long.
This ministry of presence is lined with love and loss, joy and sorrow, beauty from ashes, redemption, healing, and forgiveness.
In this place, with these people, we are finding ourselves being changed just by being rooted here.

Mennonite Church USA encourages you and your congregation to participate in the Cost of Poverty: Learn, Pray, Join initiative as one way to
learn more about
the topic of poverty from theological and practical perspectives, as well as learn how to get involved.
Find upcoming webinars and ways to get involved at mennoniteusa.org/ministry/peacebuilding/learn-pray-join/cost-of-poverty/.
The views and opinions expressed in this blog belong to the author and are not intended to represent the views of the MC USA Executive Board or staff.