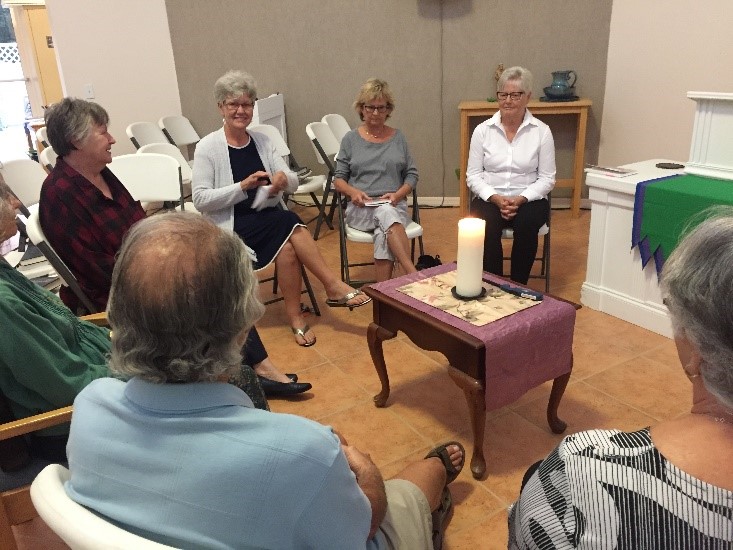 Mary Etta King (far right) is pastor, with her spouse Linford, at Covenant Mennonite Fellowship in Sarasota, Florida. She is a trained spiritual director and former director of the Kairos School of Spiritual Formation (Lancaster, Pennsylvania). She also served as Conference Minister of Mountain States Mennonite Conference.
Serving as pastor and spiritual director at Covenant Mennonite Fellowship in Sarasota, Florida, is a twofold blessing for me. Contemplation and hospitality, as depicted in Andrei Rublev's icon of the Holy Trinity, generate the life of the congregation.
It is amazing how the core foundation and vision of contemplation guide the ministries at Covenant. Covenant's vision is to create a contemplative, welcoming, Anabaptist community that inspires people to joyful living, healing, peace, reconciliation and mercy for all and for our natural world. I am grateful in watching this unfold.
In my pastoral role, I have more occasions to care for the soul of the congregation than to give individual spiritual direction, although I do both. Listening to the pain and joy of others in the congregation, guiding the "Prayers of the People" in Sunday morning worship, and meeting with other members of the Leadership Council all give me opportunities to pay attention to how God seems to be drawing us to discern the mission of the church.
Fortunately, I am in a congregation that was founded on contemplative practices. It's at the core of who we are. We meet for Centering Prayer on Wednesday evenings, Contemplative Quiet Prayer once a month before worship, and semiannual retreats with a mixture of spiritual input and business. Other gatherings to which I help give leadership are book studies on Christian disciplines, such as Lectio Divina, services with Taize-style music and prayer and movie nights. These practices give life and energy to us in guiding our decisions in congregational life much like a compass guides one to the North Star.
In delivering sermons I have opportunities to reference mindfulness, listening for Spirit whisperings of love and paying attention to opportunities that come for outward movements in sharing resources with those in need.
To nurture my own soul, I practice early morning centering prayer and at times stop at 4:00 p.m. to pray for those whom God brings to mind. These prayers enrich my spirit and energize me in the work at hand. On my walks around the neighborhood, I notice the beauty of nature and remember the needs of congregants, family members and friends.
Our desire and prayer at Covenant Mennonite Fellowship is to improve relationships with other Anabaptist churches in Sarasota. Recently we were asked to host a women's day of retreat.  This is an exciting and stunning movement of God's Spirit! We look forward to being together, Latina, African American and White, younger and older, to experience God's presence with healing love.
---