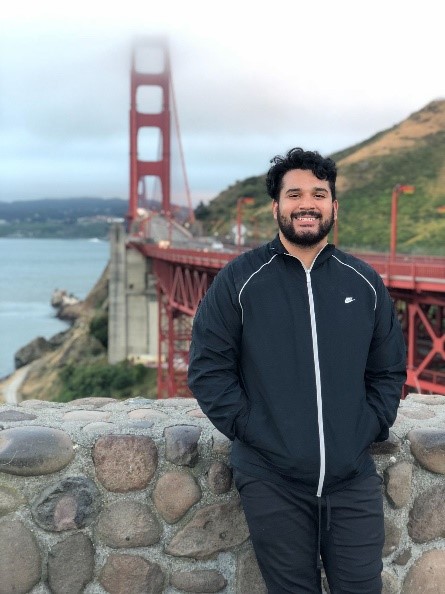 Erick Josue Martinez tries to live his life by a simple motto: "What good is a bountiful garden if its fruits will spoil before I can eat them all? Is it truly bountiful if the garden spoils and my neighbors are starving?" Erick understands that he is young and privileged but has encountered the beauty and horrors this world has to offer. He is not afraid to speak his mind on behalf of the less fortunate and understands that he has a responsibility to be a voice. He comes from a beautiful family and was raised by immigrants. Erick attends Goshen College with the dream of becoming a financial planner to help those people with no resources in his community. He wants to live the life his parents sacrificed much to ensure for him and only wishes to make the world a better place. Erick tries to fuse the knowledge he has learned in the church and his studies to work with others so they can achieve their goals.     
This blog is part of the "Diversity: God's Design" curriculum series.
---
The stories I tell, the moments I experience and the people I meet are not unique to just me. In the "Diversity: God's Design" curriculum, I shared different situations that made me feel uncomfortable and excluded. These are stories that many people can relate to, and many even share similar experiences. I wanted to share my perspective because I realize that the best way to be a part of the conversation is by leading it.
I think it is important to hear about diversity from the people who make a group "diverse" because often, only one side of the story is told. Diversity is defined as "the practice or quality of including or involving people from a range of different social and ethnic backgrounds and of different genders, sexual orientations, etc." Simply having people with different backgrounds alongside each other is only part of being diverse. Making them feel included and welcomed is where people fall short. Co-existing is not enough anymore; we need people to be self-aware. It is easy to play ignorant to save yourself from an uncomfortable conversation, but this doesn't solve the problem. Allowing people of color to share their stories helps others understand where these discomforts come from and allows us to appreciate others' cultures. When we listen to others with different perspectives, we have a better understanding of the larger world around us.
I wanted to be a part of the "Diversity: God's Design" curriculum because my culture also ties into my faith. I feel like I spent half of my life in the church. I grew up around so many different cultures and witnessed them all collide every Sunday. It is so ingrained in me that I feel completely out of place when I am not a part of a majority-Hispanic congregation. I appreciated hearing people in my church telling their stories that took place in countries that I knew little to nothing about. It was eye-opening when I was younger and is something that I still appreciate to this day. Through this curriculum, I wanted to almost replicate this, but slightly modify it. I may not be standing on a podium at church, but I wanted my delivery to feel like that. I want people to understand the experiences that I have had so they can understand the position I take today and see where my words are coming from.
I also think that the people who will interact with this curriculum are a group of people who would benefit from it the most. Our congregations are part of larger communities now, and introducing these new conversations and ideas will only be beneficial to the group. They offer a better and new perspective to the word of God. It helps strengthen the love within our diverse communities and allows us to further our understanding of our neighbors.
I hope my words and the words of others who contributed to the curriculum stay with the listeners and allow them to try and relate to others with whom they may have nothing in common. This is an opportunity to go out of your way to listen to others and to learn from each other as we should.

Explore "Diversity: God's Design," MC USA's new multimedia curriculum that uses biblical reflections to introduce the importance of intercultural competency as part of Christian growth and formation.