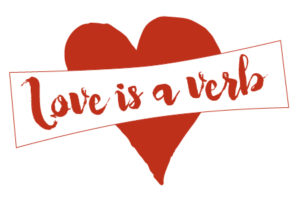 The following is an excerpt from Love is a Verb: A one-year spiritual practice resource, written by Leo Hartshorn. The resource explores the 2017 convention theme Love is a Verb through the lens of Richard Foster's six spiritual streams. Download the entire booklet from the Mennonite Church USA resource center.
Love has been perfected among us in this: that we may have boldness on the day of judgment, because as he is, so are we in the world. There is no fear in love, but perfect love casts out fear; for fear has to do with punishment, and whoever fears has not reached perfection in love. We love because he first loved us. Those who say, "I love God," and hate their brothers or sisters, are liars; for those who do not love a brother or sister whom they have seen, cannot love God whom they have not seen. The commandment we have from him is this: those who love God must love their brothers and sisters also. —1 John 4:17-21 (NRSV)
The philosopher Bertrand Russell claimed that religion is based on fear, which leads to cruelty. In his lecture, "Why I am not a Christian," Russell said:
Religion is based primarily and mainly upon fear. It is partly the terror of the unknown and partly the wish to feel that you have a kind of elder brother who will stand by you in all your troubles and disputes. Fear is the basis of the whole thing — fear of the mysterious, fear of defeat, fear of death. Fear is the parent of cruelty, and therefore it is no wonder if cruelty and religion have gone hand in hand. It is because fear is at the basis of those two things.   —Bertrand Russell, 1927
In their assessments, the 1 John author and Russell may have been observing the same type of people from different angles. They both seem to have in mind religious people whose spiritual lives are grounded in the fear of God or God's judgment and who do not practice love toward others. Both 1 John and Russell condemned fear-based religion along with another philosopher.
Russell admired the 17th-century philosopher Baruch Spinoza. Spinoza used the theme of Love casts out fear from 1 John to condemn the Dutch Reformed Church's persecution of nonconformists. The church's violent dogmatism was just the kind of religion that Russell deemed fearful and cruel. In Tractatus Theologico-Politicus, Spinoza denounced "superstitious" religion, fueled by fear, as a perversion of Christian teaching. Spinoza wondered why those who boast of professing Christianity "should quarrel with rancorous animosity."
According to 1 John 4, Christian faith does not produce fear, but rather love. Love reaches the summit of perfection in the fact that we have boldness on the Day of Judgment. That boldness is grounded in the love of God which is expressed in love for one another.
To dwell in love is to dwell in God, releasing us from the fear of judgment.
Contrary to Russell's beliefs, the fear of judgment and cruelty — or any hatred toward others — does not find its source in God. Whoever does not love has not reached perfection in love.
If people say they love God, but do not love their brothers and sisters in Christ, they are liars. And how can they even say they love an unseen God whom they cannot see while they do not love someone they can see right in front of them? This does not jibe with spiritual logic. The logic of 1 John is this: Those who love God must also love their brothers and sisters. According to 1 John, Russell's argument against all religion is based in fear would not fit with his spiritual logic, though it would apply to some who profess to be Christian.