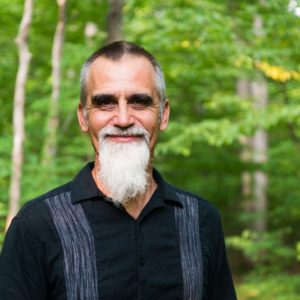 John Drescher-Lehman is a licensed clinical social worker in private practice, a spiritual director and a photographer. Along with his wife Sandy Drescher-Lehman, who is also a spiritual director and pastor, they are hosts at FernRock Retreat in Green Lane, Pennsylvania. John is a member of the Mennonite Spiritual Directors Network. Find John's photos on Spotlight.
I am unglued. As if something is coming loose. I lose things. I forget. I move from one task to the next, never completely finished with one, but anxious that if I don't get the next one started, I will never be able to complete the one that should have been finished yesterday.
Reflection has a way of making me present to myself and opening me up to the possibility of being present to God.
The struggle is, sometimes I don't want to be present to God – and I certainly don't want to be present to myself. Who would want to pay attention to a person careening around like a pinball, bumping into the nearest task or person, only to fling off to the next, moments after arriving? Stopping to reflect can be most unpleasant, so why not say yes to six more things and stay overwhelmed? Don't just sit there, do something!
Action, on the other hand, is often validated by our culture and our faith.
We love to cite the parable of the talents and easily understand its call to action. Our identity often hangs on the hook of good works. Less validated, understood, or taught, is Jesus' call to "consider how the lilies grow" (Matthew 6:28).  We struggle with its relevance and the faith to put it into practice. Don't just do something, sit there?
Today, as I attempt to make time for reflection, I ease slowly into this chair and ask for the ability to simply sit in God's presence. I attempt to be present to and offer to God all that comes through me as I sit here doing nothing: my random thoughts, my feelings of anger, love, jealousy, my sexual desires, my plans for the day, my fears and hopes.
I offer my body, mind and soul. I ask to be present, fully aware.
As I move from this chair and enter the work of the day, I pray for the ability to remain attentive, to be present to and fully engaged in each task I am doing. Then I will know, in the midst of all I do, God is present. I will trust I am reflecting God's love outward through my action. And, I will trust that when I am still, doing absolutely nothing, God is at work.
_________
Mennonite Spiritual Directors Network is an association of spiritual directors across Mennonite Church USA who periodically gather for times of retreat, learning and connecting with each other. For more information on spiritual direction or for help finding a spiritual director, please contact us.