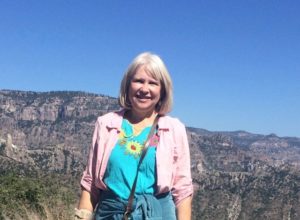 Over the next few months we've invited folks from across Mennonite Church USA to reflect on our Journey Forward and consider how they've seen Renewed Commitments at work in their lives, their congregation or community. If you'd like to contribute to this series by highlighting stories that bring our shared values to life, email JenniferC@MennoniteUSA.org. 
Tina Schlabach lives with her husband, Jay, in Tucson, Arizona. She serves as co-pastor of Shalom Mennonite Fellowship and offers spiritual companioning. Tina visits with and advocates for women from Central America and Mexico held by our country's unjust policies in immigration detention. Tina loves soul conversations, cross-cultural friendships, reading, traveling, walks with Jay, time with their five young adult children and morning coffee. 
The Holy Spirit dwells in and among us, transforming us to reflect God's love. Through worship the Spirit gathers the body of Christ, where our diversity reveals God's beauty. The Spirit empowers our communities to embody the grace, joy and peace of the gospel.
One day during the last week of September 2016, I listened to a voicemail message that began a new kind of transformative journey for our church, Shalom Mennonite Fellowship, in Tucson, Arizona. The voice I heard on the voicemail belonged to Raymond, communicating as best he could in English, that he had recently arrived in Tucson with his family, and that he is a Mennonite from the Congo looking for the Mennonite church in Tucson. As we are the only Mennonite church in Tucson, I was excited to meet Raymond and to welcome him. But first I needed to find an interpreter!
Happily, my friend Rod Hollinger Janzen, director of Africa Inter-Mennonite Mission, made himself available for a three-way phone call. With Rod and Raymond speaking French together, I was able to ask questions and to give Raymond opportunity to ask questions. Next came a visit to Raymond's home, where I met his wife, Georgette, and their five children. Together we watched a YouTube video on my laptop of singing and dancing in a Mennonite worship service in the large Nyarugusu refugee camp in western Tanzania, where Raymond and Georgette had lived for 20 years and where their children were born. They pointed out persons they recognized in the video!  Raymond and Georgette brought out their baptismal certificates, and a letter of recommendation from their pastor in the Mennonite Church they were part of in the Nyarugusu refugee camp. We communicated as best we could, with the help of "google translate" on my phone!  We made a plan for me to pick up their family in our mini-van on Sunday.
The family's first Sunday with us happened to be October 1, World Communion Sunday! I sent out an email to our church community saying that we would have the privilege of welcoming Congolese Mennonites! When I arrived at Raymond and Georgette's apartment, where their family had recently been settled with the support of the International Rescue Committee (IRC), there were not one but two large Congolese families waiting to go to church! That is how we met Fabian and Rebecca and their children, friends of Raymond and Georgette's who had been resettled together. So two trips to church were made!
That first Sunday together we introduced our Congolese sisters and brothers to the congregation and welcomed them, even though we all struggled with a deficit of languages in common! After worship as we tried to get to know one another, we asked if they would like to sing. The answer was a big YES! And the two families came forward and began to sing for us. Their call-and-response harmonies were so beautiful, their willingness to share with us was so open-hearted, their dancing and moving as they sang so full of life, that I found myself crying with joy.
Since that World Communion Sunday of October 2016 our faith community continues to walk a journey of transformation together. "Through worship the Spirit gathers the body of Christ, where our diversity reveals God's beauty." We affirm this recommitment with joy! The new Congolese worshippers quickly formed a choir and sing each Sunday.
We are learning their call/response songs sung in Swahili or Kibembe, and even when we can't keep up with the words we can join in by clapping and moving our bodies. They appreciate the four-part singing we do from the Mennonite hymnal and songbooks, and sometimes recognize a hymn we have in common.
Since the addition to our church community of several Congolese refugee families, we have also had the joy of welcoming two women who were previously held in a nearby immigration detention center. We have employed a Swahili interpreter and people from our own community do Spanish interpretation, both through the use of headsets. Hearing scripture proclaimed in different languages, concerns lifted for prayer in first languages, and singing our faith in several languages expands our experiences of God. Because we now share community with several households who do not own cars we are learning to adjust our schedules to give rides to church.
Those of us in our church who've been historically privileged because of the color of our skin are seeing U.S. culture and recognizing our privilege with new eyes as we learn through these new friends how hard it is, in so many ways, to begin lives here all over again, with loved ones remaining so far away in other countries. We pray for peace and healing during our worship for the Congo, for Berundi, for Colombia, for Bolivia, for Honduras and for the United States.
Our faith is strengthened through the resiliency, the generosity, the joy in the midst of hardship that flows from these sisters and brothers who have come to us from the global church of Jesus Christ. Through worship the Spirit gathers the body of Christ, where our diversity reveals God's beauty. We believe in the transforming surprises of the Holy Spirit!
__________________________________________________
All congregations are invited to use Journey Forward's "Pathways" study guide. Find it and all Journey Forward updates here.
Your financial support of MC USA helps us equip leaders and tell stories of Anabaptist faith in action across the church. Donate to MC USA here.