Karla Stoltzfus Detweiler reflects on how to respond to climate doom with resistance and resilience, after attending Anabaptist Mennonite Biblical Seminary's Rooted and Grounded conference.
---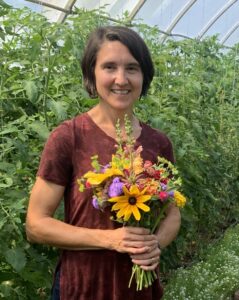 Karla Stoltzfus Detweiler serves as the climate justice coordinator for Mennonite Church USA. An ordained minister and former pastor in Central Plains Mennonite Conference, she graduated from Anabaptist Mennonite Biblical Seminary and Eastern Mennonite University. When she's not connecting with others about creation care and climate justice, you can find her in her garden, tending her family's flock of chickens, cooking up something featuring local and seasonal ingredients, or reading with her son and daughter. A native of the Shenandoah Valley of Virginia, she now calls Kalona, Iowa, home.
_________________________________________________________________
The phrase "climate doom" now exceeds "climate denial" in our vocabulary. 
So posited Janeen Bertsche Johnson, director of campus ministries at Anabaptist Mennonite Biblical Seminary, as she opened the sixth Rooted and Grounded conference held at AMBS, Sept. 28-30. Together, with some 180 other conference participants, I plunged into three rich days of worship, keynote speakers, workshops, prairie walks, shared meals and conversations. 
"Doom" is not a word I like to use often. It fills my mind with images of dark, menacing clouds. My spirit feels heavy, weighed down by fear and foreboding. 
And yet doom is an apt descriptor for what many of us feel as we witness climate weirding and the proliferation of natural disasters around the globe. According to Kevin King, director of Mennonite Disaster Service, "Twenty years ago, we in the U.S. experienced a billion-dollar disaster about every 80 days. Now, it's every 18 days." In fact, in the first nine months of 2023, the U.S. has experienced 24 such large-scale weather-related disasters, making it the worst year on record for weather-related disasters.[1] And that's only considering the United States. Wildfires, floods, heatwaves, droughts and extreme storms are plaguing communities around the world, at higher rates than ever before. The losses are staggering — to humans and to all God's creatures who call Earth home. 
How does faith respond to climate doom? How is God leading us through climate doom? 
The answer offered at the Rooted and Grounded conference was, "God is leading us along pathways of resistance and resilience." What I find myself continuing to ponder is the path of resistance. 
Like doom, "resistance," is word that doesn't feel warm and fuzzy. It makes me think of hard work, the kind that leaves me exhausted in body and spirit. If I'm resisting something — like resisting temptation — I might be missing out on some pleasure that others are enjoying. A path of resistance is probably not one I'd like to journey on for very long. 
But when keynote speaker Kaitlin Curtice, a Citizen Potawatomi Christian author and poet-storyteller, described what it's like to live resistance, my whole being said, "Yes!" 
Curtice defines resistance as, "the way we use our everyday lives to exert energy against the dangerous status quo of our time." But she's quick to add that it's not just about what we're against. Resistance is about cultivating loving relationships — with Mother Earth, with our kin of every kind, with ourselves, with our ancestors and with our Creator. 
Curtice described four realms of resistance: the personal, communal, ancestral and integral realms.
A sustainable, life-long practice of resistance cycles through all four of these realms, which are beautifully explained in her book, "Living Resistance: An Indigenous Vision for Seeking Wholeness Every Day."
As Curtice described her four-fold path of resistance, I found myself reflecting on Jesus' teaching of love for God, neighbor and self (see Matthew 22:37-39; Mark 12:30-31; Luke 10:27) and finding resonance between the two. 
Loving ourselves 
What if the path through climate doom begins, as Curtice suggested, with loving ourselves (the personal realm)? Examining our own story and seeking healing for our traumas is integral to seeking healing for our planet. The invitation to self-compassion, to intentional practices of grounding and healing, echoed throughout the conference, notably in AMBS professor Leah Thomas' keynote on resilience and in multiple workshops.  
"Self-love," Curtice said, "is not something we can buy. It is a room we must enter daily."  
We can do this by practicing something like a regular centering prayer, or journaling, or mindful walking in nature, or exhaling anxiety and breathing in God's love multiple times each day. These practices of self-love are essential for navigating the long path through climate doom. 
Loving our neighbors 
Surely, following Jesus on the path through climate doom requires loving our neighbors (communal realm)! But what if that love for neighbor looks like cultivating a real relationship with our neighbors — the land, air, water, animals and plants, as well as humans, all beloved creatures of God? Surely, listening attentively to our neighbors — those who speak words and those without verbal language — and sharing their stories of pain, love and hope will energize and guide us along this path. 
Loving God 
Curtice's ancestral realm is liminal space, in which we remember our ancestors and remember that we are ancestors in the making. I find connection here with Jesus' teaching of love for God, though the connection is a bit more roundabout. Remembering my ancestors and reflecting on how they shape my life and faith is a less familiar spiritual practice for me, and I want to spend time cultivating it. As a member of the dominant, colonial culture, I feel regret and despair about my ancestors' participation in colonialism and the ways I perpetuate patterns of domination and exploitation. What if I began intentionally praying for forgiveness and healing for my ancestors, myself, my children and generations to come? Surely, such an expansive form of praying is a powerful expression of our love and trust in God, who is slow to anger and abounding in steadfast love and who is leading us on the path through climate doom. 
Putting it all together 
Curtice's integral realm is the space in which the other three realms converge. It's the space of prayer, passion and fire. It reminds me of how love for God, neighbor and self are parts of a greater whole on the path of life, even as the path passes through the territory of climate doom. 
"What must I do to inherit eternal life?" the lawyer asked Jesus in Luke 10:25. 
Today we're asking, "What must we do to sustain life in a time of climate doom?" 
The answer echoes across time, culture and space: "Love the Lord your God with all your heart, and with all your soul, and with all your strength, and with all your mind; and your neighbor as yourself….Do this, and you will live!" (Luke 10:27-28, NRSV). 
May we listen well and love, as Jesus has called us to love.
---
[1] U.S. climate summary for September 2023 | NOAA Climate.gov
---
The views and opinions expressed in this blog belong to the author and are not intended to represent the views of the MC USA Executive Board or staff.
Interested in submitting a blog for Menno Snapshots? Please see our blog guidelines here.